Co-organised by Khmer Enterprise and Swisscontact, the 17th edition of Give A Day was held on October 5, 2023 at the Khmer Enterprise Office. This edition was hosted by ADB Frontier and focused on sharing 'Growth Lessons from Cambodia's Most Dynamic Companies', spotlighting three of the Kingdom's most influential entrepreneurs.
The 17th Give A Day provided a platform for ADB Frontier, a new initiative from the Asian Development Bank (ADB) providing investment funding to small and medium enterprises (SMEs) within frontier markets in the Asia Pacific region, to share its latest project spotlighting three entrepreneurs who founded three of Cambodia's most dynamic companies that showcase the country's economic potential – Chang Bunleang, Co-Founder of Brown Coffee, Chy Sila, Co-Founder of Kirisu Farm, and Chan Sopheak, CEO of Angkor Green.
Watch B2B Cambodia's interview with Chy Sila, Co-Founder of Kirisu Farm: 
The main event of the occasion was a panel discussion between Bunleang, Sila and Sopheak, co-moderated by Dominic Mellor and Tean Ly from ADB Frontier, where they spoke about their experiences as leading entrepreneurs in Cambodia.
Building New Industries
During the discussion, Sila shared how establishing Kirisu took much more work than just building a farm and raising dairy cattle, since the facilities needed for each stage of dairy production did not already exist in Cambodia.
"In many countries, if you build a dairy farm, you just build a dairy farm, you don't care about the feed or where the milk will go… you just raise the cows and get the milk, the rest is taken care of by other industries," said Sila.
"But here in Cambodia, it's a very special and unique context, a frontier market," he added. "You don't have people supplying your feed… you have to import it from Thailand, doubling the costs, or if you want to access local feed… you need to hire people to grow your own grass.
"So in the end, if you want to build a dairy farm, you have to build the whole ecosystem – growing your own grass, producing your own feed… you need to build a processing plant, which did not previously exist in Cambodia – these are all the dots you have to connect… This is what Kirisu has been through," ended Sila.
Developing New Talent
The panel also touched on the difficulty of recruiting the right talent and developing human resources (HR) when working in new or transforming industries. In the field of agriculture, for example, Angkor Green identified a need among local farmers for more technical skills training, however, at the time of the company's establishment, there was a severe lack of experts who could provide this training. 
"You could not find many agronomists in Cambodia… so we decided to recruit and train [farmers] ourselves, but since I'm not an agronomist or from an agricultural field, what we did was work with partners from other countries, we brought them to Cambodia to train our teams, and we also worked with development agencies that had specific programs that could help address our needs," shared Sopheak. 
"Now we have more trained teams, and the teams we created can now also train new members… Now we can say we have more agronomist teams in Cambodia, more green machinery technical teams that can provide support to all our clients around the country," he added.
For Bunleang and Brown Coffee, the HR development process involved a much more hands-on process with a lot of trial and error.
"I worked at the counters, I think, for three years, but initially I didn't know how to make coffee myself," said Bunleang. "Once [my co-founders and I] decided to start our coffee business, I went to train at a coffee academy in Sydney for a week, and then one of my co-founders also took a patisserie course in Thailand, at a French pastry school… he would bake the products and I would work the counters and brew coffee.
"Later, it was very hard to find good baristas who were able to make the perfect 30 ml of espresso, so we decided to build our own training program," he added. "I looked at how some international brands did their training, and we wrote our own training programs, from making espressos, to doing latte art… then we hired people without any experience, putting them through two weeks of our training program, which continued on to on-site training at our store.
"Now I think we pretty much have induction training for all levels and positions, even our finance managers at Brown have to take an induction program because they at least need to know about coffee… It was a very tough few years building these programs," ended Bunleang.
Partnership and Collaboration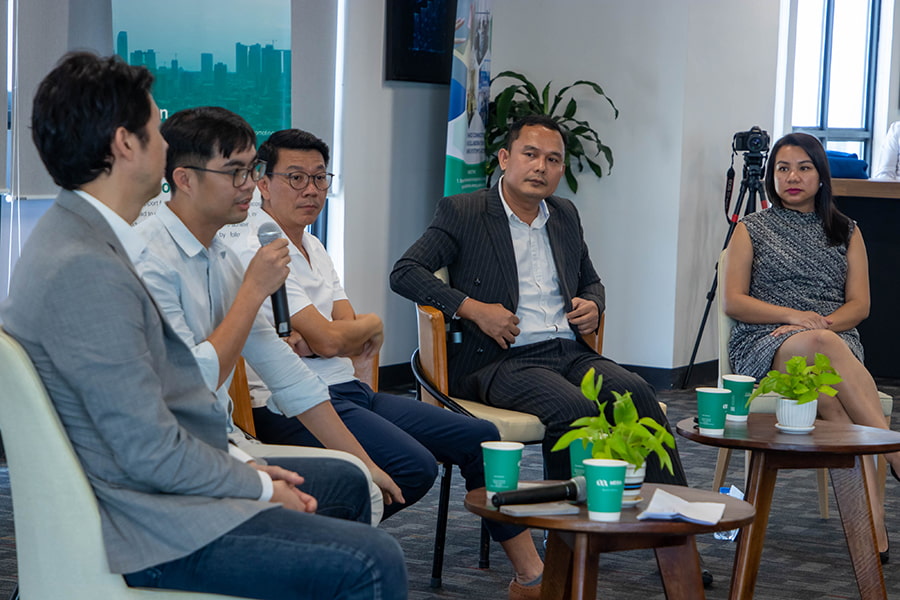 As the three spotlighted companies work in different industries, the moderators brought to attention a potential for partnership between the panellists. While none of the companies are currently working with one another, the panel agreed that they were open to future opportunities for collaboration.
Answering a question on why Brown Coffee does not currently use milk produced from Kirisu Farm, Bunleang explained that his company's research and development (R&D) department and roastery division routinely organise blind taste tests to decide which milk products to use in their coffee. Kirisu had, unfortunately, always managed to rank in second place, however, Bunleang shared that Brown has also discussed the possibility of developing a custom milk formulation with Kirisu since the coffee enterprise uses almost 2000 litres of milk per day.
"But I'm hoping that it's not just Kirisu's milk that we can use in the future, but also Cambodian beans, because currently we don't use any Cambodian beans in our coffee," added Bunleang. "The local coffee bean quality is just not there yet, but we'll definitely continue to study Kirisu's milk and hope to use Cambodian beans in the future as well."
Sila also responded good-naturedly, saying he understands why Brown has not used his company's milk yet as he also has a coffee roasting business of his own. 
"When you drink Kirisu milk alone, it feels very full in your mouth, very thick and creamy, because we have a high content of cream, but when we mix it with coffee [the aroma is too strong]," said Sila. "Like Bunleang said, you need to leave the taste of coffee because you want to drink coffee, because you're not drinking milk, right? When you drink a latte, you might only taste the milk over the coffee, so that is something we could adjust."
Supporting Entrepreneurship
Reflecting on Cambodia's entrepreneurial ecosystem, Bunleang noted that many positive developments have been made since Brown was first established.
"Back in 2009, there were not many entrepreneurial support organisations (ESOs), so a lot of the time I would just go to food exhibitions and directly talk to suppliers and vendors to seek their support," shared Bunleang. "Today, there are a lot of good courses that Impact Hub and other ESOs provide, on subjects like building minimum viable product, understanding product market fits, understanding Cambodian taxation, and how to apply for loans in commercial banks, these are all very important to learn."
The panel, however, agreed that access to funding continues to be one of the biggest challenges for most aspiring entrepreneurs. 
"In my experience, help always comes when we don't need it anymore," shared Sila. "We are so daring, we are risk takers, but unfortunately a lot of equity funds are only looking for something safe.
"This is sometimes discouraging, because as entrepreneurs, we are risk takers, but we also need motivation… we also need people to come and take risks with us," he added. "With investors only looking for something safe and secure, when the time comes for them to finally offer their help, I won't need it anymore."
Sopheak also commented on the difficulty of obtaining a loan in Cambodia, since banks always require collateral.
"Even if we have a very big inventory, a very good record over the past 10-12 years, they still ask for collateral," said Sopheak. "With no collateral, you cannot access finance… However, I am very proud of SME Bank here, as they do offer some loans without collateral, which is good for startups… I hope to see more banks, especially government banks, support this effort."
Developing The Ecosystem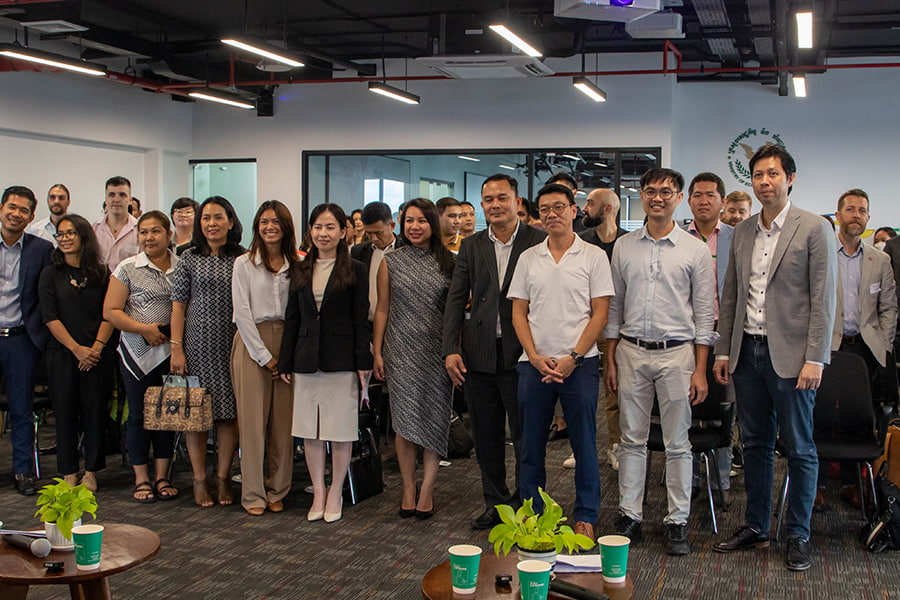 Speaking further with B2B Cambodia after the panel concluded, Sila remarked on Cambodia's economic potential, as a country with a very young population that is eager to learn about doing business. However, he stressed that aspiring entrepreneurs still need to gain a lot of advisory support and expertise, particularly in areas such as financial leadership and brand marketing.
"Definitely we need to grow more, we need more accelerators who can empower entrepreneurs to do the right things, to be more mature, to understand how to value finances, access funds, how to do proper P&L (profit and loss) statements; in all of these areas, we definitely need help," said Sila. 
"At the same time I think the financial ecosystem is still not ready yet," he added. "When you start a business, you might see that their model is good, but still they are unable to access funding easily… We don't have a lot of angel investors to give seed funding to start businesses. These are the parts of the ecosystem that we need to build."
The biggest advice Sila had for up-and-coming entrepreneurs was to stay lean and focused, and to be patient while waiting for their business to grow.
"Don't do 10 different things at the same time, if you want to do business, then do one thing and do it very well," said Sila. "If you have a small capacity, then start small and do it seriously… then grow along the way. If your business is able to gain enough traction, then I'm sure there will be enough investors reaching out to you."
Read More On Cambodia's Entrepreneurial Ecosystem: