The 5th Cambodia ICT and Digital Forum (CamIDF), organised in partnership with Open Development Cambodia (ODC), was held on September 21, 2023 at the Sun & Moon Urban Hotel in Phnom Penh, delving into topics related to Artificial Intelligence (AI), as well as how trust and transparency can be enhanced within the digital realm.
The event kicked off with insights given by Try Thy, Executive Director of ODC and Advisory Committee Member of CamIDF, followed by opening remarks from Eric Lou, CEO of OneWorld Information Technology and Advisory Committee Member of CamIDF.
Watch B2B Cambodia's event highlight video and interview with Dixon Siu, Software Engineer and CamIDF Advisory Committee Member:
During the presentation section of the forum we heard from Dixon Siu, Software Engineer at Fujitsu Limited and CamIDF Advisory Committee Member, on the subjects of 'Trust and Transparency in the Digital Space' and 'Ethics and Privacy in AI-Driven Activities'. 
The forum also featured an online group discussion on 'Data Governance for Sustainable Development' moderated by Dr. Velislava Hillman, the Founder of EDDS.
Promoting Trust And Transparency In The Digital Space
B2B Cambodia spoke further with Siu to expand on the promotion of trust and transparency in digital spaces, the ethics behind the use of AI, and how businesses and the government can leverage these considerations for the greater benefit of society.
Siu explained that upholding trust and transparency in digital spaces must be considered a top governance priority and should also be practised by all companies in order to gain the trust of users.
One way trust and transparency can be built, he said, is if users are able to decide how much of their data they wish to share, instead of forcing users to give up data when accessing online services or platforms.
Difficulty Of Building Trust And Transparency
Lacking trust in digital spaces is not only prevalent in Cambodia but also in other countries. "People do not trust companies or the government," prefaced Siu.
He gave an example of how the company he works for, Fujitsu, has been working with the government of Japan to build an online platform that can help improve user trust. However, he emphasised that developing new technology alone is not a sufficient method of addressing the issue, and it is crucial to collaborate with end users to ensure that their data is handled properly.
Furthermore, he said it is necessary for both private and public sector entities to establish strong regulations and governance practices that enhance digital trust and transparency.
Siu stated that there are a lot of existing governance models that tackle building trust and transparency in digital spaces around the world, not only in Europe but in several Asian countries as well. He suggested that developing countries like Cambodia could learn from these models and ask experts from other countries for help.
The Ethics Of Artificial Intelligence
Siu emphasised that AI should not be viewed simply as a tool that can be readily adopted and used. Rather, companies and governments should be taking careful consideration of the ethics behind AI usage before going forward with its adoption.
He stressed the importance of assessing the positive benefits of AI to society and rethinking its usage if it is found to be harmful. He gave the example of how some AI technologies require high-powered computers to function, which, in turn, burn a lot of energy and, thus, negatively impact the environment.
If high priority is given to ethics, then the usage of AI could be logically limited to only certain applications that most benefit the public.
Recommendations For The Cambodian Public Sector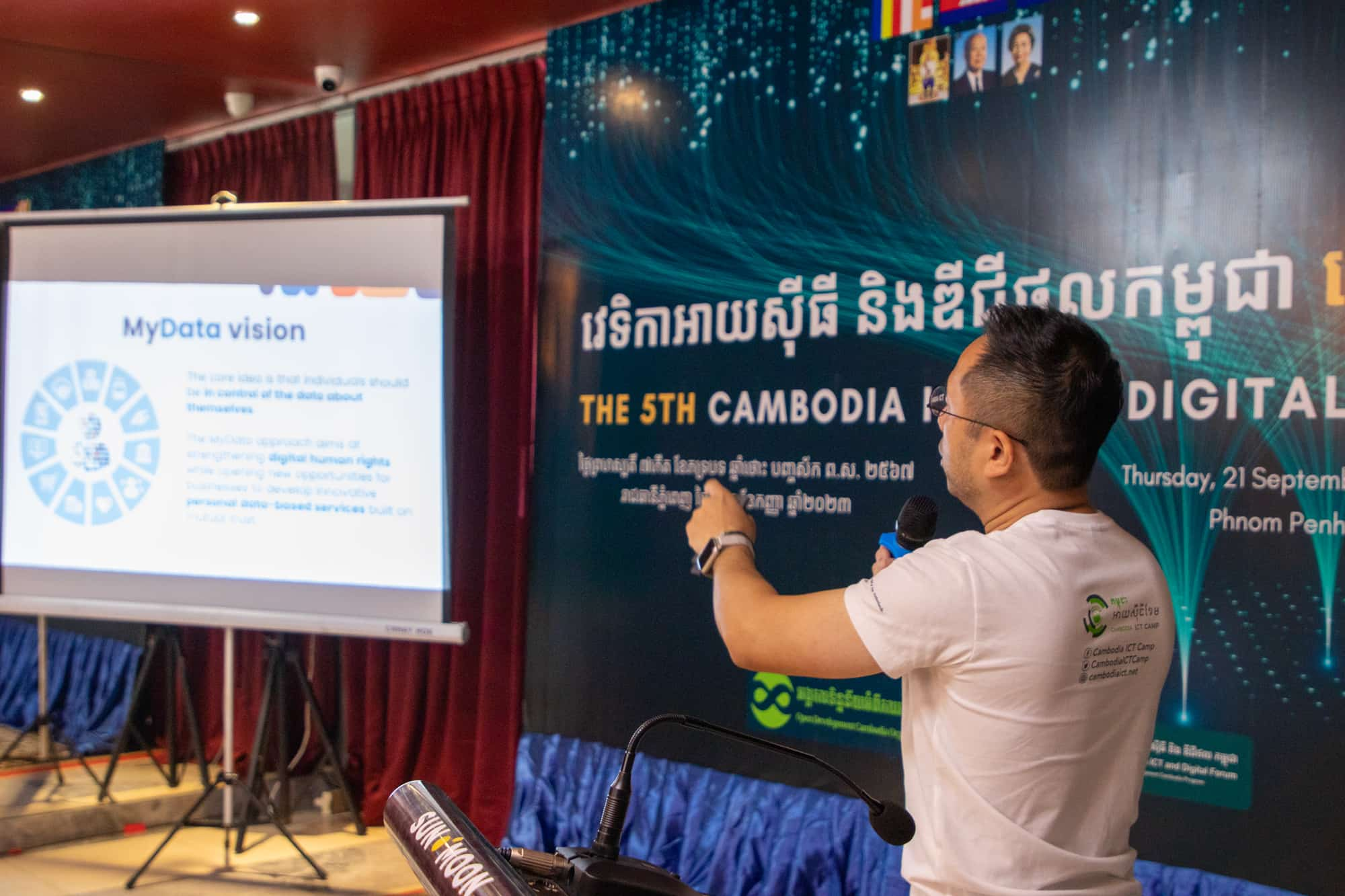 Siu recommended that governments wisely allocate tax money to prioritise the development of robust and sustainable digital infrastructures. 
"It's like building a road, if you have a better road, then people will buy expensive cars and drive on it," he said. 
He further explained that with a reliable and sustainable digital infrastructure in place, a plethora of companies and service providers willing to invest in the digital sector will likely crop up, resulting in greater user adoption as well.
He stressed that the public sector, private sector and the people must all play their part to build greater trust and transparency within digital spaces together. However, the government will need to act as the primary player and lead this process.
"Companies don't want to [invest money in building trust and transparency]," said Siu. "That's why… the responsibility [will fall on] the government to [allocate a budget towards this initiative], and pave the [way]. Then [only, more] people will jump on board."
Read More On Cambodia's Digital Transformation: