Capital A – AirAsia Aviation Group's parent company – has signed on to operate a low-cost airline in Cambodia, with Tony Fernandes announcing they have partnered with Sivilai Asia in a joint venture.
AirAsia Aviation Group is controlled by Malaysian business tycoons Tony Fernandes and Kamarudin Meranun and AirAsia Cambodia will be led by Cambodian Vissoth Nam as CEO. (Nam is the founder of Menaka Group).
Capital A Chief Executive Fernandes said on his personal LinkedIn "Cambodia is our fifth ASEAN airline and we think it's going to be profitable from the get-go. It has huge, huge potential GDP growth the right way. A good population and Three great cities namely Phnom Penh, Siem Reap and Sihanoukville."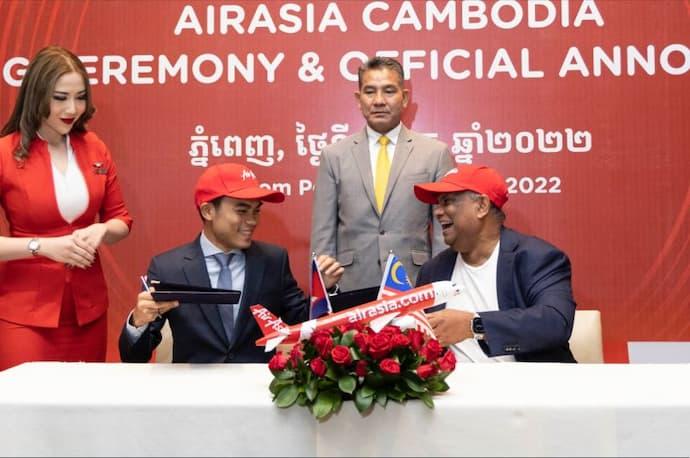 Capital A already operates budget airlines in Malaysia, Indonesia, Thailand and the Philippines while AirAsia Japan Co. filed for bankruptcy to partner Tata Group.
According to Reuters, the fully paid-up capital for AirAsia Cambodia will be USD$25 million, with AirAsia's undisclosed share coming from internal funds.
Fernandes was in Phnom Penh to sign the necessary paperwork at a signing ceremony attended by Mao Havannal, minister in charge of State Secretariat of Civil Aviation, and Serey Chea, director general of the Cambodian central bank.
Fernandes added about the expected growth "Three very interesting years— the first part was about surviving. This year was about bringing back our fleet and restarting our airline to pre-Covid levels. That will be completed by the second quarter of 2023. And finally the last past— time to growth and the second half of 2023 will be focusing on our continued efforts in growth.
We are confident of profitability in the first year, as Cambodia is a market that is familiar to us and where we have a deep infrastructure in place. That's why all our future airlines will be based in ASEAN."
On Cambodia, as the choice to launch from, he added "I'm so impressed with Cambodia, if Disney were to do a movie on a country, Cambodia should be their first pick. Great story of pain, survival and growth…..Cambodia is a very attractive market, the population is up to 13 million, huge tourism potential, not a lot of airline capacity here, the largest airline only has four planes."
The airline aims to begin operations late in the second half of 2023 after receiving regulatory approvals and aims to serve routes within a four-hour radius of Cambodia with an initial fleet of four narrow-body Airbus A321s (The actual number of aircraft quoted in the media has varied, in a subsequent interview with Bloomberg TV, Fernandes said it would be two A321 and then grow to 15.)
AirAsia operates about 49 weekly flights to Cambodia from Malaysia and Thailand, which is down from 90 prior to the COVID pandemic.
Reuters also reported that Capital A plans to start a new airline in Vietnam and combine its AirAsia aviation business with the long-haul airline AirAsia X.
Cambodian Commercial Airlines Fleet
Flightglobal reported that Cirium fleets data suggests that Cambodia's airline sector includes seven airlines with a combined fleet of 20 aircraft.
The largest carrier is Cambodia Airways with six Airbus A320s, followed by Cambodia Angkor Air with three A320s and two ATR 72-500s
Basasaka Air, Lanmei Airlines, and Sky Angkor Airlines have two A320 each, while JC International Airlines has a single A320.
Cambodia Bayon Airlines is listed as having a pair of Xian MA60s in storage.