Realestate.com.kh has announced the details of the third annual Cambodia Real Estate Awards (CREA 2021-22) and eligible companies can enter now.
The Realestate.com.kh and the Cambodia Valuers and Estate Agents Association (CVEA) supported by the Ministry of Economy and Finance (MEF) will host the CREA. The awards series recognises the leading agencies, property service companies, and for the first time, property developers and developments in Cambodia which "will celebrate the finest real estate practices and professionals nationwide" said Realestate.com.kh
The "Real Estate Developer & Development Awards" is a new category for the awards ceremony.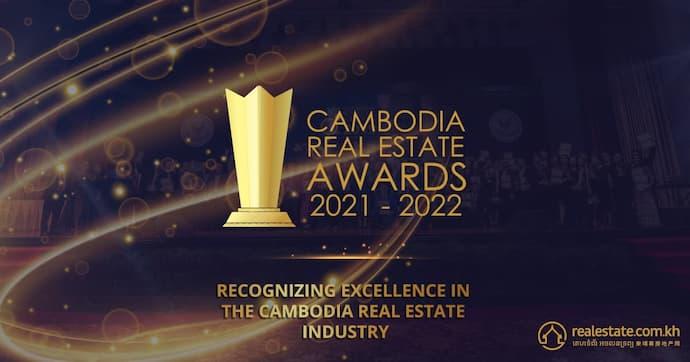 Who Can Participate – Cambodia Real Estate Awards 2021-22
All licensed real estate developers and agencies are allowed to participate in CREA 2021-22, regardless of the size or wealth of their operation. Entries are open from 21 October – 30 November 2021 with the gala dinner planned for around March 2022.
These awards recognise the achievements of the Cambodian real estate industry objectively, fairly, and on a wholly inclusive basis.
Realestate.com.kh reported: "This is the first time in the history of the Cambodia Real Estate Awards that there will be a range of categories for property developers, "Previously the Cambodia Real Estate Awards was solely focused on agents and agencies in Cambodia, given the competition and growth in new developments in Cambodia it made sense to add developers to the awards", noted Head Judge, Eric Wong."
Participants and winners will:
Strengthen their position in the Cambodian real estate market.
Be recognised as a leader in the Cambodian real estate industry.
Receive the "winners" seal to use on your marketing.
Receive an iconic Cambodia Real Estate Awards trophy and certificate.
Receive marketing assets to leverage across your business.
CREA 2021-22 award categories are divided into the following disciplines in real estate:
Real Estate Agency Awards
Real Estate Developer / Development Awards
Real Estate Hall Of Fame Awards
To participate in CREA 2021-22, please get in touch with Realestate.com.kh or download the relevant submission form.
Cambodia Property Market 2020-2021
Tom O'Sullivan, CEO of Realestate.com.kh "In combination with the growing Cambodian middle class and the effects of COVID-19 we have seen a remarkable change in the industry. One of the major trends has been the shift for condominium developers, away from being heavily focused on international markets and turning their attention towards local Cambodian buyers."
He added: "In terms of real estate agencies and property-related service companies we witnessed more international real estate agencies enter the local market as well as the birth of even more local brands, the sector is truly coming of age and opportunity. Within this growing industry there exist companies that have contributed greatly to this growth, and in establishing a real estate industry in pursuit of service, ethics, and success."