OOCTANE, a Cambodian venture capital firm which is part of the WorldBridge Group of companies, has announced their partnership with Cambodian food delivery startup, Muuve.
OOCTANE invests in Cambodian startups
According to their website the VC firm, OOCTANE, "closed its debut US$55 million Cambodia Investment Fund in late 2018 with a mandate to invest in technology-enabled businesses founded in Cambodia, looking to expand into Cambodia, or founded by Cambodians anywhere in the world."
The VC firm looks to primarily invest in companies in the Cambodian logistics, e-commerce, real estate and financial services industries.
Oknha Sear Rithy, Chairman of OOCTANE and the WorldBridge Group, said of the partnership: "Muuve's attention to customer service, variety of food options and talented team is what sets them apart. We are very excited to welcome Muuve into the WorldBridge Group family and our resources and network will be there to assist them."
Who are Muuve?
Muuve is a food ordering and delivery service platform which was founded in 2018 by Cambodian entrepreneurs Panh Phanith (Muuve's CEO) and Chhoun Vathanak (Head of Business Development).
"We wanted to provide consumers with a new type of food delivery service. We value customer service and offer convenient features in our app such as the ability to pinpoint on a map where you would like your food delivered. In a city like Phnom Penh where addresses are hard to find, we have noticed that consumers really appreciate small details like this," said Panh.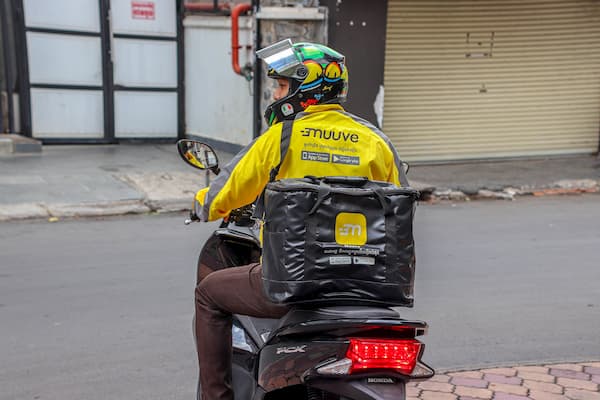 The Cambodian technology startup company call their delivery drivers Muuvers, and claim to 'offer them more freedom' and "the opportunity for them to earn extra income by getting jobs in addition to what they do on a daily basis. We can also look into helping Muuvers find vehicles if they don't have one already as long as they show interest in being part of our Muuver family," said Chhoun.
Tapas Kuila, General Partner of OOCTANE, will join the board of Muuve as part of the agreement. Kuila told e27 technology website "We have been closely tracking Muuve's progress over the past few months as well as the growth of the food delivery industry in Cambodia in general. We believe that their business model along and customer experience will continue to set them apart from the rest of the pack."
Muuve was also awarded "Startup of the Year" in 2019 by the Cambodian Ministry of Posts and Telecommunications.
Cambodian food delivery apps 2020
There are a number of Cambodian food delivery apps on the market, making it a competitive tech startup space. Other food-delivery companies utilising the tech boom in the country include E-GetS, Meal Temple, NHAM24 and Foodpanda Cambodia.