Realestate.com.kh is bringing back its massively popular Home & Lifestyle EXPO 2023. The event which is just one month away will be happening on the weekend of August 12 & 13, at Koh Pich Exhibition Centre.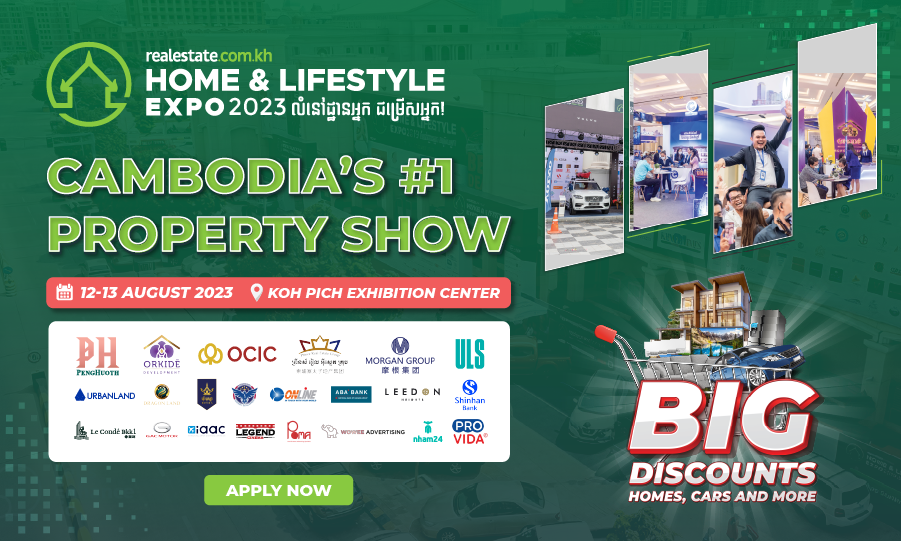 The Home & Lifestyle EXPO is part of Realestate.com.kh's annual events, offering attendees the opportunity to secure the best deals within the Cambodian market and also have the chance to engage with industry-leading banks, insurance providers, and real estate experts.
The biggest names in property development across Cambodia will be on display including Borey Peng Huoth, OCIC, Orkide Development, Prince Real Estate Group, Morgan Group, RoseMarvel Property Development, Borey Dragon Land 598, Borey Bosba, Rose Apple Square, Odom, Bakong Village, Borey Chankiri, Leedon Heights, Le Condé BKK1, Creed Cambodia and many more.
International developers and real estate companies will also be exhibiting at the event presenting opportunities to investors in Cyprus, Canada and the USA.
Click here to register for express entry or inquire about being an exhibitor 
Win Big At The Home & Lifestyle EXPO 2023
Apart from securing the best deals in real estate and other mid to high-end items, attendees will go into the draw to win some of the best prizes, including watches from Watch Empire, fine jewellery and more.
During the two-day event, property developers and exhibitors will be providing exclusive incentives, freebies and more discounts and exclusive prizes to attendees and buyers attending the show.
When, Where and What Time?
The Home & Lifestyle EXPO 2023 will be held at the Koh Pich Exhibition Center. The EXPO 2023 will be held on August 12 & 13, Saturday and Sunday from 10:00 am until 8:00 pm both days.
The Home & Lifestyle Expo 2023, Above and Beyond Properties & Services and Fun for the Whole Family
Last year's expo proved to be an incredible gathering that attracted families and participants of all ages. Parents, children, and the elderly came together to spend a memorable day immersed in the world of real estate and lifestyle.
"Last year's event was our first since the pandemic, and was a huge success, beyond our and the exhibitors' expectations. There are already 5,000 attendees registered to attend, and based on that we expect to break last year's record of 12,000 people."
"Ultimately, our goal is to give home buyers and investors an opportunity to get the best deals in real estate, cars and other items of the year. By adding attractions, kids' play areas, cars, an extensive food & beverage area and more it allows us to not only put on the biggest and best property expo but also to create an experience where people and families can have a great day out together." Mr. Tom O'Sullivan, CEO of Realestate.com.kh said.
A Series of Record-Breaking Successes
The most recent Real Estate EXPO held at the Premier Centre Sen Sok Phnom Penh in 2022 was a major success that broke the country's biggest property sales event ever in Cambodia with a whopping more than $30 million in sales and attracted over 12,000 visitors.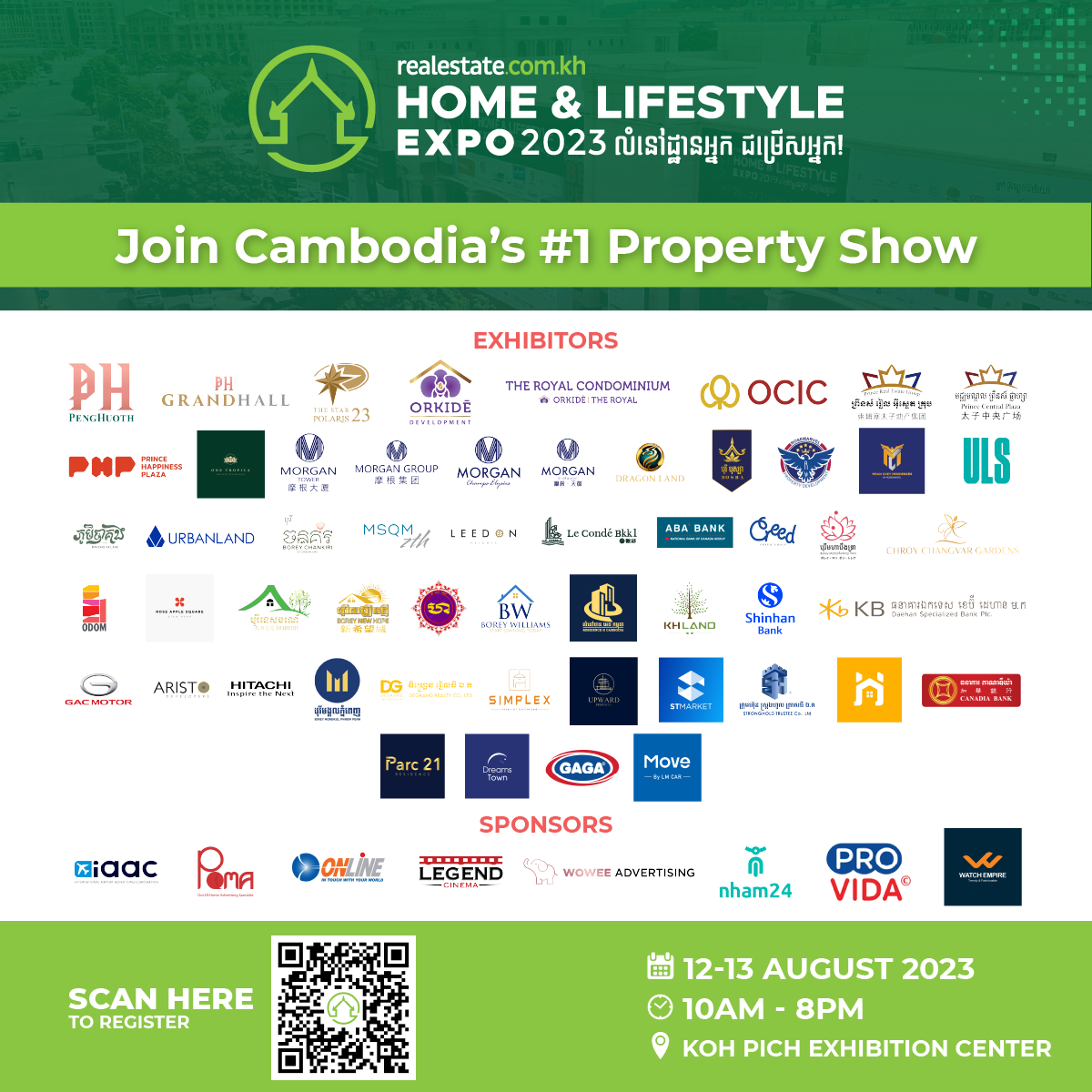 Cambodia's Leading Boreys, Condos, Banks, Lifestyle & Corporate brands
The who's who of Cambodia's property market and ancillary services are already onboard with more coming as the EXPO 2023 on August 12 & 13 draw closer.
Major sponsors & key supporters include: IAAC Airport advertising, COGETEL (ONLINE), NHAM24, Legend Cinema, Wowee Advertising, Poma Media, Watch Empire, Provida Water, Cambodian Investment Management, B2B Cambodia, and Gold Zone Media.
Exhibitors include: Borey Peng Huoth: The Eco Collection, The Star Polaris 23 Condominium, PH Grand Hall, Orkide Development: Orkide The Botanic City, Orkide The Pochentong, Orkide The Royal Condominium, Prince Real Estate Group: Prince Central Plaza, Prince Happiness Plaza, One Tropica, Morgan Group: Morgan Tower, Morgan EnMaison, Morgan Champs-Elysees, Overseas Cambodian Investment Corporation (OCIC), RoseMarvel Property Development: Mean Chey Residences, Urban Living Solutions: Rose Apple Square, Odom, Bakong Village, Urbanland: Borey Chankiri, Borey Dragon Land 598, MSQM ZTH: Leedon Heights, Le Condé BKK1, Residence H Sen Sok, Creed Cambodia, Borey Bosba, Chroy Changva Satellite City, Borey Heng Heang, Borey New Hope, Tourism City, Borey Mongkul, KH Land, ABA Bank, Canadia Bank, Shinhan Bank, KB Daehan Bank, GAC Motor, ISUZU, Forthing, STMarket, ARISTO Developers, DeGrand Realty, Borey Mongkul, Upward Property, FazWaz Cambodia, Parc 21 Residence, eMedia Links, Simplex, Stronghold Trustee, Orkun Solutions, Hitachi Elevator, MOVE By LM CAR, DreamsTown and more.
Media partners include: Khmer Times, B2B Cambodia, AmCham, Cambodia Investment Review, Property Area Asia, Gold Zone Media, The Cambodia China Times, Enjoy Cambodia, Business Cambodia, FreshNews, Koh Santepheap Daily, Kampuchea Thmey Daily, ThmeyThmey, CNC, BTV, PNN, Hang Meas, CTV, TVK, CTN, Jianhua daily.
The Home & Lifestyle EXPO is part of a series conceived by Realestate.com.kh's founder Moek Chenda and the company's CEO Thomas O'Sullivan with the vision of creating an event where buyers can secure some of the best deals in real estate. The event is completely free to attend, and apart from surveying the property market families can enjoy a great day out by visiting some of the attractions such as the latest in property technology, car test drive areas and kids entertainment zone.
Click here to register for express entry or inquire about being an exhibitor