Several Cambodian-based business chambers have been very busy in 2023, as the economic interest in Cambodia is re-energised. Several chambers have, or will be, holding AGMs to elect new members and leaders to take their associations forward, while new partnerships and events between chambers have also been announced in Phnom Penh.
AmCham New Board 2023-2025
AmCham (American Chamber of Commerce) announced the new 2023 Board of Governors following their election of six successful candidates from 20 applicants, at the AGM held on 1st March 2023.
Outgoing AmCham President Anthony Galliano added that AmCham's financial position is very strong; "Revenues increased 80 per cent in 2022, following a 24 per cent increase in 2021…… AmCham's capital base is as strong as ever, and the cash position the highest in its history for a yearend, despite the highest spend ever on events."
The AmCham AGM was attended by 500 guests and was an opportunity for the Cambodian American Chamber of Commerce to highlight its achievements, including:
Increase in membership and event revenue.
Expanded advocacy committees and focused on Corporate Social Responsibility – AmCham has eight advocacy committees covering tax, real estate and construction, education, information and communication technology, corporate social responsibility, law, women, and beer and spirits.
The new board consists of 11 governors and will serve for a period of two years from 2023-2025.
The board announced its new president and executive committee at a board meeting on March 10, 2023 –  Mr. Devin Barta is the new President and Mr. Christopher McCarthy as its Vice President, with Mr. Casey Barnett as Treasurer and Mr. Jay Cohen as Secretary.
The newly elected AmCham board members are:
Ivana Tranchini – Country Manager of Visa Cambodia;
Kim Tol Tan – Founder & CEO of Grow4Growth Consultant Co., LT
Davy Kong – Co-Head of Real Estate & Construction Practice Group at DFDL Legal and Tax
Jay Cohen – Partner & Director at Tilleke & Gibbins (Cambodia) Ltd
Tom O'Sullivan – CEO of Realestate.com.kh
Christopher McCarthy – CEO of MangoTango Asia (Cambodia)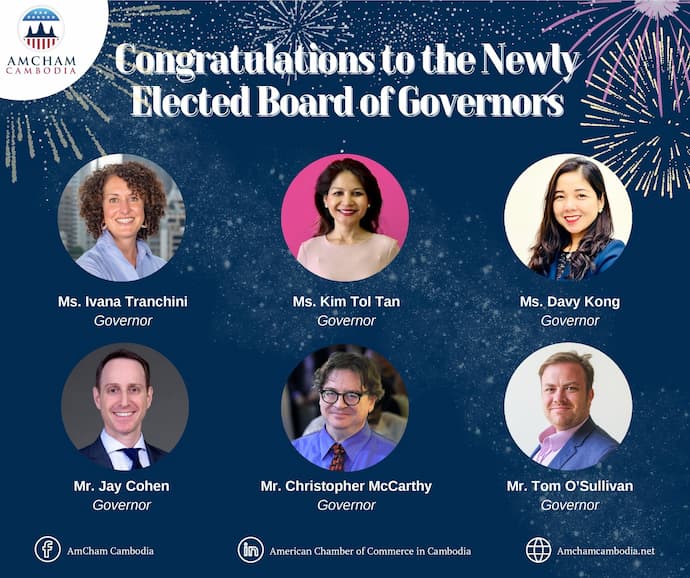 The continuing five board members are Casey Barnett (President of CamEd Business School), Zhiger Atchabarov (Chief Operating Officer at ABA Bank), Devin Barta (Country Manager of AHF Products), Joseph Telfer (Managing Partner and Founder at DataU Academy), and Moniveark Sou (Managing Director at ChemDry Cambodia).
International Business Chamber of Cambodia (IBC) AGM and Board Elections 2023
The IBC held its Annual General Meeting (AGM) on the 15th of March 2023 at Hyatt Regency Phnom Penh which also was the the election for the four new Executive Committee Members for 2023.
There was also a panel presentation discussion on "Logistics and Train Lines, development and connectivity network to neighbouring countries" from a panel including;
𝐉𝐨𝐡𝐧 𝐆𝐮𝐢𝐫𝐲 (CEO – Royal Railway Cambodia), 𝐒𝐨𝐤𝐡𝐞𝐚𝐧𝐠 𝐂𝐡𝐚𝐧 (President – Cambodian Rice Federation), & 𝐏𝐚𝐫𝐭𝐡 𝐁𝐨𝐫𝐤𝐨𝐭𝐨𝐤𝐲 (Founder – Azaylla).
International Business Chamber of Cambodia (IBC) Executive Committee 2023
Chairperson – Paul Clements – Director – J.A.D.E Co., Ltd
Vice-Chairperson – Arnaud Darc – Chairman and CEO – THALIAS HOSPITALITY
Vice-Chairperson – Sanjay Chakrabarty – CEO – Prudential (Cambodia) Life Assurance
Treasurer – James Roberts – Partner, Advisory Services – KPMG Cambodia
ExCom Member – Daren Ong – Managing Director – Pernod Ricard Cambodge
ExCom Member – Socheat Lim, CPA – CEO – Laksmi Prime Investment
ExCom Member – Peter Beynon – Country Chairman Cambodia – Jardine Matheson
ExCom Member – Trevor Sworn – Director – Enduring Consultancy
ExCom Member – Yuni Lee Heathcote- CEO – EZECOM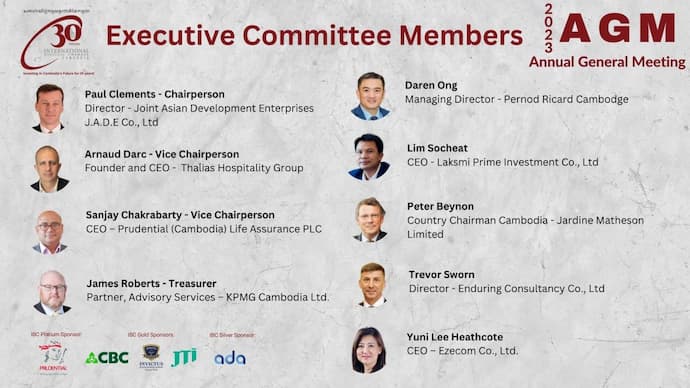 EuroCham Cambodia – Change in Executive Director
EuroCham also confirmed in March 2023 that Thomas Hesketh has stepped down from his role as Executive Director and moved to a regional advocacy role in the garment sector at GIZ.
"Martin Brisson takes the helm as the new Executive Director of EuroCham. Martin helmed the French Chamber for almost four years before stepping in as EuroCham Deputy Director last December," said EuroCham.
Hesketh wrote of his departure "I am reminded of how special and active a place EuroCham was to work. I will certainly miss it…. I encourage you to warmly welcome Martin Brisson as he guides EuroCham and its young, dynamic team in its next chapter. Best wishes, and hopefully see you around Phnom Penh!"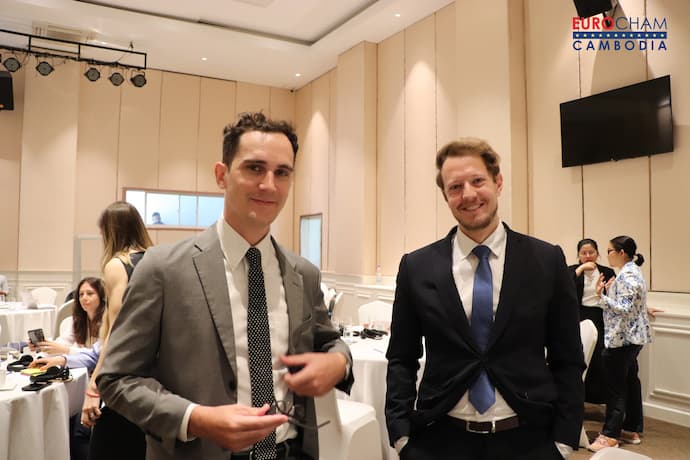 CanCham & InCham Business Networking Event March 2023
CanCham (Canadian Chamber of Commerce of Cambodia) and InCham (Indian Chamber of Commerce in Cambodia) host a Business Leaders Networking Event on March 10, 2023, at the Sun & Moon Hotel Riverside for members of both chambers, to share insights and discuss business opportunities.
The organisers said, "This event is the first of its kind this year and promises to be an incredible opportunity to connect with like-minded professionals".
Representatives attending hail from a variety of industries: Healthcare, Education, Energy, Legal, Real Estate, Hospitality, SME, Travel, F&B, Finance, Insurance, Tech, Agriculture and FMCG.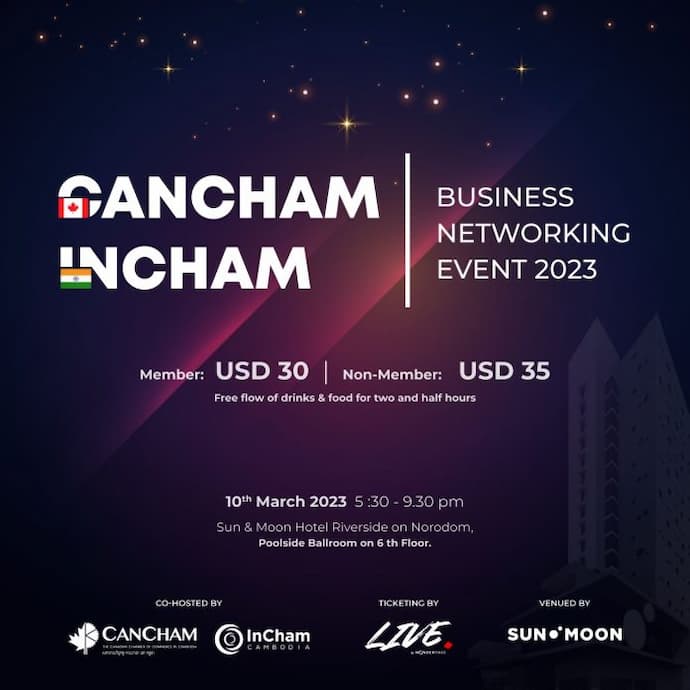 French Chamber of Commerce and Industry in Cambodia (CCIFC) & Cambodia Chinese Commerce Association (CCCA) Event 2023
The French Chamber of Commerce and Industry in Cambodia (CCIFC), as well as the Cambodia-Chinese Commerce Association, held their first joint event this past week at La Plantation Urban Resort & Spa with several Cambodian-based CEOs and executives attending.
The CCIFC said that fifteen CCIFC CEOs and executive executives and fifteen CCCA members were in attendance to discuss potential business opportunities.