The 'SMEs & Startups Go Public Program' was launched by Cambodia Securities Plc. and the Cambodia Securities Exchange (CSX) on October 9, 2023 at the CSX building. The new program seeks to encourage small and medium enterprises (SMEs), as well as startups, to list on the securities market by offering support from the stage of incubation to the final stage of preparing for the initial public offering (IPO) process.
The launch was presided over by H.E Hong Sok Hour, Royal Government Delegate in charge as CEO of CSX, Teng Cheng-Yueh, Managing Director of Cambodia Securities Plc., and Buth Kerady, CEO of Cambodia Securities Plc.
During his opening remarks, Cheng-Yueh stated that the launch of this program is a significant moment for the Cambodian capital market. He also highlighted the government's strong development strategy that supports the private sector, economic growth, and fosters further employment.
"We firmly believe that this strategy will not only open up opportunities for SMEs and startups, but will also contribute to the overall economic prosperity of our nation," he said.
Sok Hour remarked that there are currently 20 publicly listed companies on CSX – 11 equity-listed companies and nine bond-listed companies. Public investment into these companies has reached USD $330 million so far.
By the end of 2023, the number of trading accounts on CSX is expected to increase to 50,000 from the current 44,000, shared Sok Hour, predicting an approximate increase of 1,000 trading accounts per month. He added that as of August 2023, the number of active investors on CSX has increased to 10,000.
Encouraging Businesses To Go Public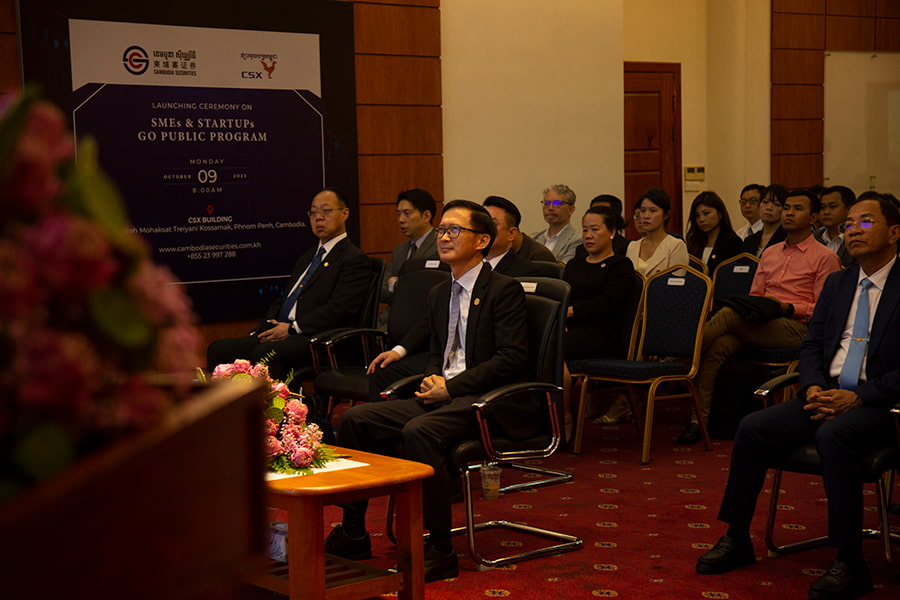 Sok Hour further encouraged businesses to use "other people's money" to grow their business, either by borrowing money from banks or by listing their company on the stock market. He noted one weakness in the Cambodian business landscape is that many business owners tend to be reluctant to borrow money from other sources when their company is doing well, only seeking investors when their business, or the country's economy, faces trouble.
He also emphasised the importance of maintaining clean and transparent share sales in the stock market. In this regard, Sok Hour underlined that going public can help to establish higher company standards and also help to establish trust with customers.
"It's only through the stock market that a business owner can make their company sustainable and easily transfer shares and dividends to their children and the next generation with peace of mind," he affirmed.
Sok Hour stated that CSX will continue to work towards raising more awareness about the securities market, and shared that CSX will host a securities expo in November as a means to engage more with the public.
He affirmed that CSX aims to continue serving as the country's financial intermediary, enabling business owners the opportunity to raise hundreds of billions of dollars a year, and creating a passive source of income for thousands of people. CSX also aims to attract foreign investors who are seeking investment opportunities in Cambodia without the need to set up a company or obtain a business licence.
What Is The 'SMEs & Startups Go Public Program'?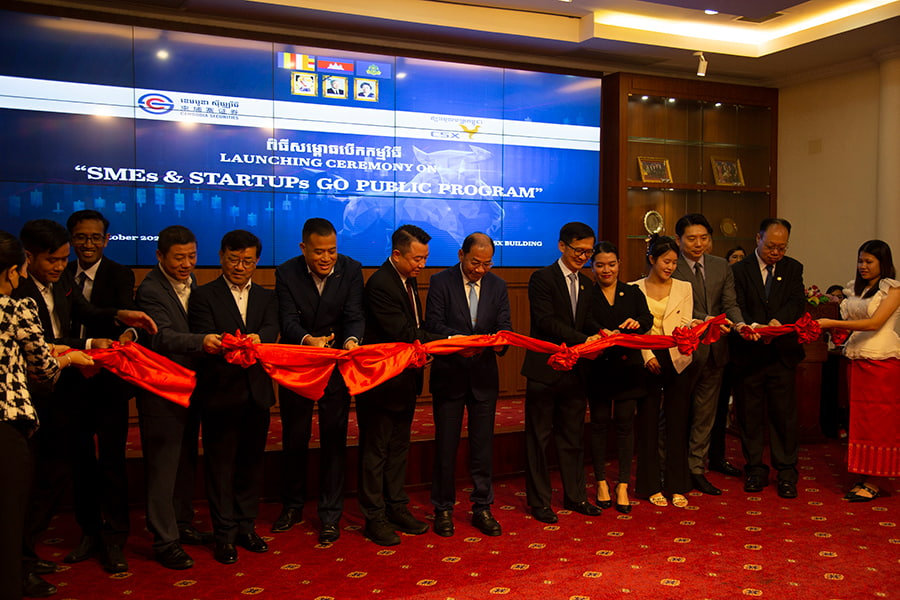 Cheng-Yueh shared that the program is designed to bring together diverse resources and provide comprehensive support for SMEs and startups.
"It provides a pathway for intensive support in areas such as business strategy, marketing, and professional training," he said. 
Through the program, SMEs and startups will receive access to one-stop services, professional courses, a premium working environment, as well as favourable government tax policies.
"These advantages will create an ideal environment for businesses, allowing them to focus on their operations and achieve their long-term goals," added Cheng-Yueh.
While speaking with B2B Cambodia, Kerady said that the program provides very important support to SMEs and startups, as many are looking to go public but lack support and advice from security firms and financial experts.
Cambodia Securities Plc. is leading the program and will also act as its main underwriter, however, Kerady stated that the company may look for a co-underwriter in some cases.
Why Should SMEs and Startups Go Public?
Kerady explained that going public can not only benefit a company, but can also help to increase awareness and public investment in the capital market.
"Some people who are interested in the financial industry, or those who do not have enough capital to start their own company, can also invest in the securities market and enjoy the benefits of financial freedom," said Kerady.
"Going public is not only for the benefit of one's company, but also for the benefit of the entire country and the industry as a whole," she concluded.
Read More On Cambodia Securities Market: