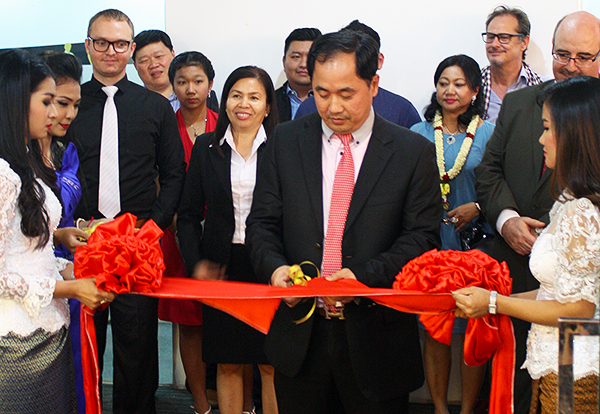 Cambodia's newest arrival on the nascent local e-commerce scene opened its doors last Friday to curious media representatives and members of the local business community.
Housed in a vibrant open-plan office, with psychedelic painted walls and plush loungers, Cambodia's latest tech venture wouldn't look out of place amongst the empires and start-ups of Silicon Valley.
MAIO Mall, or My All In One Mall, is set for commercial launch on 15 February.
This WorldBridgE Commerce (WBC) venture signals the first major player to express their confidence in the burgeoning Cambodian e-commerce market by launching a comprehensive online retail platform.
The ambitions expressed in an early press release indicate a commitment to delivering a range of products rivalling a brick and mortar shopping mall. In line with this, over 20 companies have been enlisted under the WBC group, ensuring supply and delivery demands can be met.
MAIO Mall will stock a wide range of products, from high- to low-end, along with a variety of locally and internationally recognisable brands.
With fewer than 10 percent of the population currently using credit or debit cards, the e-commerce sector has previously been severely hampered. However, 2015, may be the year that changes.
To counteract the lack of Cambodians currently set up to pay via digital payment methods, MAIO Mall will accept cash payment on delivery, following the selection of the desired product online through PC or smartphone.
The acceptance of payment on delivery should render the service viable while the wider market catches up and shifts towards more digital payment methods.
Recent data trends pertaining to credit card penetration and smartphone adoption in Cambodia suggest the time is ripe for such a shift.
WBC's partnership with ACLEDA Bank is hoped to provide even greater traction.
"There is no doubt that with such a vast market penetration as the bank has we will be heard of not only in urban areas, but also in the provinces of Cambodia and further beyond our borders," said a representative of WBC.
WorldBridge International Group of Companies CEO and WBC Board Member, Rami Sharaf, is confident that on the back of steady economic growth, Cambodia is ready to embrace the e-commerce revolution.
"Strong marketing, strong branding, innovation, accessibility. These are just fractions of what we are about to bring for Cambodians," says Sharaf.
Oknha Rithy Sear is similarly enthusiastic: "It is all part of one puzzle coming together," he says. "Our group of companies, its delivery channels, real estate, and now our online venture, is all part of the new Cambodian young society."