Organised under the theme, 'Connectivity is growth in the Mekong region', the 2023 ASEAN-Cambodia Business Summit brought together key economic experts and players from ASEAN and the European Union (EU) to promote greater regional integration and connectivity. 
The two-day summit was held from September 28-29, 2023 in Phnom Penh and covered a number of topics related to fostering integration and connectivity in the Mekong region, including cross-border payments, regional supply chains and issues related to infrastructure, as well as the digital economy.
Watch the highlights from the 2023 ASEAN-Cambodia Business Summit's forum on Connectivity & Growth in the Mekong Region:
Opening the summit's forum on Connectivity & Growth in the Mekong Region, H.E. Cham Nimul, Minister of Commerce, remarked on the importance of exchanging dialogue on the development of regional connectivity.
"These kinds of exchange are critical as we seek solutions to challenges faced by countries in the Mekong region, especially to improve connectivity in transportation, business and regional value chains, and by doing so, further strengthen ASEAN integration to foster economic growth and prosperity," said Nimul.
Physical And Digital Connectivity In Cambodia
Cambodia has been working hard to enhance its regional connectivity across all fields, both physically and digitally, according to Nimul. The minister highlighted the building of expressways linking Phnom Penh to key trading ports in Sihanoukville and Poipet as an example of the efforts being made to connect Cambodia to the rest of ASEAN and beyond. 
She also mentioned the development of the Funan Techo Canal, the largest infrastructure project of its kind in the Kingdom, which the government believes will further transform Cambodia into a new logistical and economic hub in the region. She explained that these development projects constitute Cambodia's contribution to implementing and realising the vision of the Master Plan on ASEAN Connectivity 2025 (MPAC 2025).
Regarding digital connectivity, Nimul pointed to the government's Digital Economy and Society Policy Framework 2021-2035, which outlines digital connectivity as both a strategic priority and foundational building block. Similar to physical connectivity, she described Cambodia's efforts as being consistent with initiatives implemented on the regional level, as well as in line with the ASEAN Digital Masterplan 2025.
Potential Of The Mekong Region As An Economic Powerhouse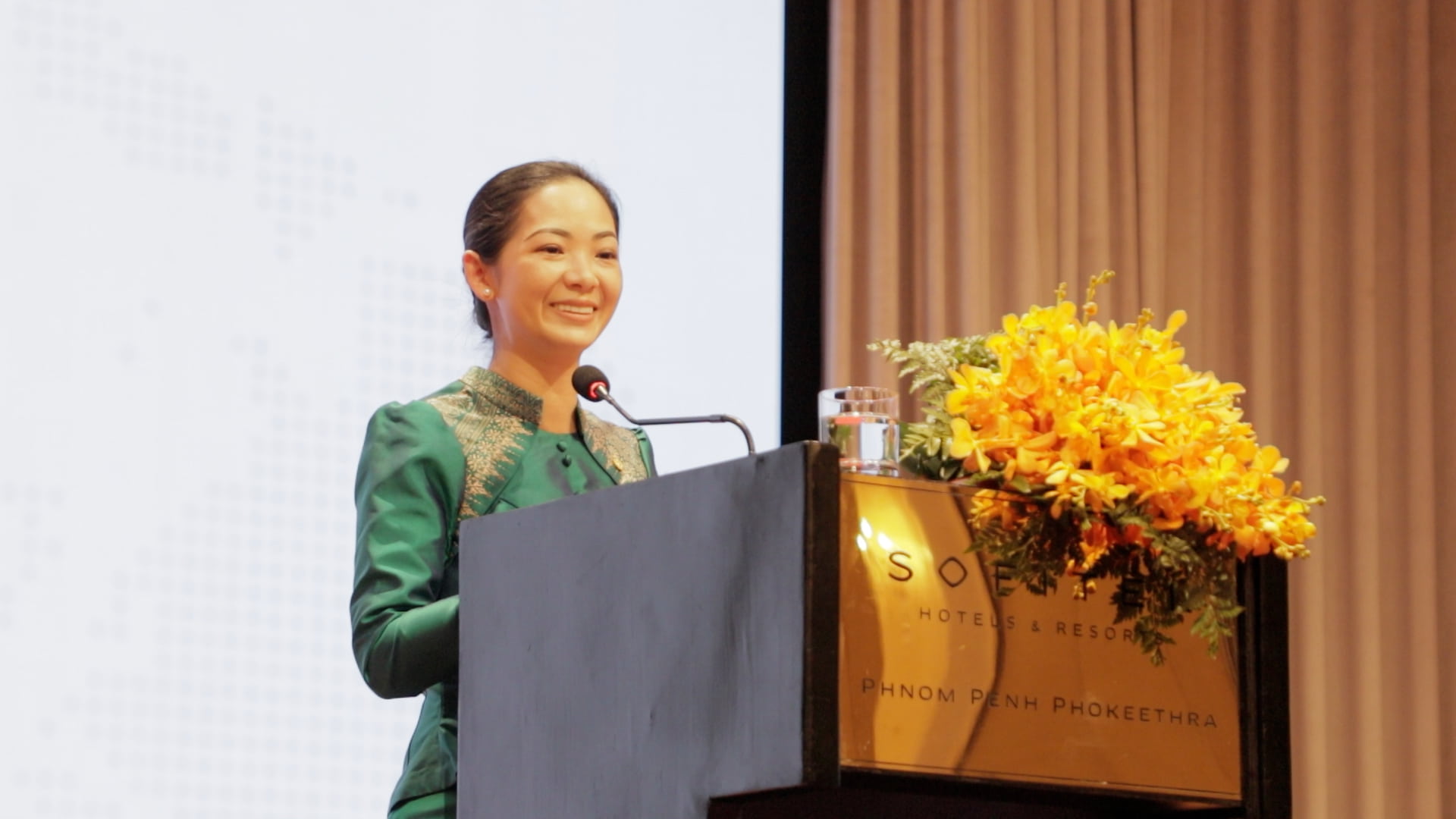 Nimul described the Mekong region as a strategic area with great potential in Asia and beyond, having made many notable trade and investment achievements in recent decades thanks to the region's "open, facilitative and non-discriminatory business environment" that enhances private sector engagement and boosts economic activity. 
However, she added that the region still faces many challenges, including slow economic recovery following the COVID-19 pandemic, and ongoing global food and energy challenges that partly result from insufficient connectivity. She said these challenges will need to be overcome if the region wishes to fulfil its own potential.
"To put all these points into perspective; the total trade volume of all four ASEAN countries in the Mekong region totaled to USD $1.39 trillion in 2022, which was an increase of 10 per cent from 2021, but the other six non-Mekong ASEAN countries had an annual growth of 18 per cent in 2022, from the trade volume they achieved back in 2021," shared Nimul. 
"Therefore, although this region is vibrant and full of potential to become an economic powerhouse and global production centre, we need to do more to realise this potential."
Making an appeal to all business entities and potential investors in attendance, Nimul encouraged for there to be a diligent and positive consideration of the "untapped opportunities" in Cambodia and the Mekong region, particularly in relation to its youthful population of 200 million people and favourable geographic location.
"Let me call on EU-ABC (ASEAN Business Council) members and private sector representatives in attendance to consider investing in our promising sectors, comprising of manufacturing and agro-processing industries as well as tourism services, and increasing the import of our potential goods, such as textiles, footwear, travelling goods and agricultural products," said Nimul.
"Cambodia and the whole Mekong region stands ready to welcome all prospective investors where opportunities are abound."
EU Global Gateway Initiative
Bryan Fornari, Head of Cooperation at the EU Delegation to Cambodia, gave a short presentation on the EU's Global Gateway Initiative, a new infrastructure investment strategy focused on a set of sustainability-based principles, which the EU is also pushing in the ASEAN region. He outlined the two main priority areas for Global Gateway investments in ASEAN: 
Sustainable Connectivity – encompassing connectivity in energy, transport, trade, sustainable value chains, education and the digital economy;

The Green Initiative – covering investments in green and smart cities, biodiversity preservation, clean and affordable energy systems and the circular economy.
These initiatives, Fornari explained, begin at the regional level and "trickle down" to the national level. Specific to Cambodia, he said there is a strong focus on investing in agro-processing, sustainable value chains, green energy and industrial value chains, which aligns well with government priorities. 
Ultimately, Fornari described the Global Gateway Initiative as something which can contribute to regional connectivity through the promotion of a unified set of sustainable standards for infrastructure investment projects. 
"Please be in contact with us… If you have ideas, if you have projects which are exciting where you want to partner with us, please, let's discuss through EuroCham, or discuss directly with us," urged Fornari.
Strategies To Improve Regional Connectivity
A panel discussion on the strategies to improve regional connectivity capped off the afternoon session, featuring European experts based in the Mekong region who provided insights that touched upon the EU example.
Carsten Schwenke, Regional Director of Rhenus Logistics, based in Vietnam, spoke about how cross-border trade between ASEAN member countries could still be made easier, even as the ASEAN Customs Transit System (ACTS) has sped up the process.
"Before you had to do individuals export declarations in Malaysia, Thailand, Laos, Cambodia then an import declaration in Vietnam, but now, under the ACTS, you can do just one customs declaration, and this is a digitised process with customs checkpoints on the way," said Schwenke.
"On paper, of course, this sounds awesome, but in reality, this is just half of what is needed to really make trade easier, because while you have a digital trade flow… we forget about the actual physical trade flow," he added.
Schwenke explained that cross-border trucking is still not widespread as most ASEAN countries do not accept each other's number plates and driver's licenses, so goods still need to be physically transported from one truck to another when crossing borders.
"To really increase connectivity… moving goods physically needs to be made easier, and I don't think we will see a European Union way of moving goods across borders anytime soon, but ACTS is a step in the right direction, it's definitely a step in the right direction," stated Schwenke.

Necessity Of Political Will
On the subject of what is really needed to help make the region become more interconnected to reduce costs and time, the panel agreed that greater digital integration, up-skilling and smoothing out regulatory issues are important, but a foundational necessity is political will.
"I think first and foremost, what is needed is the right mindset and the political will… If regional governments agree that it is beneficial for their economies, their 200 million people, to cooperate more closely, work more closely together on economic connectivity, then everybody will benefit from it, things will move forward," said EuroCham Chairman, Tassilo Brinzer.
He further added, "Political will would probably come out of economic opportunity… Of course, it's many small steps, particularly in developing infrastructure… for processes and logistics companies to be aligned, for educational and vocational training standards to be aligned… And I guess the European Union is, to an extent, an example to follow, but definitely, the Mekong region can leapfrog the experiences that the European Union made, and probably do better as well." 
Marko Walde, Chief Representative of the AHK in Vietnam, Myanmar, Cambodia, & Laos, remarked further on prioritising the 'big picture' of regional connectivity in spite of global geopolitical conflicts.
"I think to increase connectivity creates win-win situations and benefits for all participants," said Walde. "When we talk about geopolitical situations, trade wars, inflation rates, international financial disruptions of supply chains and so on, it's thought of as something worldwide, or seen through a really big regional development lens, but despite all these challenging aspects, increasing connectivity in the region itself is something countries can do independently… to really take the burden away and allow companies to do easier business." 
Lessons For Cambodia
The panel agreed that Cambodia has many potential examples it could learn from in regard to improving connectivity, however, all lessons learned will need to be adapted to the local context as the Kingdom's history differs greatly from that of its neighbours.
"I guess Cambodia can learn from anyone, and I guess its neighbours could also learn some lessons from Cambodia too, but I think we cannot compare them," affirmed Brinzer.
He also commented on Cambodia's quick ability to learn and improve on other countries' examples, pointing to the successful adoption of digital payment systems.
"In general, I would say that Cambodia has an ability and a capacity to learn very fast, to leapfrog certain developments, look at mistakes that others have made, not make them, and jump to the next level," he said. "This has happened in digital payments, digital finance, communication… mobile banking is huge here in Cambodia, digital integration has moved very fast."
"With the new government coming in, I sense that there is a new will to tackle issues, to tackle reforms, to renew some of the governance and administrative processes, and this could also lead to a much more open economy and more open society, which could lead to better business with Vietnam, Thailand and Laos," concluded Brinzer.
Read More On The ASEAN-Cambodia Business Summit 2023: