In July 2021, the Cambodian government re-allowed inbound travellers (with the appropriate visas and COVID- protocol requirements) to pre-book their hotels once again for the 14-day enforced quarantine. So how does the Cambodian Alternative State Quarantine (ASQ) work?
(Updated August 2021)
When the Kingdom first introduced quarantine on arrival to the nation in 2020, following the outbreak of the coronavirus globally, inbound tourists and business travellers went through a raft of new protocols and COVID-19 requirements which included; pre-testing, $2,000 USD deposits which would cover a 14-day stay at a hotel, PCR tests, among other restrictions.
At one point, hotels could be pre-chosen, online food deliveries were allowed, and although inconvenient, these measures were tolerated.
When food deliveries stopped being allowed, and the general cost, quality and food provided by the government-appointed hotels got worse, online feedback was generally poor. Combined with the compounded effects of international travel becoming more difficult and tourist visas being stopped, international visitors to Cambodia have plummeted.
Only foreign diplomats and UN agents were quarantined at the Himawari Hotel, while it seems most British passport holders have generally also been assigned the same hotel in the capital. Everybody else has been placed on mystery hotel busses to destinations which often were accused by guests on social media of overcharging and under-delivering – using up the $2K deposit and returning very little – ranging from $200- $500 depending on the services used.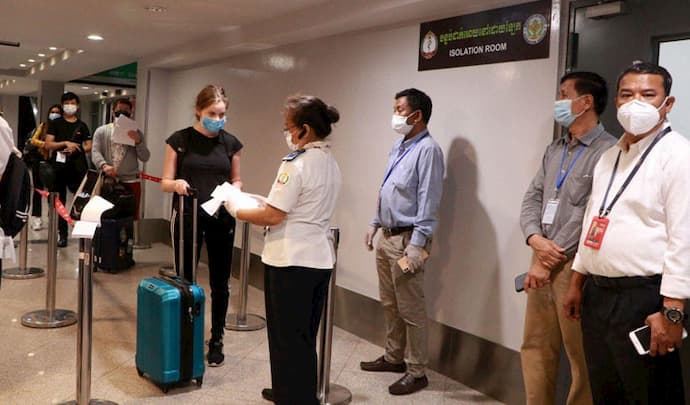 Which hotels in Phnom Penh offer Alternative State Quarantine?
Now, with a vaccination program well underway, the Cambodian government initially approved two hotels as part of its Alternative State Quarantine (ASQ) program but more have been added.
The hotels will cover the cost of PCR tests during the 14-day quarantine period.
Courtyard by Marriott Phnom Penh
Sokha Phnom Penh Hotel & Residence
Raffles Hotel Le Royal Phnom Penh (added in August 2021)
The Inter-Ministerial Committee to Combat Covid-19 said that "foreigners and locals arriving at Phnom Penh international airport can opt-out of the current quarantine arrangements, which require them to leave a $2,000 deposit with a local bank. The money covers the cost of accommodation, meals, Coronavirus PCR tests and transport, with any remaining leftover cash refunded after quarantine."
Inbound arrivals need to book directly on the hotel websites at least two days before their departure for Cambodia. They are still required to provide:
Proof of their hotel reservations and other immigration documents.
Negative PCR test certificate on arrival at Phnom Penh International Airport.
It is believed that the Cambodia Hotel Association are going push for the scheme to include more affordable options.
Courtyard by Marriott Phnom Penh ASQ Package
The Courtyard by Marriott said: "The health and safety of our guests is our top priority: COVID-19 updates and what to expect at our hotel." They have created a landing page on their website under the Offers which detailed what is provided:
14-night package starting from USD 1,980+++ (The rate is subject to 2% Accommodation Tax, 10% VAT and 7% Service Charge).
Breakfast, lunch and dinner included.
Two times COVID-19 tests.
Valid Stay Dates: July 12, 2021 – 

September 30, 2021.
Children aged between 6-12 years, sharing with parent/s, will be charged an additional  $750 per person.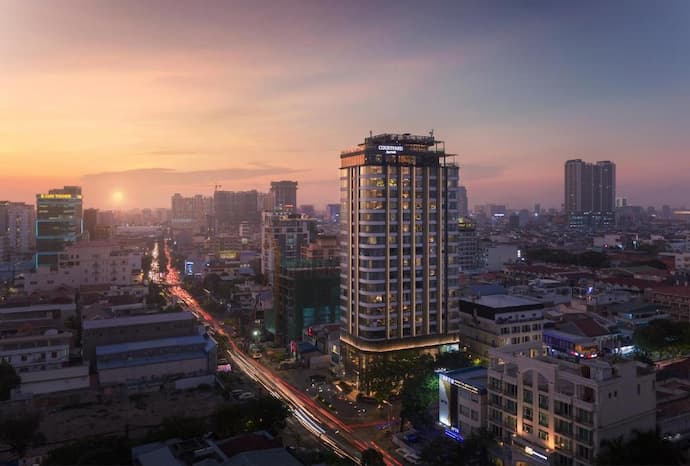 Sokha Phnom Penh Hotel & Residence ASQ Package
The Sokha Phnom Penh Hotel website does not indicate any ASQ deals on their website while the site also says the booking function is under maintenance.
In addition, their deals refer to packages from 2020 so no package/price information is available at the time of publishing for the Alternative State Quarantine.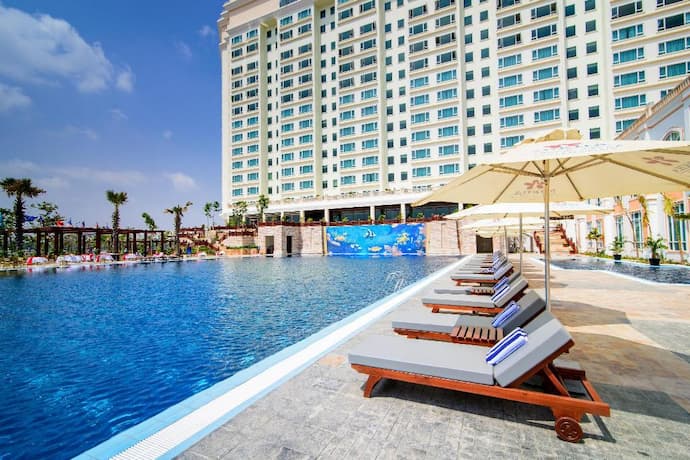 Raffles Hotel Le Royal Phnom Penh ASQ
On August 9, 2021, Raffles in Phnom Penh was added to the Alternative State Quarantine (ASQ) list according to AmCham.
"Separate accommodation buildings have been assigned to cater to both ASQ guests and as well as leisure and business travellers which allows us to provide hybrid accommodation needs to all our guests, and as well, continuously provide food and beverage services to our patrons."
Bookings need to be confirmed three days prior to arrival and cost a total of $2,426 Net per person.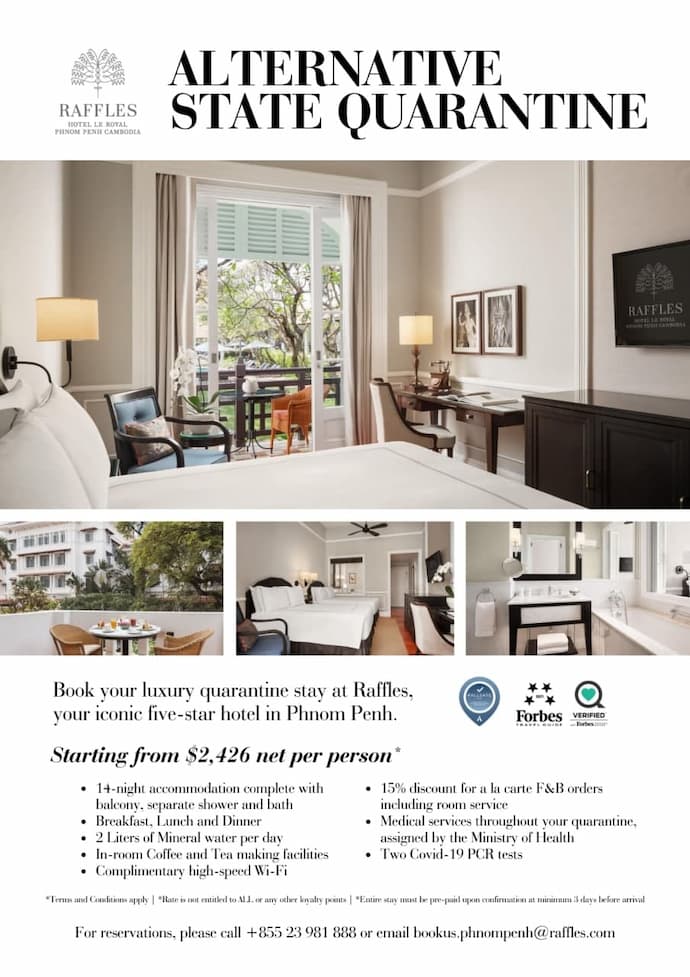 Sofitel Phnom Penh Phokeethra ASQ
In mid-August 2021, Sofitel was the 4th hotel to be added to the approved Alternative State Quarantine list in Phnom Penh. Room prices are the most expensive with rooms starting at USD $2,980 for the two-week quarantine and upgrades available to Suites. A Prestige Suite is the most expensive at USD $4,660.
The hotel says online "Sofitel Phnom Penh Phokeethra is pleased to announce that we are now offering a 5-star Alternative State Quarantine accommodation in accordance with government's guidelines. Our packages include a 14-night stay with a sumptuous daily meal, ALL reward points eligibility, airport transfer, 10% off food, beverages & laundry services, peaceful atmosphere with green environment, smoking floor, natural ventilation, fun in-room activities and much more."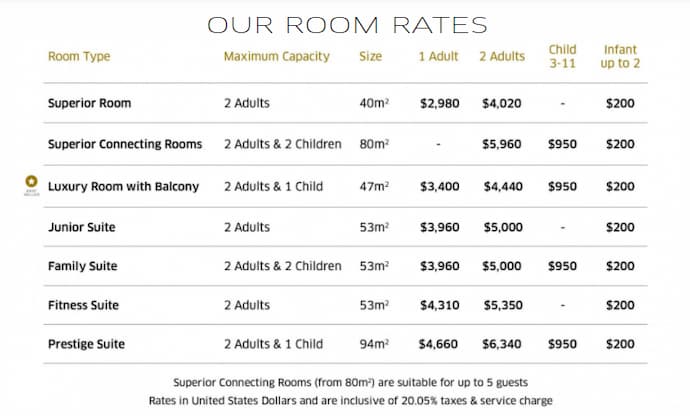 Cambodia Tourism 2021
Tourism and visitors to Cambodia have dropped off dramatically. The visitors to Angkor Archaeological Park were down nearly 99 per cent in the first six months of 2021, while air passengers coming through the Kingdoms' three international airports (Phnom Penh, Sihanoukville and Siem Reap) have dropped by 92 per cent (136,680) in the first half of 2021.
Recently Cathay Pacific Airways Ltd announced it would operate three inbound and outbound flights between Phnom Penh and Hong Kong on July 30, Aug 13 and Aug 27 2021. Passengers flying out of Phnom Penh must show a negative Covid-19 test prior to leaving the country. Everyone transiting from Hong Kong must depart within 24 hours upon arrival.
Rumours have abounded since April 2021, whether Cambodia would drop quarantine restrictions or make it more attractive to visit the Kingdom, with Q4 2021 sometimes touted as a potential target – but no official announcement has been made.