The Cambodia Restaurant Association (CRA) organised a seminar entitled "How to Achieve 100% Food Safety?" at the Sofitel Phokeethra Hotel in Phnom Penh on July 27th, 2023. The seminar was attended by numerous members and professionals working in the hospitality industry in Cambodia.
The topics discussed during the event include the Cambodian Law on Food Safety, roles and responsibilities of the food business, highlighting the role of the food testing laboratory at Institut Pasteur Du Cambodge, the company that helps the food business achieve international standards – Newrest in Cambodia, and how to ensure that food is safe for consumption. 
Guest speakers and panellists included Mr. Sin Sideth (Deputy Director-General of CCF) and Mr. Veal Chandaraith (Vice Chief of Food Safety Bureau) from Commerce and Health Ministry, respectively, Mr. Arnaud Darc, President of Cambodia Restaurant Association, Dr. Navin Sreng Director of Pasteur Institute Food Safety and Environment Laboratory, Mr. Rathana Hean, Assistant QHSE Project Manager from Newrest in Cambodia.
During his opening address, Mr. Arnual Darc, President of CRA, emphasised that food safety is a top priority in the hospitality industry along with offering tasteful culinary experiences. 
"It is vital to implement strict safety practices such as having proper storage and preparation with ingredients and enough training for staff with hygiene and sanitisation," he said. "This to prevent the unthinkable loss of life, it is a moral imperative, we must recognise the trust of our customers, it must be beyond flavour," he added.
Law on Food Safety – Cambodia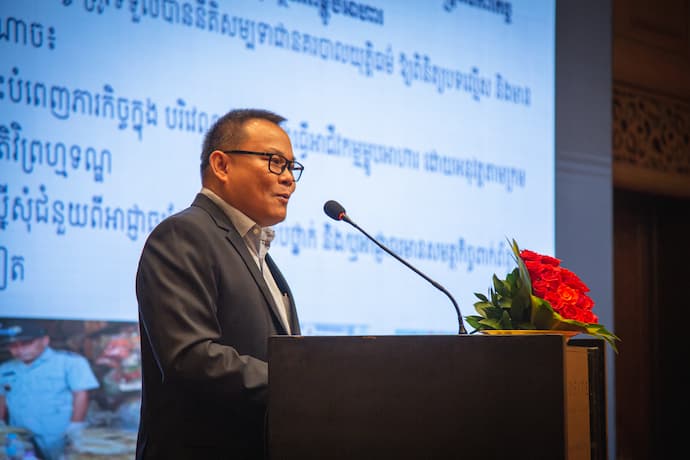 Mr. Sin Sideth, Deputy Director General of Consumer Protection Competition and Fraud Repression (CCF) at the Ministry of Commerce, discussed the Law on Food Safety, which was adopted in June 2022 after six years of consultation. 
The law contains 11 chapters and 43 articles, which are aimed at protecting health and ensuring food safety for consumers, as well as promoting commercial activities such as domestic commerce and import-export with bilateral, multilateral, regional, and global partners.
According to Mr. Sideth, the law encompasses safety, quality, hygiene, and application, covering all steps of the food production chain from farm to table. 
"This law has two missions; first to protect the health and to ensure food safety for consumers, and second for commercial purposes," he said. 
What Are The Three Causes Of Food Poisoning?
The law also identifies three main causes of food poisoning: 
Physical Hazards

Chemical Hazards

Microbiological Hazards
Which Authority Is Responsible For Ensuring Food Safety In Cambodia?
The authority responsible for ensuring food safety in Cambodia is divided among several government agencies. 
The Ministry of Agriculture, Fisheries and Forestry (MAFF)

oversees food businesses from initial production until primary processing.

The Ministry of Industry, Science, Technology and Innovation (MISTI)

is responsible for food businesses during the processing period inside the industry.

The Ministry of Commerce

is responsible for ensuring food safety for commercial activities on the market.

The Ministry of Health

is responsible for the final food safety at the last consumption stage.

The Ministry of Tourism

provides registration or legal requirements for the establishment of food businesses in restaurants and tourism.

The Ministry of Economy and Finance

is responsible for monitoring food safety at the border checkpoints.
What Are The Roles And Responsibilities Of The Food Business?
The roles and responsibilities of food operators in Cambodia include:
Obtaining certification from the relevant authorities

(Article 9)

Maintaining food safety, quality, and suitability for human consumption in accordance with the established conditions

(Article 11)

Displaying a logo on the package that complies with the Cambodia standard and relevant regulations

Urgently notifying the Ministry and relevant authorities of any quality or food safety issues and cooperating with them to implement necessary measures to reduce risk

(Article 12)

Practising sanitary measures based on the condition of the food or the decision of the Ministry and authorities

(Article 17)
You May Also Read an Explanation by Tilleke & Gibbins On Cambodia Issues Law on Food Safety 

Laboratory For Food Testing In Cambodia – 'Institut Pasteur du Cambodge'
During the event, Dr. Navin SRENG, Director of the Institute Pasteur's Food Safety and Environment Laboratory, spoke about the laboratory's role in helping businesses ensure the safety of their food through testing.
The Laboratory of Environment and Food Safety (LEFS) at Institut Pasteur du Cambodge received accreditation to ISO/IEC 17025:2017 from the International Accreditation Service (IAS) on September 6, 2022. This certificate of accreditation is specifically for the laboratory's scope on Food Microbiology.
What Does Paster du Cambodge Do Regarding Food Safety?
Two main tasks of The Laboratory of Environment and Food Safety In Cambodia include Food and Water Testing and Surface and Air Contamination.
Institut Pasteur Du Cambodge also provides training on Hygiene and Food Safety, HACCP and other certifications for restaurants, catering, vegetable producers, etc. 
Newrest in Cambodia: To Ensure Food Quality and Safety Up To International Standard
Mr. Rathana Hean, QHSE (Quality, Health, Safety, and Environment) Assistant Project Manager at Newrest in Cambodia, explained how the company ensures food quality up to international standards.
Newrest, a European company, uses an Integrated Management System (IMS) to assess risks at every step of the production process, from suppliers to food service. In addition to the three hazards stated in the Cambodian Law on Food Safety, Newrest has additional food hazard categorisations, such as food allergies, radiological hazards, food fraud and adulteration, and food defence.
To further ensure food safety and quality, Newrest helps its customers obtain certification in GHP (Good Hygiene Practices) and HACCP (Hazard Analysis and Critical Control Points), ISO 22000, GFI (Global Food Safety Initiative), BRCGS (Brand Reputation Compliance Global Standards), and FSSC 22000 (Food Safety System Certification).
How To Ensure That The Food Is Safe?
Mr. Sin Sideth emphasised the importance of being well-prepared at the point of consumption, such as in restaurants, to ensure food safety with collaboration with all stakeholders.
The first is to share information that everyone can understand. He said that food businesses/restaurant operators must be aware of the law and regulations and know which institutions they have to work with, such as the Ministry of Health and other government authorities. 
Secondly, they must make sure the source of their ingredients is safe. "We cannot just buy from some unknown source," he said. "If the food is contaminated with bacteria, it may not be so serious, but if it contains a chemical substance, it can be fatal, which is a serious responsibility of the Ministry."
He added that if there is a clear source where the ingredients were purchased from, trace-back can be performed to identify any issues, and in the event that the issues were caused by the farm, the food operator would be acquitted.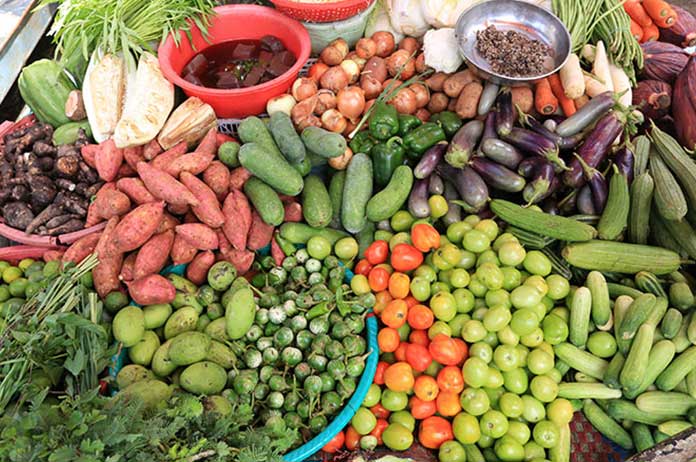 How To Boost Confidence From The Consumers Who Eat In Cambodian Restaurants?
Mr. Veal Chandarith says that every restaurant that meets the required hygiene standards is eligible to receive a certificate from the Ministry of Health, which is ranked as Grade A, B, or C, depending on the level of compliance. 
In cases where a restaurant is not able to meet these requirements, the ministry issues a separate certificate that recognises the establishment's "good hygiene" practices.
If restaurant operators wish to obtain this certificate, they can contact the Ministry of Health, and Mr. Chandarith assured that the ministry would provide support without any punitive measures.
Training on Hygiene by the Ministry of Health of Cambodia 
Mr. Veal Candarith explained that the Ministry of Health (MOH) provides training for restaurant owners and their staff on proper hygiene practices. Upon completion of the training, participants are awarded a certificate as proof of their knowledge and skills.
In the event that a staff member leaves their current restaurant to work at a different establishment, the new restaurant owner can verify their hygiene credentials by reviewing their certificate from the MOH.
What Is A Food Traceability System?
Food Traceability System refers to a set of guidelines and procedures that enable the detection of the source of foodborne illness outbreaks. Mr. Sideth explained that this system requires all food establishments to maintain clear records of their production processes and supply chain.
For example, businesses must document when and where they purchase ingredients, as well as any colourings, flavourings, or chemical substances used in the preparation of the food. They are also required to follow the standards set by the Institute of Standards of Cambodia (ISC) which includes providing detailed information about their address, ingredients, and preservatives used.
In the event of a food safety issue, the Ministry of Health can use this information to trace the origin of the problem and take appropriate action to prevent further outbreaks.
At the end of the seminar, Mr. Sideth further emphasised the importance of complying with these guidelines to ensure the safety of consumers and maintain trust in the food industry.
Read More Our Previous Coverage: