The 'Investment Promotion Conference 2023' was organised by the German Agency for International Cooperation (GIZ) and the Council for the Development of Cambodia (CDC) under the Improved Competitiveness of National Enterprises (ICONE) program on October 3, 2023 at the Sokha Siem Reap Resort and Convention Centre. 
The conference was intended to provide a platform for the exchange of ideas and good practices at the international, national, and provincial levels, on the promotion of investment for sustainable economic and social development in Cambodia. The full day event featured a series of presentations on investment-related topics – including the national policy on investment, foreign direct investment (FDI) perspectives and sustainable investments – and concluded with a panel discussion on the challenges and opportunities for investment into rural provinces.
Watch B2B Cambodia's interview with Dr. Stefan Hanselmann, Cluster Coordinator for Economic Development and Private Sector Promotion at GIZ: 
Over 120 guests attended the conference, including representatives of the CDC-Cambodian Investment Board (CIB), members of provincial administrations and investment subcommittees, representatives from chambers of commerce and business associations, as well as business service providers and investors.
Dr. Stefan Hanselmann, Cluster Coordinator for Economic Development and Private Sector Promotion at GIZ, delivered his opening remarks on the important role investment plays in shaping economies and the future of societies.
While speaking with B2B Cambodia, Hanselmann stressed that Cambodia is at a critical juncture in its development, as the country is still recovering from the impacts of the COVID-19 pandemic and is in need of an economic boost.
"Especially here in Siem Reap, development lags behind expectations, tourism hasn't come back to the extent everybody was hoping for, and at this point, I think Cambodia needs some support for the economic transition and transformation it's going through, and investment in general, including foreign direct investment and investment into companies, is a crucial tool to achieving this change and to helping with this transformation," said Hanselmann.
Foreign Direct Investment (FDI) In Cambodia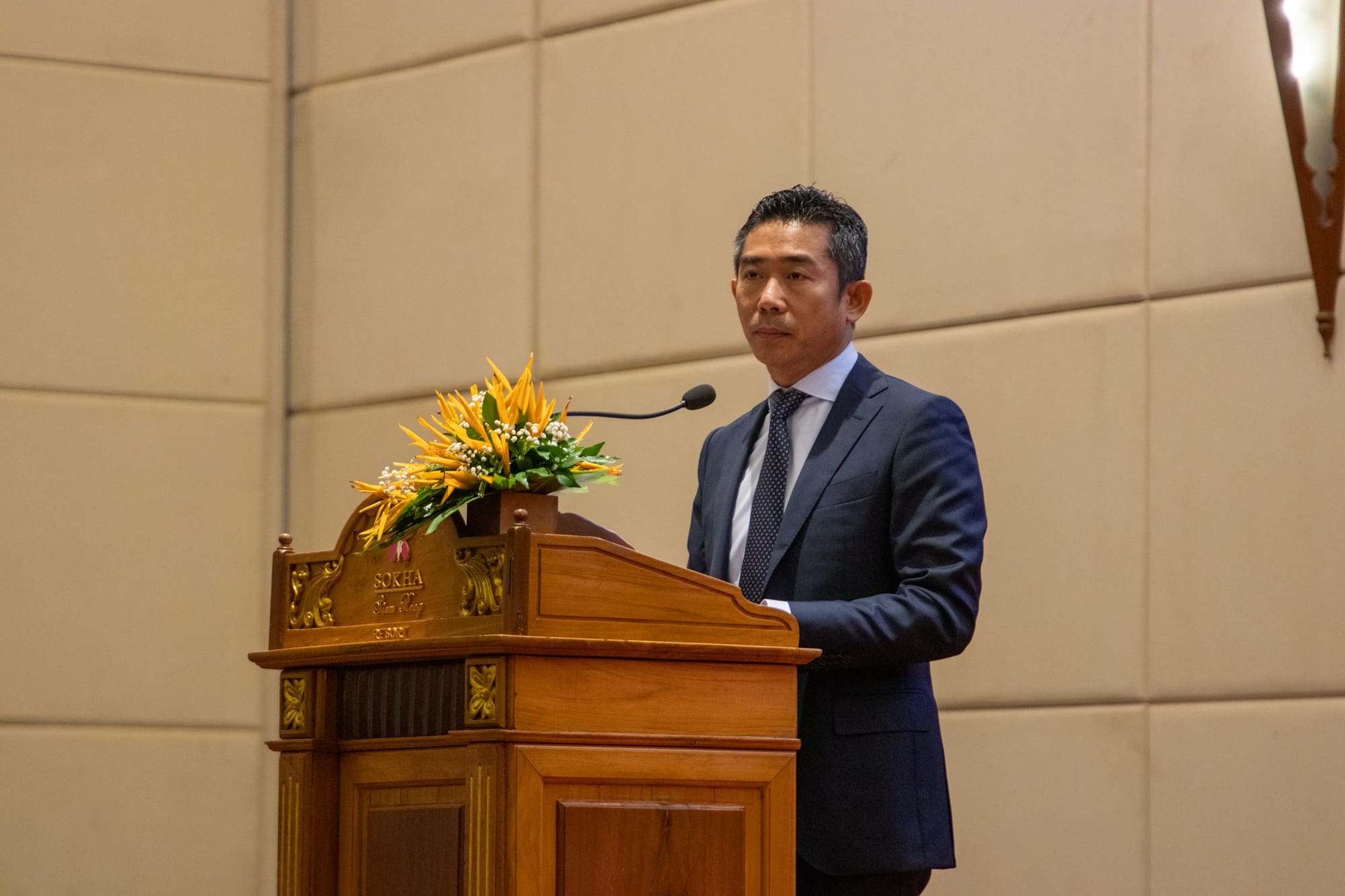 According to the OECD, FDI "is a category of cross-border investment in which an investor resident in one economy establishes a lasting interest in, and a significant degree of influence over, an enterprise resident in another economy". Hanselmann described the following potential benefits to FDI in his opening speech:
FDI can help to create jobs – Hanselmann stressed the importance of job creation in the aftermath of the pandemic and Cambodia's still recovering tourism industry;

FDI can allow for knowledge transfer, particularly in the field of technology, from foreign investing companies – such transfer of knowledge and expertise can help Cambodia "catch up" to other countries in the region that already have medium- to high-tech industries;

Through FDI, recipient countries can potentially access new foreign markets and customers – Hanselmann added that FDI also tends to stimulate trade and exports;

FDI can help to stimulate the creation of a domestic industry –  "A foreign company would not avoid integrating itself into the local economy," said Hanselmann, stressing that FDI can result in the emergence of auxiliary industries and local suppliers producing components that might be needed by the foreign invested company;

FDI can stimulate infrastructure development – "A foreign direct investor with a production factory will need roads, possibly ports or even railways… infrastructure will need to cater to the needs of that company and to assist with the export of those products to the target markets," said Hanselmann;

FDI can help to diversify the economy – governments can strategically promote investment in certain industries by providing particular FDI incentives, for example tax-related incentives;

Capital-inflow from FDI can be channelled into expanding local industries on the provincial level – Hanselmann placed particular emphasis on investing in the ICONE program's target provinces: Siem Reap, Battambang and Banteay Meanchey.
H.E. Nut Unvoanra, Deputy Secretary General of CDC-CIB, also spoke in favour of FDI during his remarks, noting it can help to fulfil the need for capital in Cambodia.
"The resources that we have in our country are not sufficient, we need foreign investments to fulfil our needs, to allow for innovation, to convert our existing resources and country's potential into an improved economic situation," said Unvoanra.
When asked whether he believes FDI to Cambodia could have any potential negative impacts, Hanselmann asserted that he does not foresee any particular issues because the Cambodian government and institutions like the CDC have demonstrated a good level of awareness and consciousness about managing FDIs properly.
"There should be no overexposure in terms of only looking at investment going into one particular industry, it should be diversified and investment should be promoted into different industries and sectors of the economy… but other than that, I think the regulatory framework here in Cambodia is very comprehensive, it's very stringent and up to date," said Hanselmann.
Investing Directly Into Companies
A second aspect of investment highlighted during the conference was investment into companies, which can be through FDI, but can also be, for example, through equity investment from angel investors. 
"GIZ-ICONE… currently works with about 120 companies of different sizes and from different sectors, and what we repeatedly find is that access to finance is the most crucial single aspect companies are struggling with," remarked Hanselmann. 
Investment into companies was stressed as extremely important for the further development of the Kingdom's economy because a lack of investment funding holds many back from entering a new growth phase, thus reducing the number of companies that can participate in the transformation of the Cambodian economy. 
"We have to look at the possibilities to unlock capital for ventures, for enterprises, and equity financing would be the prime form of financing," proposed Hanselmann.
"It provides a very interesting alternative when it comes to mitigating financial risks, as most companies here are currently bank-financed… but usually the cost of loans in Cambodia are quite high, so businesses have to be extremely profitable in order to make ends meet, allow companies to put money on the side for future investment and also repay their financial obligations," he further added.
He lastly stressed that investment into companies in the form of equity is also an excellent way to fuel innovation and take local companies technologically forward.
"With equity investment, innovation usually comes along as a package, simply because equity investments are oftentimes made to ensure companies are investment ready, which primarily means streamlining their operations… making sure they are applying and looking at their different key indicators and operative functions, and making sure that they are in line with expectations and systems used by foreign investors," said Hanselmann.
Meeting Sustainability Standards
A major point stressed at the conference was the absolute need for investors to engage in sustainable business operations. 
"This is certainly reflecting global trends and the challenges resulting from climate change and other environmental issues, so of course, it's very important for any investor to make sure the company they invest in is operating sustainably," said Hanselmann.
Speaking further on how environmental sustainability can be maintained in light of increasing FDI, Hanselmann added, "Either the investors themselves, but also the government through its investment policy or FDI regulations, can direct investment into sustainability aspects… and by setting such 'rules', a government can make sure that investments are either sustainable or are going into sustainable industries."
He also remarked on the growing market demand for sustainability, both from a regulatory standpoint and from the standpoint of consumers who are more environmentally conscious.
"If you think of the European Union (EU) or Germany, they require due diligence along the value chain for textiles, and soon the EU will also require due diligence along value chains in agriculture and food processing, so there's a lot of regulatory change happening outside of Cambodia which will ultimately impact the producers here," said Hanselmann. 
"Besides that, the Cambodian consumers themselves are increasingly conscious of sustainability aspects, consumers are much more critical in terms of asking how products are manufactured, how it impacts our environment, whether there is any destruction of natural resources, and so on," he added.
Future Of Cambodia's Economy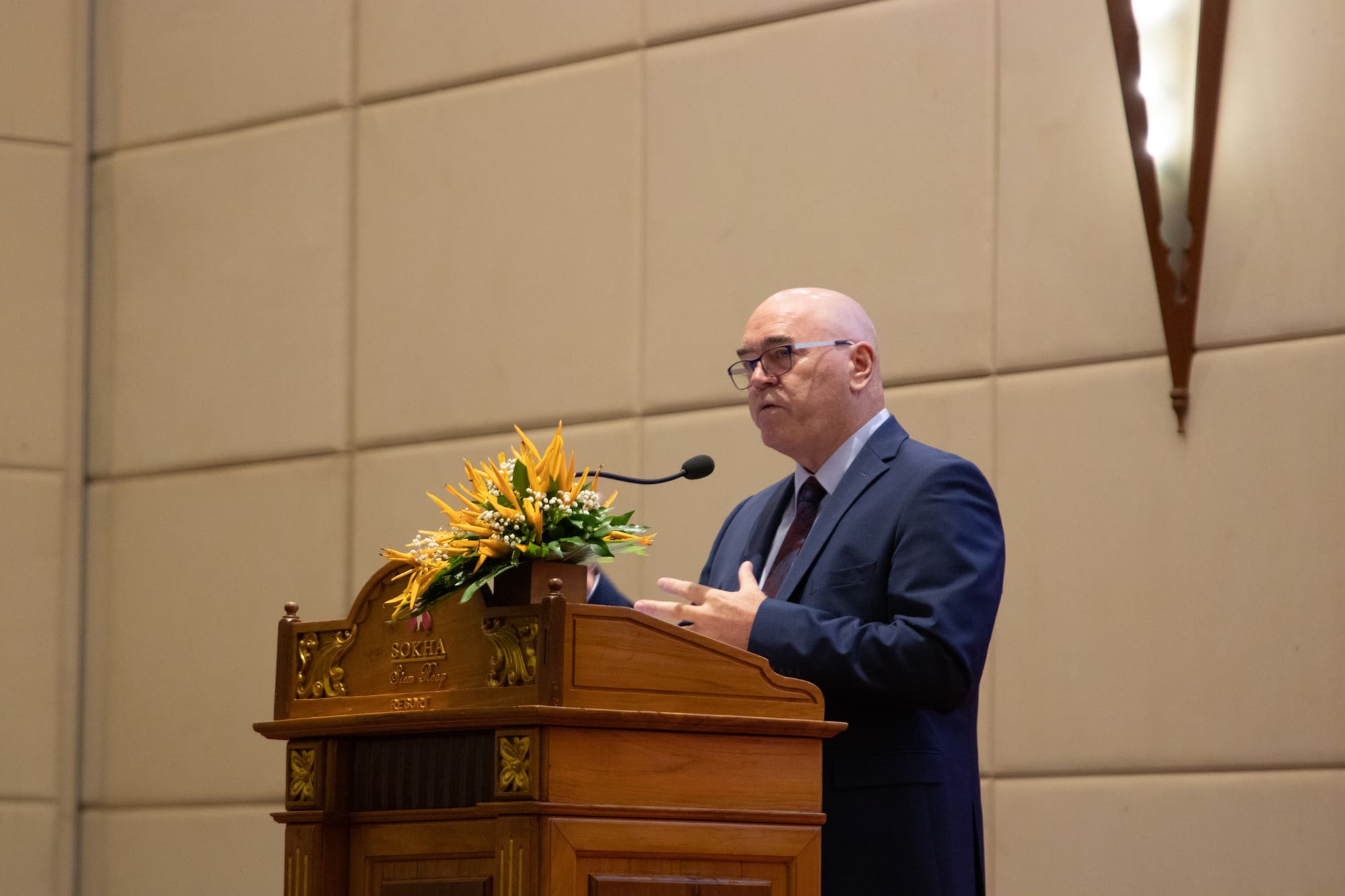 Investments, particularly foreign investments, are expected to play a major role in Cambodia's economic transformation. The latest Law on Investment was promulgated in October 2021, and since then, the government also adopted Sub-Decree 139 on June 26, 2023, establishing a comprehensive legal framework for implementing the investment law. The new law and sub-decree are said to reflect the Kingdom's increasing commitment to becoming a desirable location for businesses.
"I believe that the Cambodian investment law and the sub-decree create a very favourable framework, a very positive environment and ecosystem for foreign direct investment, and I believe this is something we all should continue to support," Hanselmann confirmed.
Ultimately, he stated that a full transformation of Cambodia's economy is imminent. 
"Cambodia is in need of a new business model, because the model guaranteeing economic growth over the past 25 years has now come to an end," Hanselmann added. "It may have worked for another few years if not for COVID, but the pandemic had a severe impact on Cambodia and basically revealed that the previous business model of relying on low-tech industries with low-skilled labour at very low costs… could no longer persist."
"The diversification and modernisation of the economy, and the attraction of investment into new industries, such as electronics and automotive components, is, I think, the right way forward, but a lot of input is needed, a lot of resources, both monetary and non-monetary, are needed, and investment, especially foreign direct investment, is a crucial element for that kind of transition and transformation," concluded Hanselmann.

Read More On Investment In Cambodia: