The Leadership for Good Summit was held from November 7-8, 2023 at the Himawari Hotel and Apartments in Phnom Penh, convening distinguished speakers from Singapore and Cambodia and over 200 participants. 
Co-organised by Sequoia Group, Sustainability Institute, Asian Vision Institute (AVI), Angkor Social Innovation Park (ASIP) and Singapore Club Cambodia (SCC), the Leadership for Good summit served as a platform for dialogue, learning and collaboration, seeking to inspire a new generation of conscious leaders to lead transformational change and drive collective progress. 
Watch B2B Cambodia's interview with Jacqueline Wong, Founder and Managing Director of Sequoia Group, and Dr Chheang Vannarith, President of the Asian Vision Institute.
"The Leadership for Good Summit is convened with a singular purpose in mind: to foster the skills, insights and networks necessary to drive transformation and change," said Teo Lay Cheng, Singapore Ambassador to the Kingdom of Cambodia, during her opening remarks. 
"In an increasingly complicated world, the importance of ethical, compassionate and purpose driven leadership cannot be overstated, and Leadership for Good is about creating positive, sustainable and impactful outcomes," she added.
Striving To Achieve 'Cambodia Vision 2050' And The Pentagonal Strategy
The summit was held under the theme 'Imagine Cambodia – Co-creating a Shared Vision for 2050', and aimed to bring together stakeholders from the public, private, and people sectors to co-articulate collective aspirations for Cambodia, particularly around achieving the 'Cambodia Vision 2050' and Pentagonal Strategy. 
"The 'Cambodia Vision 2050' is, in short, the aim to, by 2050, become a capable and high-income country that is democratic, independent, sovereign, internationally recognised and has a resilient, inclusive and sustainable economy," remarked H.E. Sok Sabayna, Secretary of State at the Ministry of Civil Service, during his keynote address.  
"In this aspiration, the Royal Government of Cambodia has adopted the Pentagonal Strategy as a catalyst to economic growth, equitable development and sustainability… that will unfold over the next 25 years in five successive phases," he added.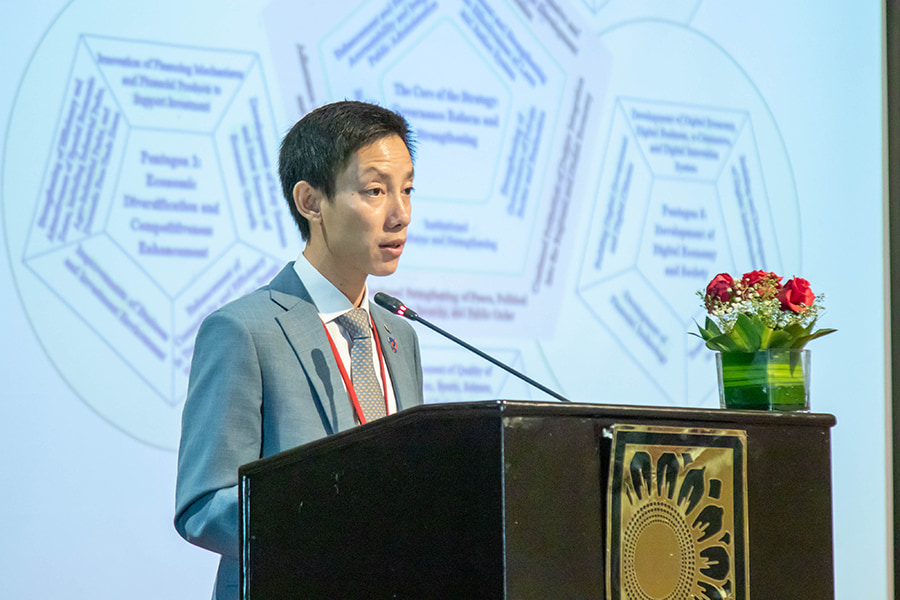 Speaking with B2B Cambodia, Jacqueline Wong, Founder and Managing Director of Sequoia Group, explained that the idea for this summit came about as her company thought of ways to galvanise people across different sectors to forge a vision that will help to accelerate the achievement of Cambodia Vision 2050.
"I first read a draft [of the Cambodia Vision 2050] sometime in August this year, but the idea for this summit was seeded more than a year ago when I began coming to Cambodia and listening to the business community and the government's perspectives," said Wong.
"It became very clear to me that we needed a space where we can actually envision at the scale of the 'whole'… inter-generational and across time," she added.
"We need the young and the not-so-young to come together in one room, we also need horizontal integration across the three P's (people, public private)… Because if we are to really achieve Vision 2050, we will need the whole of Cambodia to come together."
Mutual Learning Between Cambodia And Singapore
In earlier stages of planning, Wong explained that Sequoia Group had initially envisioned the summit to be a platform for mutual learning and networking between business leaders in Singapore and Cambodia. However, this idea gradually expanded and evolved into a much broader scope concerning leadership and nation building. In this regard, Wong said she believes there is a lot Singapore can learn from Cambodia. 
"Primarily I would say it's the hospitality, the kindness of the people and the eagerness to learn [that Singapore can look to]," said Wong. "The spark and the resolve, the sense that 'Khmer can!'… in Singapore, we say 'Singapore can!' as well, so the concept of doing whatever it takes to step up and ask, 'how can I help?' That's something I think Singapore can learn a lot from Cambodia."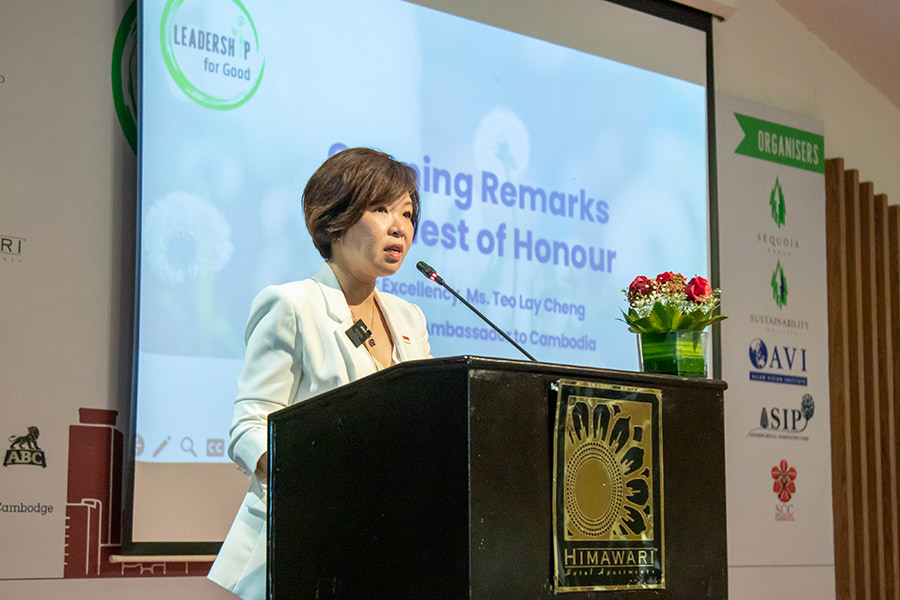 Dr Chheang Vannarith, President of the AVI, gave mention to a history of mutual learning between Cambodia and Singapore while delivering his opening speech on the first day of the summit. He recalled the famous story of Li Kwan Yu, the founding prime minister of Singapore, coming to Phnom Penh in the 1960s and becoming inspired to develop his country like Cambodia. He noted that Cambodia today has a lot it can learn from Singapore, in return.
"In Cambodia, we are very much inspired by the Singaporean model in terms of nation building," said Vannarith while speaking with B2B Cambodia. "Singapore does not have many natural resources, but it's still one of the wealthiest countries in the world because of its leadership and because of its governance, so the destiny of a country is not defined by its geography, natural resources or endowment."
Road To 2050: Trade, Business And Economic Transformation 
On the second day of the summit, H.E. Pan Sorasak, Member of Parliament and former Minister of Commerce, delivered a keynote speech where he highlighted Cambodia's transformative journey from a country ravaged by conflict to one with a rapidly growing economy. He detailed the significance of having the right policies and tools and also gave special focus to the critical role played by trade in driving economic and structural transformation. 
"Cambodia's rapid socioeconomic development lends itself to trade, which played an important role in Cambodia's rise in regional and global stature and will need to play an even more critical role if Cambodia is to achieve Vision 2050," said Sorasak.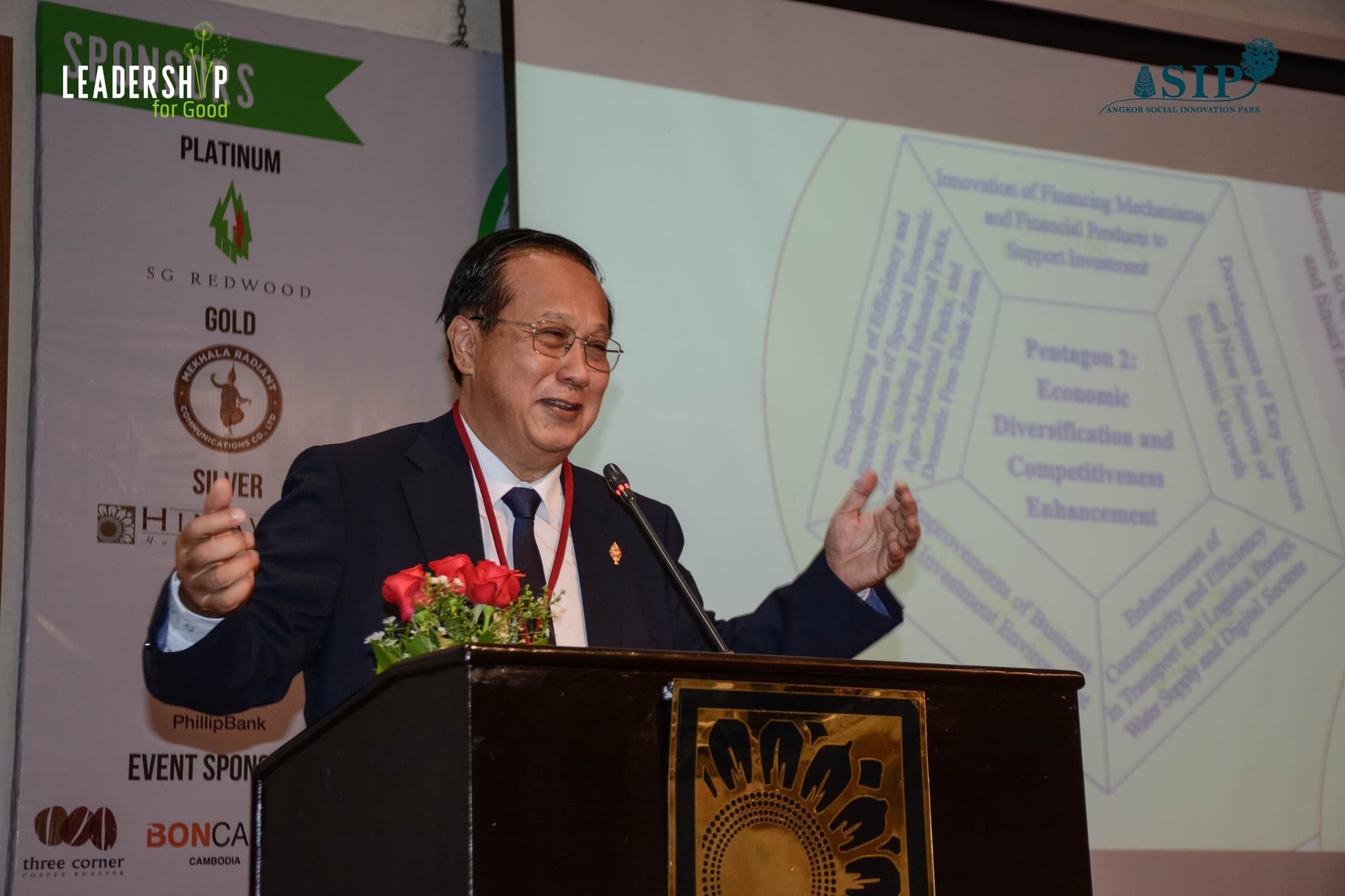 The former minister of commerce noted that Cambodia's expected graduation from the Least Developed Country (LDC) category will change the country's trade dynamics and obligations, which will pose a challenge of adaptation. However, he underscored the necessity for Cambodia to continue leveraging trade as a catalyst for economic growth, equitable development, and sustainability.
Sorasak also discussed the significance of business development in Cambodia's economic strategy, stressing the need to leverage foreign direct investment (FDI) for inclusive transformation, and the importance of creating an enabling business environment with particular focus given to integrating micro, small and medium-sized enterprises (MSMEs).
The Private Sector's Role In Fostering Good Leadership
For Wong, the business community and private sector also have the responsibility of creating an environment that fosters and produces the necessary preconditions for good leadership, particularly emphasising the need for purpose over profit. 
"The first place to start is having a clear corporate purpose," said Wong. "When I say this, I mean it must be more than profit. Your business exists for good, to create honest jobs, to create a living for your employees, but your business also brings good value, products and services to customers to help them in their life." 
"Of course, you have to make a profit in order to be financially healthy, but it's about doing well and doing good, so it's not just doing good to do well, or the other way around, it's profit for purpose," she added.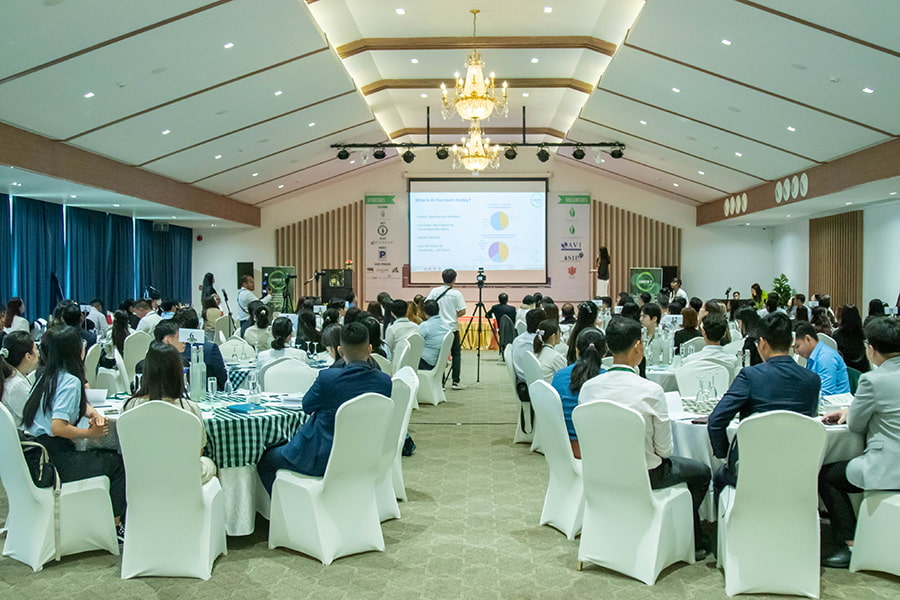 Another point highlighted was the central obligation she believes businesses have to develop people and skills. "The heart of it is asking what it is you can do to uplift the quality and capability of your people, it behoves you as an employer to do that," said Wong.
Finally, she said businesses must strive to utilise their assets in a way that drives innovation, adding that those businesses which seek solutions for the climate crisis are the ones which will best help advance society and foster a new generation of leaders who can continue the work of development.
"To me, the best type of business is one which brings solutions for the planet and people, as this is something that will really help advance us into a new era and civilization where we can all coexist and we won't have to run out of natural resources, which is a big concern," stated Wong. "We have to hand off our Earth to the future generation, so we need to make sure they have enough, and not just take everything for ourselves right now." 
"I think from now onwards, what I expect to see is more empathetic leadership, meaning leaders who listen to the people's voices and share the concerns of people at all levels," added Vannarith.  
"We need leaders that can connect all the dots, meaning across all sectors, so that Cambodia… can be further connected with the outside world, this is the kind of leadership we are looking for and we want to inspire a movement to impact positive change through transformative and empathetic leadership," he concluded.
Read More On Cambodia's MICE Industry: