The Cambodian Government today, August 4th 2020, seems to have approved with immediate effect the new guidelines for business travellers wanting to come to Cambodia. We reported on the possible new guidelines late in July 2020.
Business-travellers will now be able to apply for specially waived quarantines in Cambodia which makes it easier for business visa holders to enter the Kingdom. It seems that kickstarting B2B travel to Cambodia is the priority, possibly followed by regional or selection travel bubbles.
In addition, visitors seem to be categorised into four groups
Sponsored Business people
Invited Business people
Neither Sponsored or invited Business people
Travellers planning to visit Cambodia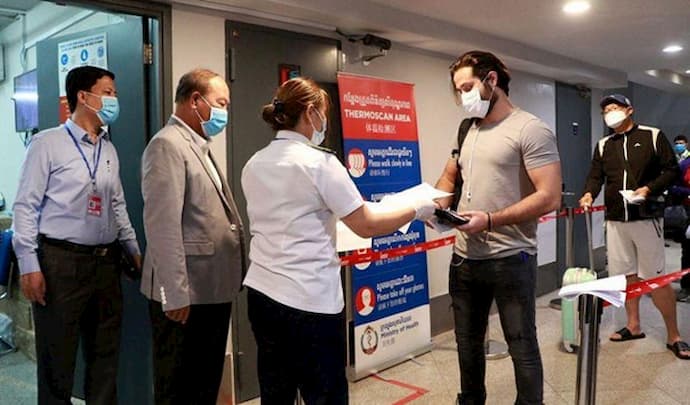 Insurance Policies to cover COVID-19 in Cambodia
The Cambodian COVID-19 Insurance Consortium is led by Youk Chamroeunrith, managing director of Forte Insurance. He said that the COVID-19 insurance policy has been approved by the Ministry of Economy and Finance to sell to foreigners coming to Cambodia.
The policies will be underwritten by the COVID-19 Insurance Consortium and managed by Forte Insurance (Cambodia) Plc, with a policy limit per period of insurance of $50,000 covering only illness related to COVID-19 reports the Khmer Times.
The loosening of travel restrictions to Cambodia under COVID-19 does now appear to require the purchasing of a mandatory COVID-19 insurance policy from Forte.
Assurance will last 20 days with a premium of $90.
Include 90 days stay in a hospital.
Includes 14 days in intensive care.
Includes four $100 COVID-19 tests.
Company-sponsored Cambodian business travellers
Meas Sok Sensan, spokesman of the Ministry of Economy and Finance said that "The application for sponsorship or guarantee can be done online. Then, an approval letter with a QR Code will be issued which the company can be sent prior to their trip."
A government-certified COVID-19 negative test will also be required 72 hours prior to departure.
These regulations apply to the following only who have been sponsored:
Foreign travellers who are business people or investors
Company staff
Experts
Skilled Workers
Technicians
Family Members
How do you get a Cambodian Validation Certificate on Payment Guarantee?
To obtain a Cambodian business certificate (Validation Certificate on Payment Guarantee), an applicant must:
Be sponsored by a chief executive officer (CEO) or be a major shareholder of a company in Cambodia.
Sponsors can apply for an online sponsorship via the  Governments Business Registration Website. (Approval will take up to one day)
The Cambodian government will issue a Validation Certificate on Payment Guarantee.
This needs to be printed for the purpose of visa applications at Royal Cambodian embassies or consulates. The recipient (business traveller) must carry this at all times once they enter Cambodia.
Proof of Online Booking (Accommodation) in Cambodia
In addition, the new regulations require business travellers to have pre-booked their accommodation.
Proof via the form of letters or documents is needed to confirm hotel reservations for accommodation in Cambodia.
Reservations must be made at least three days prior to arrival in the Kingdom.
The price of the reservation will be the total cost consisting of two-night hotel accommodation, two-day cost of meals, the first COVID-19 medical examination fee and local transportation fee from the international airport to the reserved hotel.
Hotel options in Phnom Penh:
Two hotels price listings are the approved documentation from the Cambodian government:
Sokha Hotel Phnom Penh (Total cost $385 USD)
Tian Yi Hotel (Total cost $315 USD)
Corporate Sponsor Costs
In the event that the foreign travellers have to be quarantined for 14 days, the sponsor will be responsible for all expenses.
The sponsor is required to pay the hotel in full for all expenses based on the actual invoice for the 14-day hotel accommodation expenses.
Payment will be made to the Ministry of Health for the fees of the next COVID-19 medical examination tests at the end of the 14-day quarantine period.
In the event that the foreign travellers have contracted COVID-19 during their stay in Cambodia, the sponsor is also required to cover all medical expenses until the patient is fully recovered and to pay for the public hospital where the patient has been admitted for treatment.
The sponsor must be responsible in front of the law and provide full cooperation with the Ministry of Health in facilitating the travels of the invited and sponsored traveller.
What does the Business Traveler need to show on arrival?
On arrival at the Phnom Penh International Airport, sponsored business travellers need to show the following:
Valid visa
72 hours 'COVID-19 free' health certificate
Use the Special Priority Lane
The traveller will have to deposit $2,000 upon arrival at one of the international airports in Cambodia, which will be used to cover hotel accommodation costs while waiting for the initial COVID-19 test.
Company Invited business travellers to Cambodia
These regulations apply to the following only who have been invited and not sponsored but most of the details are similar to the sponsored travellers.
Foreign travellers who are business people or investors
Company staff
Experts
Skilled Workers
Technicians
Family Members
You will require the following
A valid visa (as per above)
Valid Certificate of Invitation approved by the Cambodian Government
72 hours 'COVID-19 free' health certificate (as per above)
Proof of Health Insurance Package from Forte insurance (as per above)
Proof of Hotel booking (as per above)
Other Travelers to Cambodia
In the new official guidelines, reference is made to foreign business people or investors who are neither sponsored nor invited.
These are still apparently welcome but under the existing conditions already in place (from the Ministry of Health on June 11 2020) with exceptions being:
The deposit is also reduced from $3K to $2K.
Required to buy the approved Forte Insurance option.
The pre-existing requirements are:
A valid visa, obtained at departure country embassy before arrival.
Negative COVID-19 test within 72 hours from arrival in Cambodia.
As far as we know, all visitors will still be required to enter their details on the FPCS system.
The Kingdom of Cambodia has had a total number of 241 COVID-19 infections as of the 4th August 2020 with no fatalities.