The Royal Cambodian Government has agreed in principle for the Ministry of Education, Youth and Sports to reopen 20 educational institutions located in Phnom Penh, Siem Reap and Battambang as part of the first phase during August 2020.
All schools and places of education have been closed in the Kindom of Cambodia since March 2020 due to the COVID-19 pandemic.
In Virak Cheat, a secretary of state at the Council of Ministers sent a letter to Education Minister Hang Chuon Naron, saying that "the government gave the green light to the Ministry of education to reopen 20 high-safety standard schools in Phnom Penh, Siem Reap city and Battambang city" reports the Khmer Times.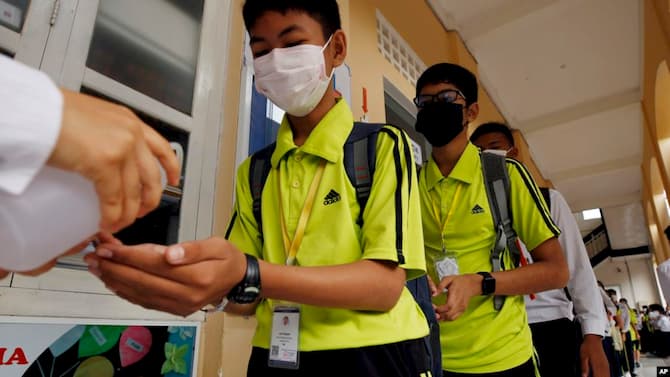 What is the first stage of Cambodian schools regulations?
There are a number of guidelines and procedures for the Cambodian school to adhere to, to allow to open in August 2020.
These are some of the guidelines that might be introduced when the schools are operating under Stage One.
The educational institution must sign a contract responsible for the implementation of the Ministry of Education, Youth and Sports's educational health safety measures.
Implementation of health awareness requirements in the context of COVID-19, keeping school and classroom environment in accordance with safety standards.
The educational institution shall organize a working group in charge of the health and safety of the school.
Make regular personal temperature measurements.
Regular hand washing and the wearing of masks.
Each class must not exceed more than 15 students
Social distancing must be strictly enforced.
Some classes may still need to be held online and the parent's consent must also be obtained said one report.
Ministry spokesman Ros Soveacha said today that the ministry will sign an MOU with those schools "to ensure they follow the health measures set by the Health Ministry and the World Health Organization."
"If those schools fail to comply with the MoU over safety measures, then they will be warned or shut down temporarily" he added.
Stages Two and Three
The Second Stage will focus on schools with moderate-safety standards and the Third Stage will be schools with minimum-safety standards said the Khmer Times.
What schools are allowed to reopen in August 2020 in Cambodia?
In total, 17 schools in Phnom Penh, 2 in Siem Reap and 1 in Battambang have been given the provisional green light. These first 20 schools set to re-open are considered "high-safety standard schools".
Cambodian Schools – Stage 1 to reopen
Southbridge International School
Footprints International School
Institut Francais du Cambodge (based on translation we have seen)
ICS International School
Learning Jungle International
Westview Cambodian International School
Singapore Cambodia International Academy
British International School Phnom Penh
Australian International School Phnom Penh
CIESF School
LOGOS International School
Japanese School of Phnom Penh
Asian Hope International School
Hope International School
Paragon International School
ICAN British International School
Education in Cambodia
During COVID-19, Distance Learning and E-Learning programmes to students were implemented with many Cambodian business and corporations also assisting with funding to allow disadvantaged youths to have access to education.
According to the Ministry of Education, Youth and Sports (MOEYS), between the academic year 2018 to 2019, 218,357 students were enrolled in 1,222 private schools nationwide, ranging from preschool to grade 12.
A study released by the International Schools Database (ISB) in late 2019 suggested international school fees are cheapest in Cambodia's capital city (Phnom Penh) among major cities in Asia.
Read more about the education sector in Cambodia in our guide.