The Mall Company (TMC) released Edition 8 of their Retail Insights which has revealed that 2022 was a record-breaking year for Phnom Penh's Retail Real Estate market, and Phnom Penh will surpass one million sqm of retail space by 2026.
By the end of 2022, the total existing retail supply in Cambodia's capital had reached 716,253 sq.m Net Leasable Area (NLA). Last year also saw the highest retail supply growth ever recorded in Cambodia – growing 53% (248,424 sqm) according to the TMC report.
The Net Leasable Area (the usable area available for tenants to occupy) generally excludes common areas such as public atriums, and toilets, and areas used to accommodate building and property management facilities and services.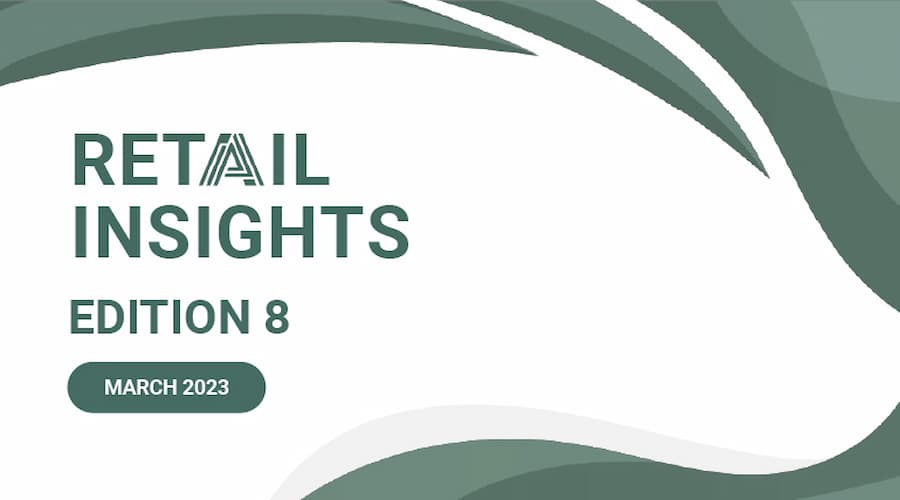 Other key takeaways for 2022 from the TMC report which was released in late Q1 2023 indicated that:
Shopping Malls contributed a supply of 359,223 sq.m (NLA) of modern retail space in Phnom Penh.
Community Malls have been the retail class of choice for many developers and contribute 197,455 sq.m (NLA) of modern retail space in Phnom Penh.
Shopping Centres contribute 73,460 sq.m. of NLA.
Retail Podiums contribute 76,915 sq.m. of NLA.
Retail Arcades contribute 9,200 sq.m. of NLA.
Simon Griffiths, Managing Director of The Mall Company, told us about the record-breaking 2022 for the retail property sector: "Firstly, AEON Meanchey and Chip Mong 271 collectively supplied the market with circa 140,000 sqm NLA during 2022.  This was 57% of the total retail NLA supply entering the market last year.
Secondly, the popularity of the 'Community Mall' class of retail asset for land owners wishing to develop a new project and for borey developers looking to add value to their residential / borey offering has meant new Community Malls coming online across Phnom Penh such as Fun Mall and Euro Park.
At a deeper level, development lifecycles for 'shopping malls' are 4 to 5 years. So in the case of AEON Meanchey and Chip Mong 271, development decisions were made as far back as 2017 when supply versus demand dynamics was more equally balanced.  In 2022 we witnessed that development pipeline come online meaning 2022 was a bumper year for new retail supply."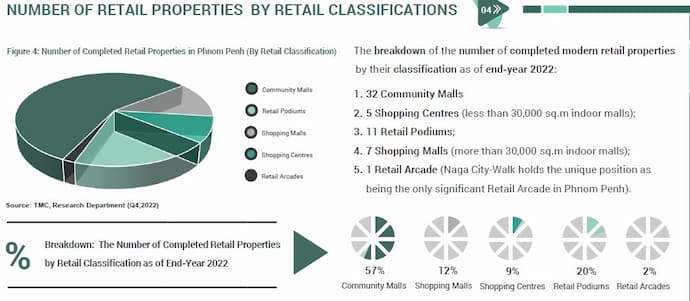 Cambodian Retail Rental Prices and Demand
The report says that demand was dampened in the retail real estate sector in the Kingdom but both AEON Meanchey and Chip Mong 271 malls absorbed most of the new store demand in the market.
The Retail Insights report also added that supply was outstripping demand, and as a result, the tenant market drove down achievable rental rates and tenants had options and ability in the lease term and condition negotiations.
With circa 150,000 sqm NLA built but not released to the market, and 50,000 sqm NLA currently under development as of January 2023, the supply versus demand dynamics will continue with rents being suppressed below pre-covid levels for 2023 and likely 2024.
Retail Properties – Phnom Penh Cambodia
2022 – Cambodia Retail Space
12 modern retail properties launched in 2022, contributing 248,424 sqm towards Phnom Penh's modern retail supply.
There were a total of 56 Completed modern retail properties.
9 retail properties are currently on hold.
57% of the total number of retail properties are Community Malls.
Shopping Malls accounted for 50% of the total existing retail supply.
The retail properties can be further broken down into:
32 Community Malls – 197,455 sq.m (NLA)
5 Shopping Centres (less than 30,000 sq.m indoor malls) – 73,460 sq.m. of NLA
11 Retail Podiums – 76,915 sq.m. of NLA
7 Shopping Malls (more than 30,000 sq.m indoor malls) – 359,223 sq.m (NLA)
1 Retail Arcade (Naga City-Walk holds the unique position of being the only significant Retail Arcade in Phnom Penh) – 9,200 sq.m. of NLA
Griffiths said: "While the number of new brand stores is positive, it is not enough to significantly redress the imbalance between supply and demand.
How this is playing out in the market in terms of demand, is that demand for prime spaces in retail projects remains high, however, sub-prime spaces within malls typically on higher floors, in corners of projects or non-street-fronting units within community malls are suffering from the weaker demand and customers thinned-out by more malls to choose from."
2023-2026 Cambodia Retail Forecast
An additional 6 modern retail properties (currently under development) are expected to be completed within 2023 with the potential to deliver an additional 92,957 sqm of modern retail supply – most of this is in the capital of Phnom Penh which is also true of the existing supply.
Phnom Penh is expecting an additional 213,614 sqm of modern retail supply between 2024 and 2026 with the delivery of 10 modern retail centres additionally 52 132 sq m of modern retail supply is currently on hold.
2026 Retail Projections – Cambodia:
4 modern retail properties are being planned.
A total of 72 modern retail properties are expected by 2026.
The total modern retail supply in Phnom Penh will reach 1,022,824 sqm by 2026!
Net Leasable Areas – Retail Space
The Net Leasable Area (the usable retail space) was outlined in the TMC Retail Insights report:
Completed modern retail properties contribute 716,253 sqm of modern retail supply (NLA) to the Phnom Penh retail sector.
An additional 254,439 sqm of modern retail supply (NLA) is currently under development.
52,132 sqm of modern retail supply (NLA) is currently planned.
A further 152,915 sqm of modern retail supply is currently on hold.
The biggest NLA growth is anticipated in the Retail Arcade and Retail Podium retail space (NLA) between now and 2026 and Simon Griffiths said one of the reasons was the development of Naga 3 in the capital.
"There will be high percentage growth for retail arcades (288%) by 2026 due to the fact the existing amount of retail arcade space is circa 10,000 sqm NLA. When Naga 3 comes online connecting to Naga 2 through an underground retail arcade, this increase in new supply will result in a 288% growth of retail arcade space within the market."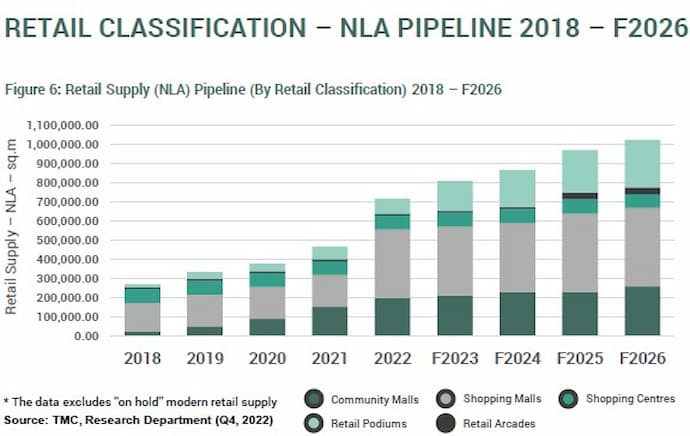 Cambodia NLA Expected Growth 2023 – 2026 (Forecasted)
Community Malls retail space (NLA) – 30.83 per cent
Shopping Mall retail space (NLA) – 13.92 per cent
Retail Arcade space (NLA) –  288 per cent
Retail Podium retail space (NLA) – 219.97 per cent
Opportunities in Cambodian Retail Space
We asked TMC Managing Director what he felt were the key opportunities for franchises and retailers looking to enter or expand in the local market in the future in Cambodia.
Simon Griffiths told us: "Modern retail is still relatively nascent in Cambodia so there are many opportunities to enter the market and for brands to set their market positioning as they desire.
For example, European brands or products which have a mid-to-low market positioning in Europe could enter the Cambodian market and if desired seek out a premium positioning.  This could be desirable to international brands and products looking to enter the market.
Other positives are the comparatively low rents, a prevailing tenant market meaning choice for retailers when selecting new store spaces, businesses can be 100% foreign-owned, US dollar bank accounts and transactions.  So there are many opportunities but the key is understanding the target consumer, competition and brand market positioning."
You can download and read the full Retail Insights 8 from The Mall Company report here.
As a sign of respect, we would like to pass on our condolences to The Mall Company team as the co-author of this report – Jamie Lucas, Research Manager, The Mall Company – passed away on 26th February 2023. The Mall Company said "He was young, well-liked and had a bright future. He will be very much missed by his Fiancé, Family, Friends and all the team at TMC. We love you Jamie and dedicated this to you, Rest in Peace.