Discover Cambodia's consumer habits in the Consumer Report 2023 which covers a range of insights from societal perspectives on travel, health and wellness, beauty, dining and so much more. 
The Cambodia Consumer Report 2023 was produced by Standard Insights and Cambodian-based consulting firm Confluences, and released in July 2023, providing a comprehensive analysis of consumer behaviour in the Kingdom.
The study surveyed over 1,000 respondents living throughout Cambodia, with the majority residing in Phnom Penh (42.42%), followed by Siem Reap (8.96%), Battambang (5.78%), and other provinces (42.83%).
The report covers a wide range of topics, including society, e-commerce, travel and tourism, health and wellness, beauty and care, esports, mobile networks, automotive, retail banking, and food and beverage.
Society
The Cambodian Consumer Report 2023 asked how Cambodians have generally been feeling lately. According to the report, 69.71% of Cambodians have expressed a positive attitude, and 91.83% are hopeful about their future. This positive attitude is in stark contrast to r 2022 when people were drained and uncertain about what lay ahead amid the pandemic. In 2023 they offered an enthusiastic outlook, the report suggests. 
The report also queried Cambodians' future outlook regarding recent inflation, with close to half of the respondents answering positively to the government's economic policies, stating that it's heading in the right direction. However, 68.73% of Cambodians anticipate a decline in their purchasing power in 2023.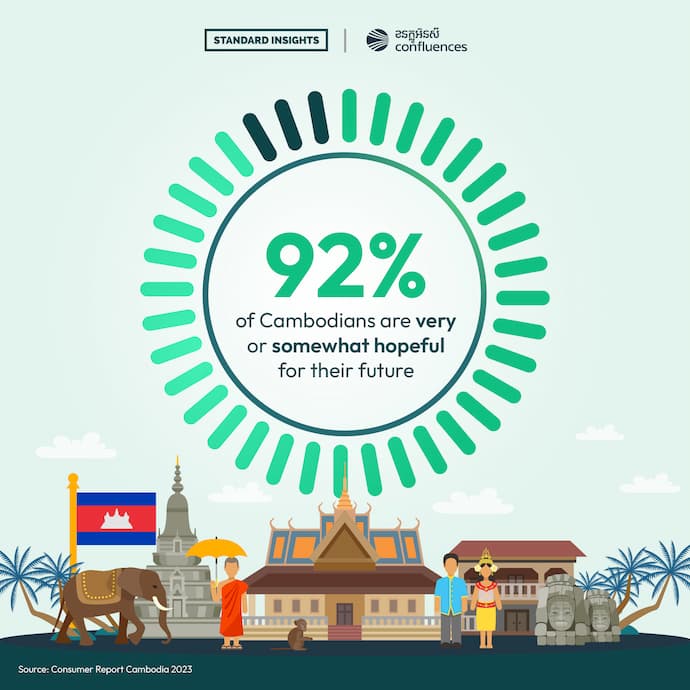 For those on fixed incomes, inflation has placed them in a difficult situation, where they have to reallocate and reduce unnecessary purchases.
The environment and sustainability have become an integral part of the Cambodian people's consciousness, inspiring more individuals to adopt a sustainable lifestyle. According to a report, approximately 40% of respondents have taken steps towards a more eco-friendly lifestyle by purchasing items that contribute to environmental conservation.
Moreover, there are direct financial benefits that incentivise Cambodians to practice habits that are eco-friendly, such as improving their transportation, recycling water, and reducing energy use. However, the most crucial-conscious habit is reducing food waste, and the report shows that 56.36% of respondents have taken measures to avoid food waste.
Dimitri Nauwelaerts, from Asia Data Destruction (ADD), said in the Consumer Report that there's an increasing interest and awareness of the Cambodian younger generation on environmental issues and there will be important changes in consumer behaviour in the coming years. 
"They are more actively involved in dealing with these issues and slowly shifting their mindsets by understanding the need for change." He added, "Even though their purchasing power is limited, the younger generation is getting more conscious about the influence they can/will have on their communities and business".
E-Commerce In Cambodia
According to the Cambodian Consumer Report, more than a quarter of Cambodia's population (29.97%) engages in online shopping multiple times per month, with the majority of them living in Phnom Penh. However, this is lower than in neighbouring countries such as Thailand (46.57%) and Vietnam (51.47%).
Cambodian Online Shopping Behaviour 
Cambodian consumers rely on their existing knowledge of products when making purchasing decisions about the products that they are familiar with (66.02% indicated this), and social media (Facebook, Instagram, Tik Tok, etc) is the main source of information. 
Many local shops are now promoting their services on social media and on local marketplaces. Businesses reach their customers through messaging via applications, and money transactions are conducted through wire transfers, e-wallets, or cash on delivery (COD).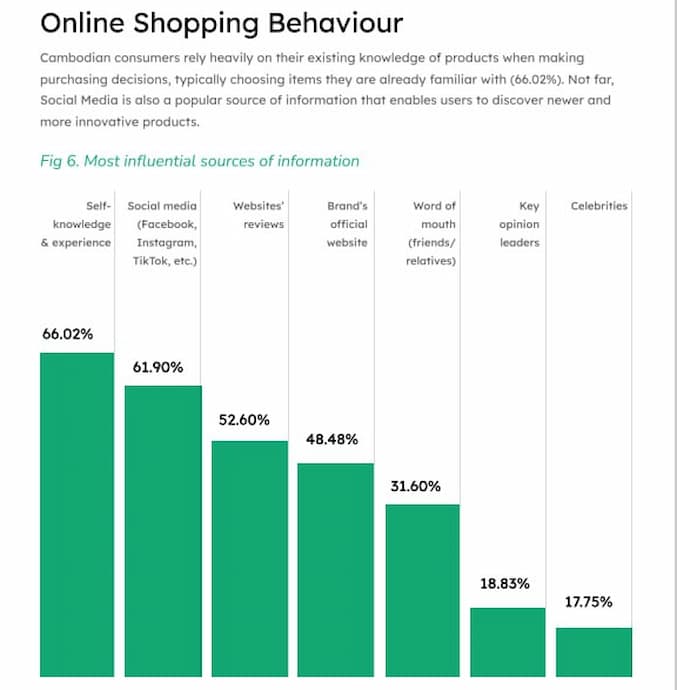 E-Commerce Challenges In Cambodia 
Several challenges have been identified for e-commerce in Cambodia, including a defective infrastructure, payment trust issues, and the lack of marketplaces giants such as Lazada, Amazon, or Shopee.
For delivery services, online shopping in Cambodia relies heavily on private delivery companies such as DHL, UPS, Grab, Kerry Express, and J&T.
However, the main concern for buyers is consumer protection. For local businesses, it is difficult to offer refunds or product returns, while it is even harder when buying products from overseas, such as purchasing from Alibaba.
Travel & Tourism 
Cambodians take great pride in their country and culture. More than a third of respondents (35.13%) are interested in exploring more destinations within the country. However, when it comes to travelling abroad, the top desired destinations are Japan (14.47%), Thailand (14.37%), Singapore (12.18%), China (7.78%), South Korea (3.99%), Vietnam (2%), Taiwan (1.2%), and 'other' countries (8.59%).
Cambodians remain apprehensive about safety and health risks (65.53%) associated with international travel. The report states that other top concerns include the rising cost of travel and the complexities of navigating regulations. According to the Consumer Report, with patience and effective communication, anxiety levels can be reduced.
Health & Wellness – Consumer Impressions
According to the Consumer Report, not only are individuals aged 25 and above skeptical about medical establishments, but nearly half of Cambodians (49.1%) also fail to undergo annual health check-ups. 
However, the younger population under 25 (57.84%) is beginning to feel more secure with the current medical infrastructure and services.
The pandemic caused the health industry to transition into increased digitalisation, and  nearly 40% have tried online consultations. Meanwhile, the pharmaceutical market remains mostly traditional. People still buy from physical stores (96.21%), while online purchases account for only 3.79%.
The majority of Cambodians assess their health and fitness as a balance between healthy and unhealthy days. Nonetheless, they demonstrate a dedicated commitment to integrating physical activity, vitamins, and supplements into their daily routines.
Among city dwellers, there is a growing number of people engaging in outdoor sports, with as many as 71.57% indicating this and popular activities are running, cycling, or doing Tai Chi. 
Similar to other Asian countries, men (78.98%) are more engaged in physical activity than women (62.62%). Men tend to purchase sport-related items like health supplements (59.22%) or gym equipment (30.85%), while female shoppers typically invest in personal care products such as vitamins (33.64%) and beauty treatments (43.18%).
What Are The Top Health Issues For Cambodians?
Cambodians face three health challenges:  
Firstly, there is overall health and wellness (38.5%), which includes injuries and other ailments. 

Secondly, weight issues (20.12%) are prevalent due to poverty or lack of access to healthy food options. 

Thirdly, digestive health (17.73%) is a concern. The report suggests that improving private sector supply chains and increasing public investment could help create greater access to better healthcare, but it will require combined efforts from all levels of society working together.
Beauty & Care
Cambodians have increased their awareness of beauty and well-being, which is why they often purchase facial washes (45.82%), sunscreen (27.49%), and antiperspirant (27.29%). This can stem from the hot tropical climate and the Consumer Report says that. These products help protect them against UV rays from the sun and help them feel fresh throughout the day.
According to the study, trust remains an issue for online sellers, as 39.94% of respondents do not trust online sellers for purchasing products for their health and well-being. Women are more doubtful (43.15%) than men, concerning product authenticity, and worry about not getting what they paid for.
Cambodian health and wellness information is mainly obtained from broadcast advertisements (48.41%), with channels of influence coming second (21.31%), while digital campaigns and advertisements come third (19.52%).
The report indicates these channels guarantee that people can find exactly what they need when it comes to well-informed health and wellness product offerings available on the market.
What Are The Cambodian Purchasing Criteria For Beauty And Care Products?
20.16% of respondents considered positive brand reputation when buying healthcare products. The Consumer Report adds that men are less concerned about buying healthcare products than women, while women prefer to clearly examine the ingredients before deciding to make a purchase in Cambodia.
Online Or Offline? Cambodian Purchasing Preference For Beauty Products 
Although e-commerce and online shopping are on the rise, the survey found that more than half (52.69%) of people prefer to shop for beauty and care products in physical stores. The report further notes that consumers value their prior interaction with the product before making a purchase, with 55.91% of females and 50.18% of males also preferring to make in-store purchases.
ESports: The Gaming Culture In Cambodia 
The survey reveals that, although more than half of the population (52.10%) does not play online video games, there has been a growing trend in recent years, thanks to the increased accessibility of high-end technology and digital platforms.
The survey also found that more males (53.02%) play video games than females (41.36%) On average, players reported spending three hours per week (38.53%) playing games.
Due to the country's late but rapid digitalisation, most Cambodian gamers(96.21%) use mobile devices, which contrasts with the Western markets.
Cambodia also has a growing esports team and tournament scene, and major popular esports franchises are League of Legends, Call of Duty, DOTA2, Mobile Legends, PUBG, and Free Fire (a mobile FPS). 
Despite the gaming market in Cambodia being relatively niche, there is a growing interest, signifying a bright future for the gaming industry in the Kingdom.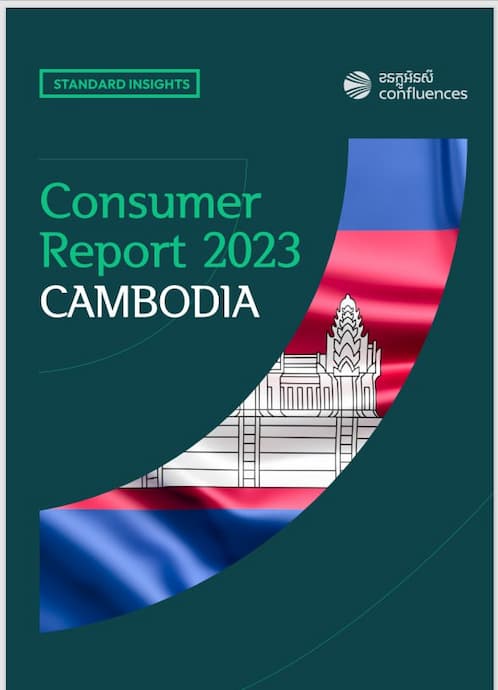 Mobile Network In Cambodia 
At the start of 2023, Cambodia had 22.16 million mobile phone subscribers, while the population is around 16 million.
Cambodians consider three key elements when choosing a mobile subscription plan: network quality (34.93%), network coverage (33.53%), price, and other factors. 
The Consumer Report found that amongst the popular network operators in Cambodia, Smart was the most preferred (57.17%), followed by Metfone (46.41%) and Cellcard (33.47%).
Amongst the top phone brand choices in Cambodia, OPPO (36.33%), Apple (21.96%), Samsung (13.17%), Huawei (4.39%), Realme (4.19%), Xiaomi (1.4%), and others (4.19%). 
Transportation In Cambodia 
Cambodians rely heavily on motorcycles, tuk-tuks, and buses for transportation, as they are more affordable than cars. Cambodia has high taxes imposed on imported vehicles, which can be even greater than 100% of the price of car!.
According to the report, 67.47% of people use private motorcycles, 8.38% use private automobiles, 7.78% use bicycles, 5.19% use tuk-tuks/tricycles, 4.99% use other motor vehicles, and 6.19% use other modes of transportation. 
The report also notes that Cambodians prefer motorcycles due to their affordability and practicality, especially given the inadequate public transportation infrastructure.
What Is The Future Of Electric Vehicles In Cambodia?
Most Cambodians (94.41%) indicated in the 2023 Consumer Report that the future of automobiles lies in electric vehicles (EVs). Meanwhile, it is worth noting that Tesla opened its first dealership in Cambodia in 2021, while Chinese companies BYD and Hongqi have also opened their retail outlets in the Kingdom.
Retail Banking In Cambodia 
Cambodians open their bank accounts considering factors such as data protection and security/fraud prevention (29.28%), ease of setting up an account (25.70%), and convenience in terms of proximity to ATMs and branches (19.92%). 
The most popular online banking activities among Cambodians are depositing and transferring funds to other accounts, which accounts for 53.19% of all transactions, depositing to their own account (29.08%), updating their records (13.55%), paying bills and loans (26.29%), opening accounts (23.51%), applying for loans (5.78%), and making inquiries (9.76%).
Food & Beverage Consumption In Cambodia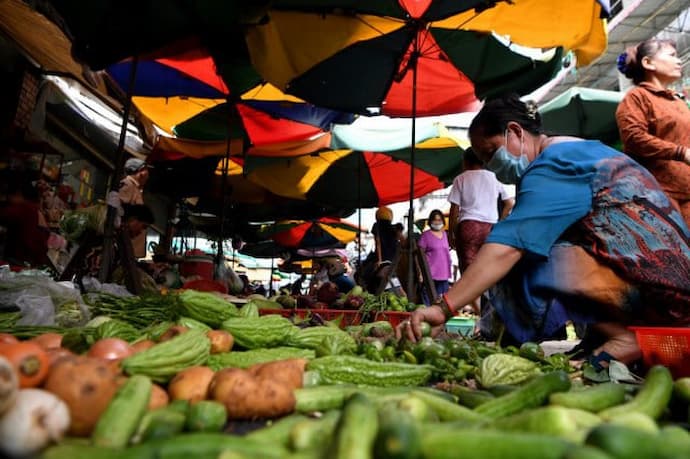 According to the Cambodian report, a significant number (21.16%) enjoy the dining culture and eat out 2-3 times per week. Individuals between the ages of 25 and 34 (46.72%), males (41.99%), and those living in the capital city of Phnom Penh (44.13%) are more likely to dine out frequently.
In terms of beverage consumption, the survey found that people between the ages of 25 and 34 are more likely to consume energy drinks, with 29.20% drinking them multiple times each week. It is reported that many Cambodians consume energy drinks to boost their energy levels throughout the day
Read also: