Over-the-top (OTT) media service platform, WeWatch, recently forged a strategic partnership with Siem Reap-based football club Angkor City; a move that is expected to help promote Cambodian football to a wider, even regional, audience. 
Angkor City FC (ACFC), which recently rebranded from its previous name, Next Step FC, played a match against ISI Dangkor Senchey at the AIA Stadium in Phnom Penh on October 20, 2023, marking the club's first match since forming a partnership with WeWatch in May. B2B Cambodia caught up with Sarah Wang, Founder and CEO of WeWatch, and Charlie Pomroy, Founder and Head Coach of ACFC, before the game to learn more about what the two parties hope to achieve through their strategic partnership. 
Watch B2B Cambodia's interview with Sarah Wang, CEO and Founder of WeWatch, and Charlie Pomroy, Founder and Head Coach of ACFC:
"This is a significant first step towards our goal to support local sports and the sports ecosystem as a whole," said Wang. "We would also like to make a positive impact on health and education through sports in Cambodia."
Pomroy said forming this partnership with WeWatch was a "no-brainer" as he could see exciting potential in being associated with their platform.
"For us, we're a new club, we've just made the step up to professional football, so we've been looking around for potential partnerships in Cambodia," he said. "But what we've always wanted to do is be unique in our approach… We were looking for exciting companies that have a unique vision and a unique way of working, and WeWatch is definitely one of them. They're an exciting platform, they're breaking into the market and making waves, so for us, it was a no-brainer."
Broadcasting Sports In Cambodia To A Regional Audience
Wang explained that she believes WeWatch can help showcase the burgeoning sports scene in Cambodia to a wider regional audience. 
"We are going to bring the excitement and passion for local sports with ACFC… to a wider audience, not only in Cambodia, but also in Southeast Asia, for instance in Singapore and Indonesia," she said. "We will provide viewers with access to high quality live coverage, exclusive interviews and an overall engaging viewing experience."
Pomroy similarly hopes this partnership will help to extend ACFC's reach both in Cambodia and across the region.
"For us, personally, it's about extending our reach across this continent," he said. "We have a lot of fans in Cambodia, and I think WeWatch will definitely enable us to increase that, but not just in Cambodia as… Cambodian football is definitely growing, and we want to be at the top of the list, so when fans in Singapore are looking for a Cambodian team to follow, we want to be that team."
Pomroy further affirmed his belief that there is a scope for broader regional interest in Cambodian football, as well as in the wider sports scene in the Kingdom.
"The untapped talent and potential in Cambodian football, sport in general, but football for me, is limitless, it just needs the right nurturing," he said.
"That's what we've been trying to do from the start, we've always looked at how we can network globally and impact locally… and one of our main goals as a football club is to get the talent here across to the world… WeWatch is definitely a platform that can help us do that," Pomroy concluded.
Fostering Economic Development Through Sports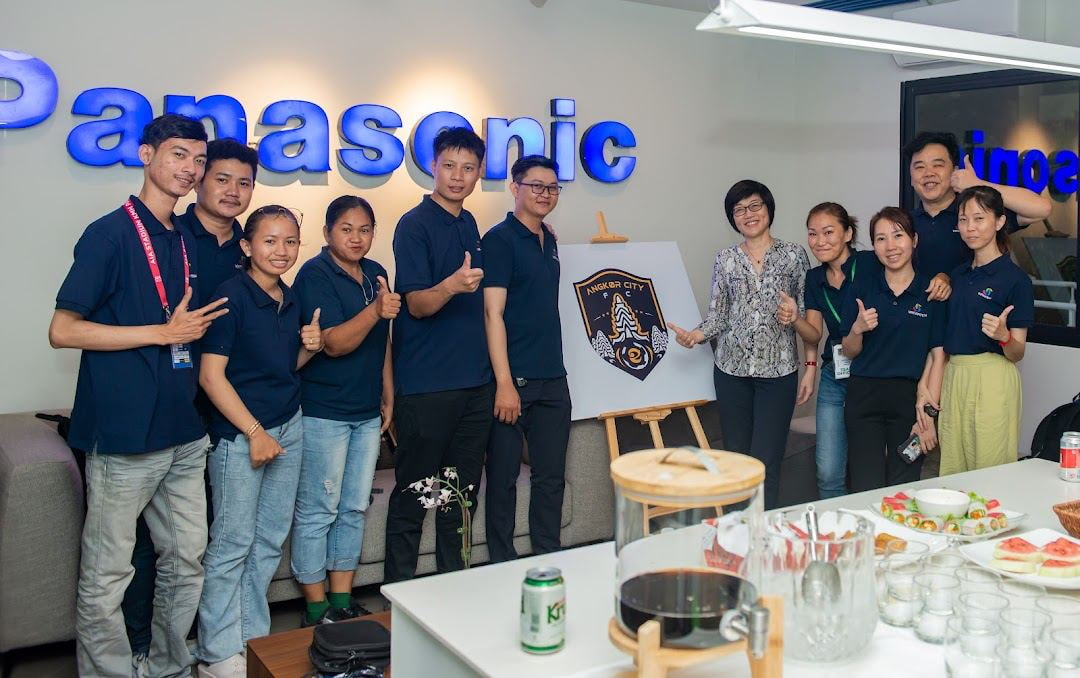 Wang stressed that WeWatch's commitment in this partnership with ACFC goes beyond streaming matches, and is ingrained in the company's broader dedication to supporting the local sports ecosystem.
"Working together with ACFC, [we would like to promote] an active lifestyle to support the local sports ecosystem as well as to create opportunities for young talents to excel both on and off the field," she affirmed. "We also have our commitment to supporting education and health, so all these benefits will help to contribute to the overall development of the country."
Wang added that WeWatch is open to promoting all kinds of sports in Cambodia, emphasising the vast potential sports has to foster economic development.
"We really believe in the power of sports to inspire, to unite, to empower people," she said. "Sports can actually help to diversify the local economy and to create new business opportunities for local communities…
"Leveraging our expertise in TV and video streaming, as well as the excitement and the passion of ACFC, and also other sports, we are very confident that we will be able to benefit people and to raise awareness of sports participation," added Wang. "Through sports, we can educate young individuals and instill values like teamwork, discipline, resilience… We can see far beyond just streaming football games or other sports, it can be very meaningful for the development of the people, especially young people, and Cambodia's overall economy."

Read More On WeWatch: