1 Khmer B2B and B2C Exhibition
September 22

-

September 24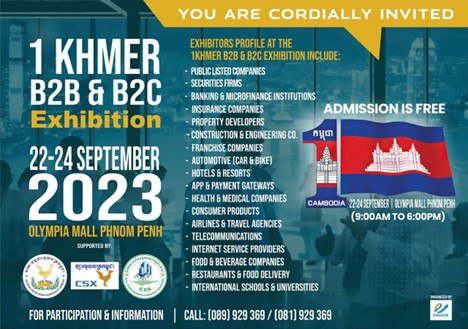 Organised by ENGAGE, the 1 Khmer B2B and B2C Exhibition will be held at Olympia Mall's Indoor Exhibition Hall from September 22-24, 2023.
The exhibition is backed by the Securities Exchange Regulator of Cambodia (SERC), the Cambodia Securities Exchange (CSX), and the Real Estate Business and Pawnshop Regulator (RPR).
The event will feature a diverse profile of exhibitors, including publicly listed companies, securities firms, banking and microfinance institutions, insurance companies, property developers, franchise companies, hotel and resorts, health and medical companies, telecommunications, food and beverage companies and more.
Related Events