Cambodia Franchise Expo 2021

The United States Embassy of Cambodia is hosting a virtual franchise expo on May 5 2021.
Online, the US Embassy said: "Are you looking for a franchise business? Did you know that the United States has some of the most well-known and profitable franchises in the world?
Join our event "Cambodia Franchise Expo 2021″ to explore franchise brands and partnership opportunities. You'll have a chance to have up to five one-on-one virtual meetings with U.S. franchise owners."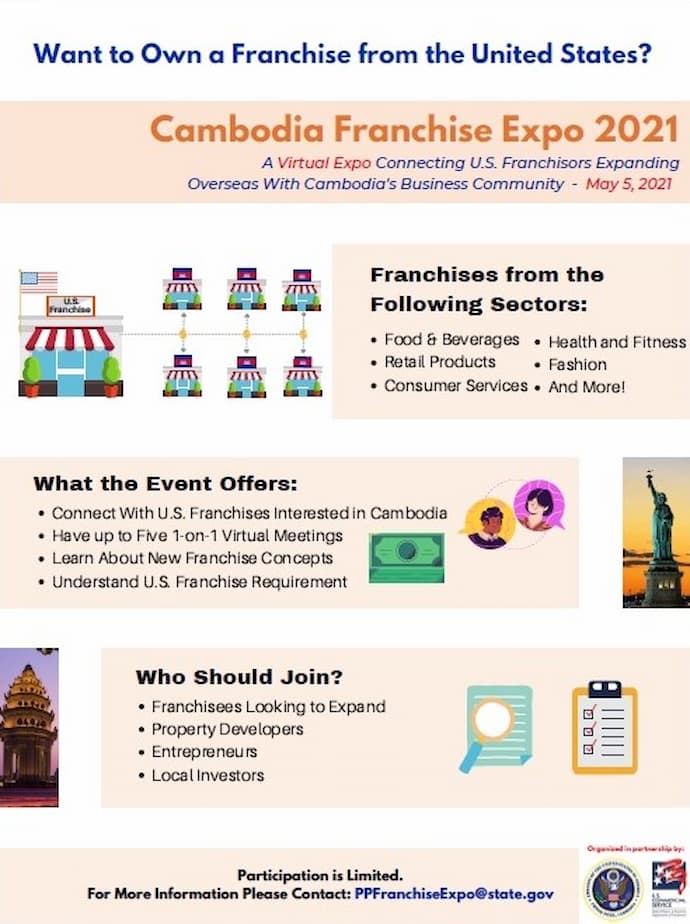 The Khmer Times reports that  "Participants can have up to five one-on-one meetings with franchisors across a variety of sectors, including food and beverage, health and fitness, retail and fashion."
According to a US embassy, most franchise types in Cambodia are:
Food and beverage
Fashion sectors
Real estate
Cleaning services
Education
US embassy spokesperson Chad Roedemeier pointed out that during the past year Hyatt Regency, Texas Chicken and Pizza Hut have opened franchises in Cambodia. Papa John's is a US pizza chain that opened in Phnom Penh in 2021.
The event is free to attend and interested businesses can contact the embassy.
Related Events