A dominant player in Cambodia's dynamic property and finance industries is ING Holdings Co., Ltd. Established in 2005, the firm serves a prominent role in these sectors as evidenced by its diverse portfolio of projects and assets, which include some of the most ambitious real estate and banking ventures in the Kingdom.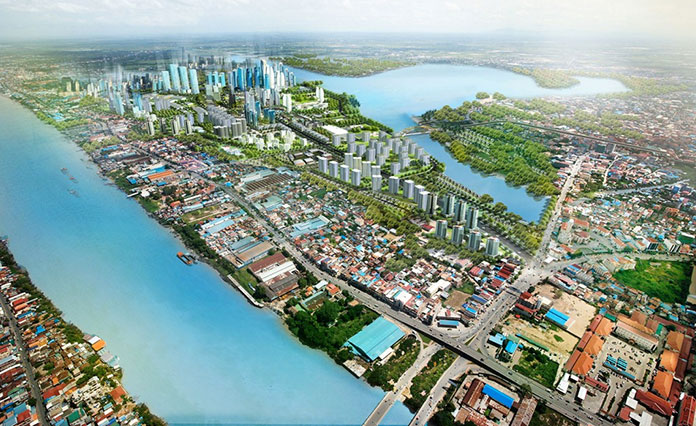 One such venture is ING City. Covering a total area of 2,572 hectares just a few kilometres south of the city centre, the project is touted as the largest development in Cambodia and one of the largest in Southeast Asia. When completed, it will encompass all the facilities of a functional city – including residences, commercial spaces and industry – which will be neatly arranged and compartmentalised. With lush green spaces and gardens dotting the entire development, nature is envisioned to take centre stage.
"This development will allow ING City to centralise certain business clusters, expand extensively, and offer a safe, open and landscaped environment with modern infrastructure and superb access in and out of the project," says Dr. Simon Vancliff, ING's Holdings' investment and development director.
The project is currently in its first phase, but has already gained some notable tenants, including German carmaker Mercedes-Benz, who has opened a dealership in Auto City, a cluster in the new city dedicated to automobile manufacturers. The International School of Phnom Penh (ISPP), one of the capital's most highly regarded educational institutions, has also relocated within the development. Next to ISPP, a gated community with over 209 residences named Villa Town has been established.
As a majority stakeholder in the Foreign Trade Bank (FTB), ING Holdings is also an influential actor in the Kingdom's vibrant financial sector. FTB is a joint private-public venture that has been providing customers – including government agencies, NGOs, multinational corporations and SMEs – with safe and reliable banking services for over 35 years.
The 100 percent Cambodian-owned FTB is widely recognised as one of Kingdom's largest and most prestigious banking houses. Its efforts to remain at the forefront of the industry have received plenty of international praise. In 2015, for example, the bank was the recipient of "The Best Innovation in Retail Banking Cambodia" award bestowed by International Banker, a leading source of authoritative analysis on finance, international banking, and world affairs.
Success with projects of such magnitude require a dedicated team of seasoned professionals with advanced financial and management skills. At ING Holdings, over 230 experts come together to comprise that team: a team that is able to identify key trends and opportunities in Cambodia's quickly evolving "frontier economy" to produce superior returns for investors.
The professionals that make up the team at ING Holdings are part of a bigger corporate family. ING Holdings is a member of the AZ Group of Companies, a conglomerate launched in 1993 by a triumvirate of visionary Oknhas (persons who have made considerable charity donations to Cambodia). Other industry leaders – including premium internet service provider Online, and construction giants Daun Penh Group and AZ Investment – are also part of the reputed business conglomerate.
As active and responsible corporate citizens, both ING Holdings and the AZ Group of Companies work with NGO's and private charities to give back to the community where they operate and to contribute to the development of Cambodian society. Through medical and higher education programs, they endeavour to help alleviate poverty in the Kingdom and raise living standards for the less fortunate, with their stated goal of "ensuring that Cambodia's rapid economic growth has benefits for all members of society."
As demonstrated by the scope, ambition and success of their real estate and financial ventures, ING Holdings possesses an acute understanding of the nature of Cambodia's investment opportunities. In combination with their strong corporate ethics, they are able to recognise and exploit those opportunities to enrich the country and multiply opportunities for everyday Cambodians.
T