To help companies compete in Cambodia's increasingly fierce business environment, a range of new services are now opening up across the Kingdom. From market research to the development of software solutions to improve customer care, the number of services on offer keeps on growing, while the business consulting industry keeps on thriving.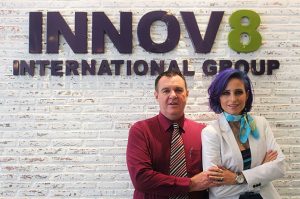 INNOV8 Group, one of the country's leading research, training and consulting companies, is at the forefront of the sector. Through its four divisions – Research, Systems, Events and Training -, INNOV8 has lended its services to major telecommunications companies, internet service providers, broadcasting corporations and banks in Cambodia, as well as other countries in Southeast Asia, Africa and the Middle East, helping them readjust their focus to achieve their goals. Its clients in the Kingdom include Smart Axiata, Ezecom, ANZ, Forte Insurance, Cambodia Airports, Prudential Insurance and NRG Radio.
INNOV8 SYSTEMS:
INNOV8 Systems is the division of the company that specialises in the development of advanced software tailored to the needs of each individual client. INNOV8 Systems has helped countless companies across the Kingdom build a loyal customer base through simple and intuitive, yet cutting-edge, software solutions, including data mining software, loyalty campaigns and customer relation management (CRM) systems.
With leading expertise and technological prowess, INNOV8 Systems has helped companies maximise the efficiency and output of their call centres. Through the development of call centre-specific software (such as Workforce Management and Workforce Optimization software), they have boosted the capacity of numerous call centres in Phnom Penh and globally, bringing them to international standard, while maximising their cost-efficiency. This has helped bring down cost for both the operator and the end user.
"It's all about understanding this niche business well, consistently monitoring the needs of the customers, and knowing when they are calling and why," asserts Khouri. Companies can use this data to optimise the call center operations and revamp the overall set up; the end result is always a call-centre that functions at its best and most efficient capacity.
INNOV8 RESEARCH:
INNOV8 Research helps companies improve the experience of their customers through enhanced awareness of their target market. With over 70 trained research assistants, the division offers mystery shopping, mystery calling and brand recognition surveys, among other services.
What sets INNOV8 Research apart is their use of state-of-the-art digital technology they are producing in-house. Using some of the most advanced data-gathering software in the country, INNOV8 is able to supply a service few others can match. "Our clients are provided live data, which means that at any point they can either re-check or correlate whichever factors they want. They can use this data multiple times until it becomes outdated or when new respondents are needed," Khouri explains.
Both divisions, Research and Systems, work closely together to engineer complete customer-service enhancing solutions. David Parrott, head of retail banking at ANZ, comments on his experience with INNOV8: "One of the solutions introduced by INNOV8 was to install IPAD-based surveys in each of our branches to give customers the opportunity to rate our service and provide real time specific feedback to the management. This amazing easy to use tool enabled us to recognise individual staff who delivered a great service experience to our customers."
Another good example of the company's real-time customer survey services are its Customer Satisfaction Kiosks. These booths are now available in all three Cambodian international airports, ensuring the best quality of service is provided to visitors and clients.
Thomas Hundt, CEO of Smart, is another satisfied customer: "One of Smart's core values is 'Customer Focus'; we aim for a consistent level of high customer service through every touchpoint. This is a massive exercise that requires constant assessment, guidance and training. In all those areas INNOV8 plays an important role for Smart."
The use of time-tested data-gathering methods, their reliance on advanced technology, and their ability to deliver intuitive and groundbreaking software solutions are just some of the reasons why many big players have trusted INNOV8 over the years. However, what lies at the core of INNOV8 success is the quality embedded in everything they do. INNOV8's commitment to high-caliber work and customer satisfaction is what keeps the company at the forefront of its industry.
T
Innov8 International Group