From one office in 1993 – when it first entered the Cambodian market – to 21 branches presently spread across the nation, Maybank's journey to become one of the Kingdom top banking institutions has been nothing short of impressive.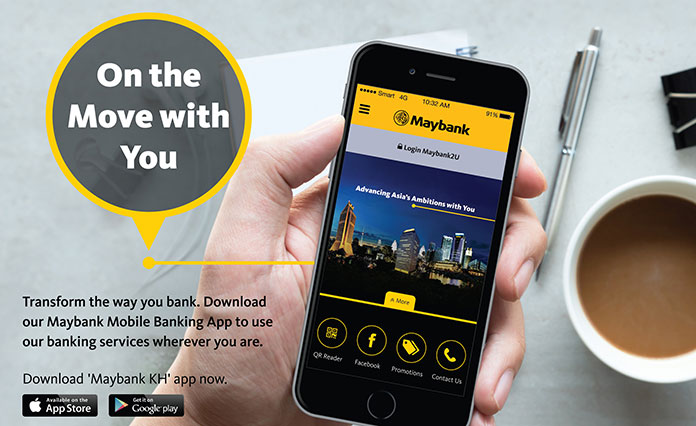 Headquartered in Malaysia, Maybank currently ranks as the fourth largest banking house in Southeast Asia, with its Cambodian subsidiary – which became a locally-incorporated bank in 2012 – now among the Kingdom's top ten banks by assets.
As a trailblazer in internet and mobile banking in the Kingdom, Maybank Cambodia offers customers one of the most comprehensive, cutting-edge and secure online and mobile banking platforms available in the Kingdom.
Last year, the bank launched a revolutionary mobile banking application that integrates Augmented Reality and QR code-reading technology to help customers locate branch offices and ATMs. On top of more standard features like balance inquiry and funds transfer, the pioneering new app can also be used to send money to a mobile number: the cash can be withdrawn from any Maybank ATM without having to use an ATM card.
Coming very soon is a Live Chat service via its mobile banking app – a first in the country – capitalising on cutting-edge technology to raise the bar on customer service support. This Live Chat is currently available on its website www.maybank2u.com.kh.
"Maybank aims to enhance the digital banking experience to meet our clients' changing expectations. Digital banking channels not only offer convenience but also security," says Cynthia Liaw, CEO of Maybank Cambodia. "This mobile banking app is only one of the many plans we have for Cambodia and a part of our end-to-end integrated omnichannel strategy."
For business users, the bank offers Maybank2E (M2E), a regional cash management service that allows the online management of information, payables, receivables and liquidity. This service is also available on iOS, Android and Windows mobile devices, allowing business users to do banking on the go. It is extremely useful for bosses to view and approve payment transactions when they are outside their office.
Liaw adds that Maybank plans to introduce more online services in Cambodia to further simplify banking and boost operational efficiency. The launch of its mobile banking app in Cambodia is in line with efforts to make Maybank the digital bank of choice in the country.
Giving back to the communities where it operates is of utmost importance for the Malaysian regional bank. A good example of the bank's robust corporate social responsibility (CSR) strategy is its Maybank Women Eco Weavers, a community-based program involving the setting up of a formal silk weaving training centre – another first in the country – and a sericulture plan to help farmers produce high-quality Cambodian golden silk.
Started in March 2016, the initiative has the overarching goal of creating economic independence and financial inclusion for weavers in the region, while promoting and enhancing traditional textiles globally in a sustainable manner. Their first weaving training course began in June last year with a total of 32 participants. The sericulture program has also started, and already over 10,000 mulberry trees have been planted by more than 100 farmers/households.
With a colossal international network – including 2,200 branch offices in 20 different countries and over 900 correspondent banks worldwide – and state-of-the-art internet and mobile banking platforms, Maybank remains extremely well positioned to help Cambodia-based companies thrive in ASEAN's increasingly competitive business environment.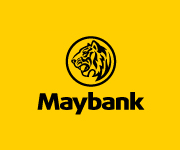 4B, Street 114

,

Phnom Penh
Maybank in Cambodia was established in December 1993 with the first branch opening in Phnom Penh. The bank offers a range of financial products and services.
Maybank Cambodia has expanded its customer base to include local businesses by providing the full range of banking services for the mass market, local SME and the commercial and corporate sectors.
In April 2012, Maybank was locally incorporated to become Maybank (Cambodia) Plc., to reflect a long-term commitment to Cambodia and in line with their standings as a regional bank.
T