Qorvis, a DC-based communications firm in the United States, has been awarded a $70K retainer contract to handle strategic communications and media relations services for Cambodia.
The firm also will "work to promote public awareness of Cambodia along with the opportunities for travel and tourism" an announcement said on September 22, 2021.
Chum Sounry, Cambodia's ambassador to the US, Qorvis president Michael Petruzzello and VP-finance Jonathan Nicholas signed the PR contract which took effect from the start of the moment but "may be terminated by either party with 30 days written notice."
Qorvis Communication is part of the Publicis Groupe, which is considered one of the largest advertising and communication companies globally. They have over 300 offices located in 110 countries.
The company works with an existing network of diplomats and international newsrooms and networks. The company has a number of high-profile clients from corporations to nations.
USDA Office Opens in Cambodia
The United States confirmed it had opened its first U.S. Department of Agriculture (USDA) office in Cambodia  in September 2021, to help support growing agricultural trade between the two countries.
The USDA Foreign Agricultural Service (FAS) office is based at the U.S. Embassy in the Cambodian capital of Phnom Penh.
"There's a great appetite for American agricultural products and technology in Cambodia, and this new USDA office will work to make them more available to Cambodian consumers and producers", said U.S. Ambassador to Cambodia W. Patrick Murphy via an official US Embassy statement.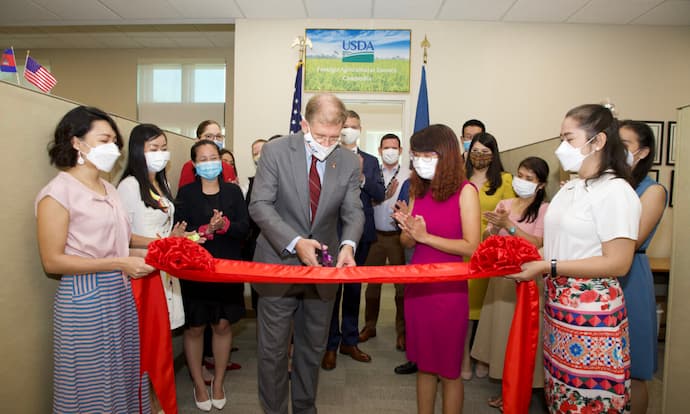 Cambodia-US Trade
Cambodia exported $4.2983 billion worth of goods to the US between January-July 2021, which represents a 26.8 per cent year-on-year increase. However, Cambodia's trade surplus with the US has widened by 26.2 per cent, increasing from $3.220 billion to $4.063 billion.
The United States is the top destination of Cambodian-made bicycles as well as finished textile products reported by the Phnom Penh Post and Khmer Times. Export to the US includes clothing, footwear, bags, bicycles, furniture and agricultural products while imports include automobiles, machinery and electronics.
Cambodia has had agricultural exports to the US worth $72.7 million in 2020 – which represents an  increase of 474 per cent over the space of a decade.