From January to October of 2023, total revenue from Angkor Archaeological Park ticket sales reached USD $27.8 million, representing a 312 per cent increase from the same period in 2022.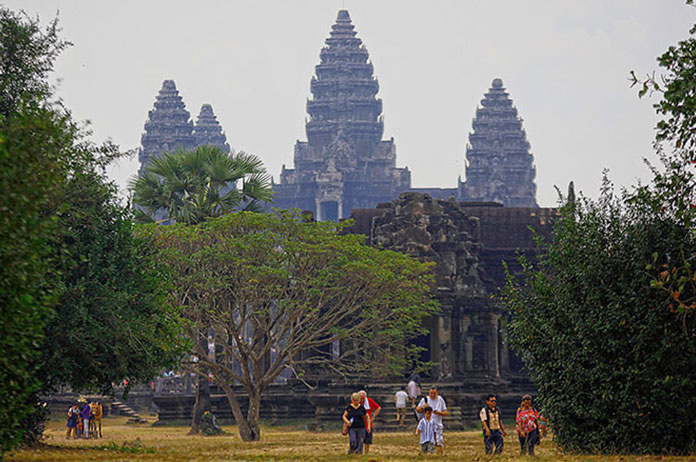 According to the state-owned Angkor Enterprise, 602,570 tickets were sold for the Angkor Archaeological Park, Koh Ker Temple, and Chong Kneas Port in the first nine months of 2023, indicating a 255 per cent increase from the same period in 2022.
Cambodia also welcomed 3.92 million international visitors during this period, marking a robust 210 per cent surge from the 1.26 million tourists recorded in the first nine months of 2022.
Thailand was the leading source of foreign tourists to Cambodia from January to September 2023.
The Top five were:
Thailand

Vietnam

China

Laos

United States
Approximately 1.34 million visitors entered Cambodia through international airports, while others arrived via land and maritime borders, according to AKP.
Cambodia's Tourism Ministry has also highlighted a significant increase in the number of outbound travellers from the Kingdom, rising by 144 per cent to reach 1.32 million within the first three quarters of 2023.
Cambodia's Tourism Trends
International tourist numbers are predicted to reach 7 million by 2025, thereby exceeding the pre-pandemic peak of 6.6 million recorded in 2019.
Cambodian tourism experts have also observed a shift in the modes of entry for international tourists visiting Cambodia; a greater number are now entering through roads and waterways rather than by air.
This shift signifies a substantial change, with the proportion of air travellers dropping from two-thirds to one-third of total arrivals. The reduced number of Chinese tourists, who previously represented half of the market share, has been pinpointed as a primary cause for this decline, significantly affecting Cambodia's hospitality sector, including hotels and restaurants.
Nevertheless, Cyril Girot, President of Cambodia Airports, positively noted during a seminar in September 2023 that the Cambodian aviation industry has managed to recover 97 per cent of its air traffic from before the pandemic, excluding traffic from China.
The new Siem Reap Angkor International Airport (SAI), situated 30 kilometres from the main temples and archaeological sites, officially began operations on October 16, 2023, and is expected to help boost tourism, trade, and investment.
Vietnam's VietjetAir is also scheduled to begin daily round-trip flights from Hanoi to the new Siem Reap airport in December 2023, while Qatar Airways resumed flights to Cambodia in October 2023.
Read More On Tourism In Cambodia: