Nine Cambodian startups and entrepreneurs competed in the finals of the Techo Startup Centre run Reverse Innovation competition, and ARSAR were announced as the winners on 26 May 2021.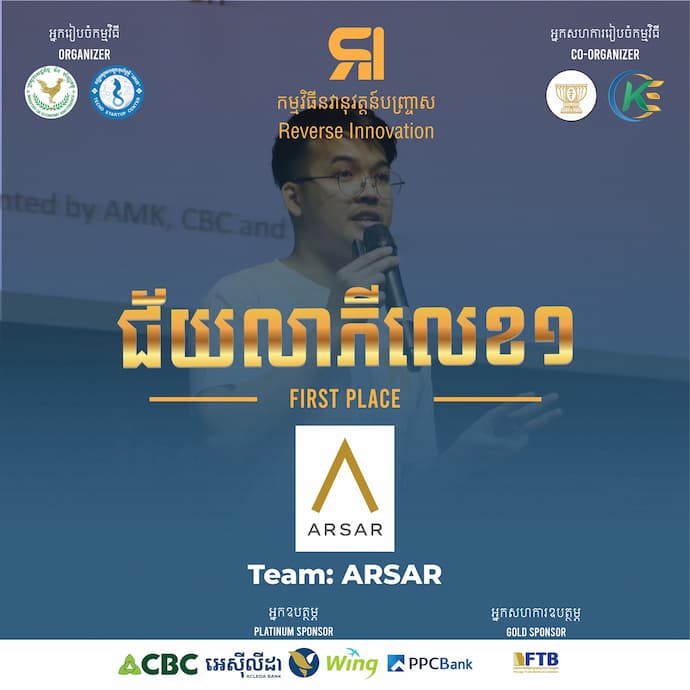 The organisers of the Reverse Innovation awarded 40 million riel ($10,000) as the top prize in the final round of the Reverse Innovation programme. The Ministry of Economy and Finance, Techo Startup Center (TSC), with the help of the Association of Banks in Cambodia (ABC) and Khmer Enterprise (KE) helped organise the tech event for aspiring Cambodians.
Due to the COVID situation, the event was held virtually, and the final nine teams pitched their products to a panel of five judges.
The Techo Startup Centre, which is government-run, confirmed the outcome of the top three placed pitches:
1st place winner: ARSAR (winner of 40 million Riel)
2nd place winner: 3S (winner of 30 million Riel)
3rd place winner: NAPT (winner of 20 million Riel)
The winners will also receive a bundle of support including Pre-seed Funding, a Co-working Space, mentoring and other support from Techo Startup Centre and its partners.
The other pitched entries were: FaSeKYC, Safe Phone Service, JAYA, MicroPort, SaveUp and Derm Luy.
The Judges also awarded:
The Most Ready-To-Go Solution: FaSeKYC
The Most Innovative Idea: Derm Luy
The organisers added "We would also like to thank the 9 startup groups who have participated and worked tirelessly in Reverse Innovation program over the past six months. We believe this is just the beginning of something great, so we would like to encourage program candidates and other innovators to work and research more on what interests them."