Cambodia Academy of Digital Technology (CADT) has announced Cambodia ICT Awards (CICTA) 2021 is open to applications, with the awards featuring six categories.
CADT (formerly the National Institute of Posts, Telecoms ICT – NIPTICT) has partnered with the Ministry Of Post & Telecommunication, CBRD Fund and Smart Axiata to host the digital tech awards, with the final due to take place on 8 October 2021. There is a total prize fund of $12,000 up for grabs.
The selection qualifications are based on Tech Innovation, Problem Solving, Efficiency of Operation and Marketing strategy reported the Khmer Times.
Dr Seng Sopheap, president of the Cambodia Academy of Digital Cambodia said: "Through this award competition, we hope that companies and entrepreneurs who have the achievements will gain national recognition to inspire and encourage our young Cambodian to learn digital technology, develop technology services and create more innovative tech products to contribute to the developing of the digital technology sector and boosting the digital economy in Cambodia."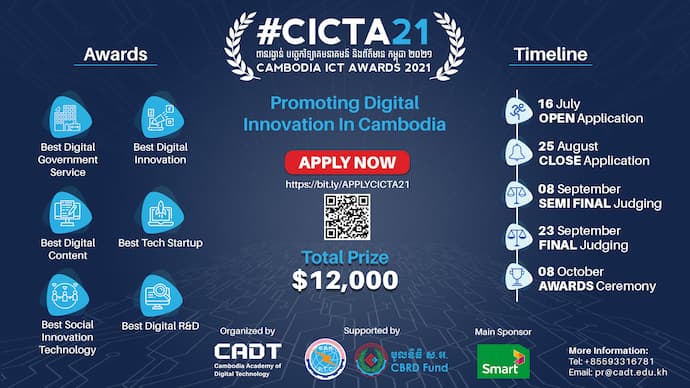 What are the Categories for the Cambodia ICT Awards 2021?
The CICTA 2021 features six categories. Applicants have until 15 August 2021 to submit their entries.
𝐁𝐞𝐬𝐭 𝐃𝐢𝐠𝐢𝐭𝐚𝐥 𝐆𝐨𝐯𝐞𝐫𝐧𝐦𝐞𝐧𝐭 𝐒𝐞𝐫𝐯𝐢𝐜𝐞 𝐨𝐟 𝐭𝐡𝐞 𝐘𝐞𝐚𝐫 – Products, services, or "state institutions" using ICT to provide valuable digital services.
𝐁𝐞𝐬𝐭 𝐃𝐢𝐠𝐢𝐭𝐚𝐥 𝐈𝐧𝐧𝐨𝐯𝐚𝐭𝐢𝐨𝐧 𝐨𝐫𝐠𝐚𝐧𝐢𝐳𝐚𝐭𝐢𝐨𝐧 𝐨𝐟 𝐭𝐡𝐞 𝐘𝐞𝐚𝐫 – Companies or institutions that innovate and use digital technologies to improve their enterprise business (better, faster and more efficient) by bringing new competitive products and services to the market.
𝐁𝐞𝐬𝐭 𝐒𝐨𝐜𝐢𝐚𝐥 𝐈𝐧𝐧𝐨𝐯𝐚𝐭𝐢𝐨𝐧 𝐨𝐟 𝐭𝐡𝐞 𝐘𝐞𝐚𝐫 – Private companies or non-government organisations that use digital technologies to contribute to solving the problems of the public and greater society.
𝐁𝐞𝐬𝐭 𝐃𝐢𝐠𝐢𝐭𝐚𝐥 𝐂𝐨𝐧𝐭𝐞𝐧𝐭 𝐨𝐟 𝐭𝐡𝐞 𝐘𝐞𝐚𝐫 – Private companies or non-government organisations that use digital technologies to produce digital content (videos, games, audio files, etc.)
𝐁𝐞𝐬𝐭 𝐃𝐢𝐠𝐢𝐭𝐚𝐥 𝐑&𝐃 𝐨𝐟 𝐭𝐡𝐞 𝐘𝐞𝐚𝐫 – Companies or institutions in the field of ICT or digital research and development eg. as discovering new formulas, new methods, new rules and new innovations.
𝐁𝐞𝐬𝐭 𝐃𝐢𝐠𝐢𝐭𝐚𝐥 𝐒𝐭𝐚𝐫𝐭𝐮𝐩 𝐨𝐟 𝐭𝐡𝐞 𝐘𝐞𝐚𝐫 – Newly established companies (less than 3 years from the date of official registration) that have made a breakthrough with new ideas using ICT.
Only ministries, organisations, local NGOs, private companies, digital startups and universities that are officially registered and licensed in accordance with the laws of the Kingdom of Cambodia can apply for the CICTA awards 2021.
It is noted that students can also apply if the work is Digital Research & Development.
What is the timeline for the CICTA awards?
The applications have been open since July 2021 and will close in August 2021, before the semi-final and final judging rounds in September, and the awards ceremony on October 8 2021.
Applications Open – July 2021
Applications Close – 15 August 2021
Semi-Finals- 8 September 2021
Finals – 23 September 2021
CICTA Awards Ceremony – 8 October 2021