The Cambodian National Consumer Conference was held in April 2023 under the theme "Empowering Companies to Boost Fair Marketplaces" and organised by the Consumer Protection, Competition and Fraud Repression Directorate-General (CCF) and Germany's international development agency GIZ.
The conference was held in conjunction with World Consumer Rights Day (WCRD) and follows the first National Conference on Consumer Protection which was held on 11 November 2021 and the introduction of the National Consumer Protection Programme (NCPP) in Cambodia in mid-2022 agreed upon under the Consumer Protection Law to promote fair competition and consumer rights in the Kingdom. The Law on Consumer Protection was enacted in 2019.
The organisations continue to raise awareness of consumer rights in Cambodia and address issues both in practice and policy. The 2023 conference was attended by H.E. PAN Sorasak, Minister of Commerce and also a Chairman of the National Commission for Consumer Protection (NCCP), along with 160 face-to-face participants and more than 3,000 online.
Cambodia was the last of the 10 ASEAN member states to adopt the Law on Consumer Protection but aims to learn and adapt to international experiences.
At the 2023 conference, GIZ's PROTECT programme renewed its collaboration with the Consumer Protection Competition and Fraud Repression Directorate-General (CCF) and launched the next phase of the programme.
Consumer Protection is a key topic in Cambodia and ASEAN, especially with the pivot of products and services online and the growth of E-commerce, which means new strategies are needed to help protect consumers protected.
EuroCham was in attendance at the 2023 Cambodia National Protection Consumer Conference and suggested some of the key takeaways were:
The CCF is supported by several new laws and regional road maps concerning consumer protection. These include the Consumer Protection Law, the E-commerce Law, and the Law on Food Safety. Increased participation from stakeholders is needed to strengthen consumer protection.
Digitalization, global conflict, and climate change have changed the global business environment.
There are frameworks governing consumer protection in Cambodia, including the United Nations Guidelines for Consumer Protection, the ASEAN Strategic Action Plan for Consumer Protection (2016-2025) and the government's Rectangular Strategy – Phase IV. Cambodia's participation in the Regional Comprehensive Economic Partnership (RCEP) is an opportunity to improve these standards.
Consumer Protection in ASEAN (PROTECT) can support the implementation of consumer protection, including modernised solutions such as remote gateways for complaint mechanisms.
Strong cybersecurity standards will be needed as more businesses move online and embrace e-commerce and regulators will need to adapt to this changing environment.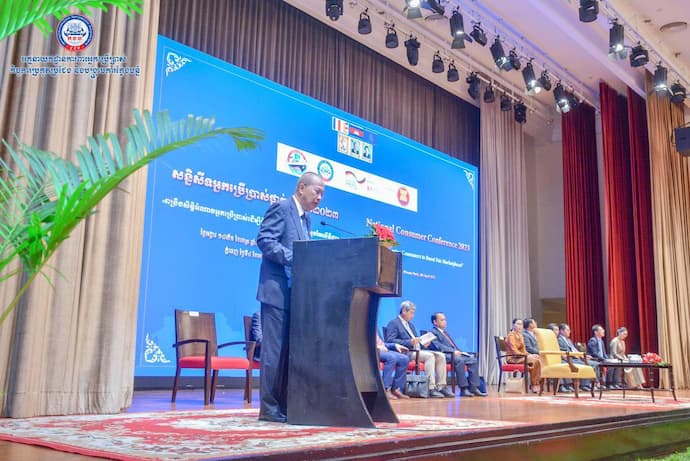 GIZ Cambodia added online "Government authorities need to step up their actions and continuously strengthen the existing regulatory framework in line with new developments and demands. The conference highlighted key issues for consumer protection in a fast-evolving economy, including safety and privacy risks associated with new technologies and innovations, such as cashless payments.
Under the National Consumer Protection Programme 2022-2026, stakeholder contributions will be mobilised, among others for business education and consumer outreach.
With the first consumer association in the country starting to become active, much can also be learned from the experiences and good practices in other ASEAN countries. This includes creative approaches, for example through mobile apps or social media, that take into account the specific needs and preferences of the targeted audiences."
Cambodia National Protection Consumer Enforcement
In 2022, the CCF collected over 25 tonnes of non-compliant food products from markets and warehouses across the country and earmarked them for destruction.
An additional 1,000 non-compliant gas stations and fuel depots were recorded, and 23 tonnes of defective goods containing banned chemicals or having expired use-by dates were confiscated.
GIZ Cambodia has been running several workshops and cooperation projects under the "Promotion of Competitiveness within the Framework of the Initiative for ASEAN Integration" (COMPETE) and "Consumer Protection in ASEAN" (PROTECT).