This week, the Cambodian Aqua Culturist Association (CAA) was launched in Phnom Penh to promote the aquaculture sector in the Kingdom. Veng Sakhon, Minister of Agriculture, Forestry and Fisheries was present at the launch.
The CAA will be instrumental in developing a sustainable Cambodian fisheries industry by producing high-quality fish for both local and export markets. The Cambodian Aqua Culturist Association also has the support from the Commercialisation of Aquaculture for Sustainability Trade in Cambodia (CAST)
In a report in the Khmer Times, it expressed the CAA has the support of the Ministry, as it wants to boost the Cambodian aquaculture sector. This includes improving associated:
Legal procedures
Production techniques
Administrative and financial matters
The Agriculture, Forestry and Fisheries Ministry would like to see increased productivity, quality, and boost exports and supplies.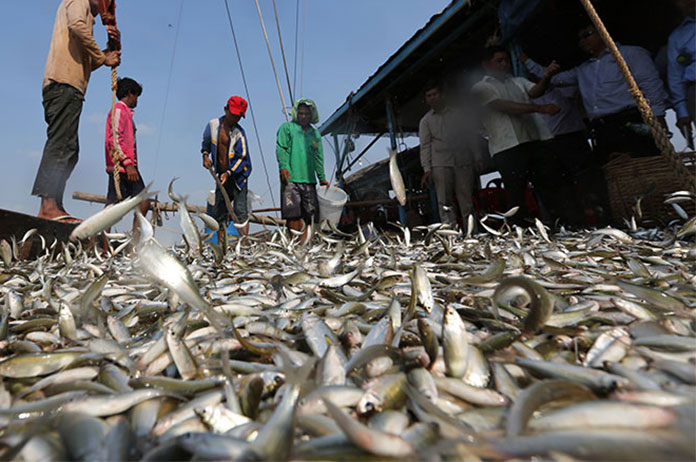 What will the Cambodian Aqua Culturist Association do?
The CAA will be responsible for fisheries products, and also have the difficult task of "reducing fish catches from natural sources in accordance with population growth, market demand".
There will also be responsibilities for Cambodian job creation at the local level, increased incomes and guaranteed family food security" said Veng Sakhon.
The Cambodian Aqua Culturist Association was advised to promote the governments "National Strategic Plan for Aquaculture Development 2016-2030".
Who can join the CAA?
The Cambodian Aqua Culturist Association is open to all Cambodians over 18 who are involved in the sector or have business-related aquaculture experience.
The Cambodian government has already provided $500,000 in 2020 to improve the fisheries industry in the Kingdom reports the Khmer Times. However, the Phnom Penh Post said: "the government has disbursed more than $4.5 million to boost aquaculture production and domestic market supply amid the Covid-19 pandemic."
Size of the Cambodian fishing industry
In 2020, Cambodia has 516 fishing communities, of which 475 are freshwater and 41 marine. There are 677 fisheries conservation areas, 895 community ponds, and 309 fish hatcheries of which 269 are owned by farmers, with a total of 46,000 aquaculturists.
In previously published reports from 2019, the natural fish production in Cambodia rose to 600,000 tonnes, while the local fish farming industry yield was around 300,000 tonnes.
There are also believed to be 6,000 frog and catfish farmers across the Kingdom.