Cellcard, which forms part of the Royal Group of Companies ICT Division, announced this week it has signed a major Framework Agreement with ZTE Corporation for the introduction of 5G and increase of 4G coverage and capacity across Cambodia.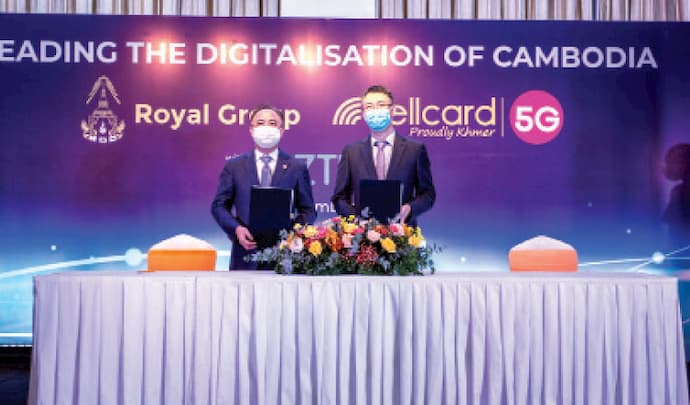 Cellcard and 5G
The signing ceremony in Phnom Penh on Wednesday 11th November 2020, was officiated by Royal Group Chairman Neak Oknha Kith Meng and Mr Song Chaojun – ZTE Managing Director, Engineering & Services of South-East Asia.
In a statement from Cellcard, they said "The agreement comes at a critical time for Cellcard and Royal Group as they formalise plans for rolling out 5G as well as evolving its 4G LTE coverage and quality. The agreement covers a significant financial investment that will position Cambodia as one of the leading nations in the region for 5G adoption."
Cellcard's Chief Executive Officer Ian Watson added: "The Cellcard 5G network has already been a showcase. We have had live 5G demonstrations and reached the highest 5G speeds to date with 1.8 Gbps (gigabytes per second), Royal group have set the benchmark and today we express our readiness and commitment to the government to the next chapter for 5G that will revolutionise the way we do business, the way we communicate, the way we learn and the way we entertain."
Royal Group's ICT Division consists of Cellcard, Wing Money, Ezecom and Broadcasting operations CBS and Digital Sky. The companies are leading a strategy to oversee the full transformation of the ICT sector as the role of Connectivity, Data, Content and Security in Cambodia.
Royal Group claims the introduction of 5G in the Kingdom will lead to large-scale adoption of technologies such as IoT (Internet of Things), Big Data, AI (Artificial Intelligence), and VR (Virtual Reality) & AR (Augmented Reality).
Neak Oknha Kith Meng also said that the ICT Division operations would "ensure the introduction of 5G in Cambodia would be for greater humanitarian impact to improve healthcare, education and security for all and help drive the future of a strong Cambodian economy."
Cambodia pushes for a digital economy
The push for the Cambodian digital economy and the fourth industrial revolution (4IR), IoT and big data are all a key focus of the Cambodian government in 2020.
By August 2020, more than 20 million sim-card subscribers and 15 million internet subscribers are recorded by the Telecommunication Regulator of Cambodia (TRC).
4G was first introduced in Cambodia in 2016 and although the leading Cambodian mobile operators, including, have been in a race to roll out 5G in Cambodia, it was announced by the Telecommunication Regulator of Cambodia (TRC) in October 2020, that 5G won't be reaching Cambodia until at least 2021.
What is 5G?
5G is the fifth-generation wireless technology for digital cellular networks and 5G actual speeds can reach 1–2 Gbit/s. Some nations started rolling out the first 5G networks in 2019. South Korea and the US lay claims to being the first to offer 5G.