Cellcard (CAMGSM PLC) is preparing to list a USD $20 million sustainability bond on the Cambodia Securities Exchange (CSX) with a maturity of 10 years, effective from early November 2023.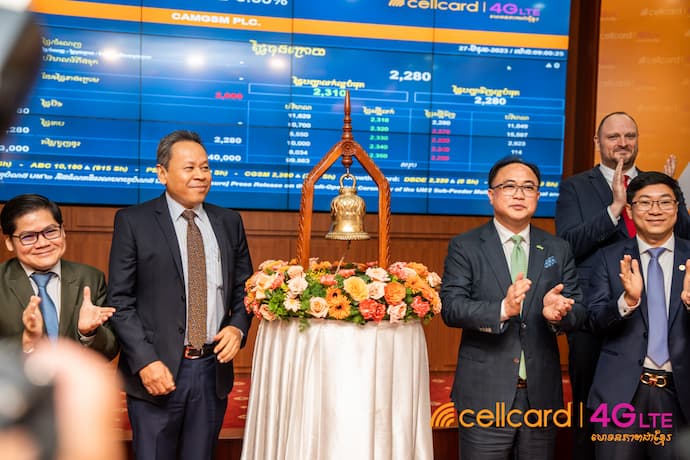 According to a press release issued by CAMGSM PLC, the proceeds from the bond will support the expansion of the company's telecommunication network and the repayment of existing debts.
The company states that the interest rate and creditors for this bond are still being negotiated, hence will be announced at a later date. The release stresses that CAMGSM PLC must comply with all listing requirements before officially commencing trading in the market.
The company received an in-principle approval from CSX on September 28, 2023, while the Securities Exchange Regulator of Cambodia (SERC) approved its eligibility for listing the bond on October 6, 2023.
This approval makes CAMGSM PLC the first issuer of a sustainability bond in the Cambodian capital market. Royal Group Securities (RGS), the sole underwriter and financial advisor of CAMGSM PLC, has also expressed confidence in the positive impact this listing will have on the capital market.
RGS has emphasised CAMGSM PLC's role in advancing the Kingdom's environmental, social, and governance (ESG) standards and practices through its sustainable and responsible business operations. CAMGSM PLC has been actively engaging with CSX, which RGS states demonstrates the company's continued support for the Cambodian government, the national economy, and to creating more growth opportunities.
Recently, Cellcard released its Q2 Report for the Financial Year 2023, which revealed growth in the company's profits, compared to the same quarter in 2022. This was despite some revenue challenges that resulted from the discontinuation of certain popular products, such as 'balance advance'.
Cellcard's progress in profitability followed its successful initial public offering (IPO) and listing of Class A Voting stock on CSX on June 27, 2023.
The press release further states that in July 2023, CAMGSM PLC's Board of Directors authorised the issuance of debt securities up to USD $70 million – a move which was made to raise the company's capital and expand its business in the national telecommunications sector.
"Cellcard has been a key player in Cambodia's development, providing reliable and affordable communication services to millions of customers," affirmed Simon Perkins, CEO of Cellcard. "As a brand, Cellcard stands for quality, innovation, and social responsibility." 
He added that as a service provider, Cellcard offers a wide range of products and solutions to meet the diverse needs of the Cambodian market.
"This year, we are celebrating 26 years of service, and we look forward to contributing to Cambodia's future growth and supporting the Royal Government's vision for a Digital Economy," added Perkins. "We are committed to delivering long-term value to our customers, centred around our renewed focus on network quality and performance, innovation, and service excellence."
Read More On Sustainability Bonds: