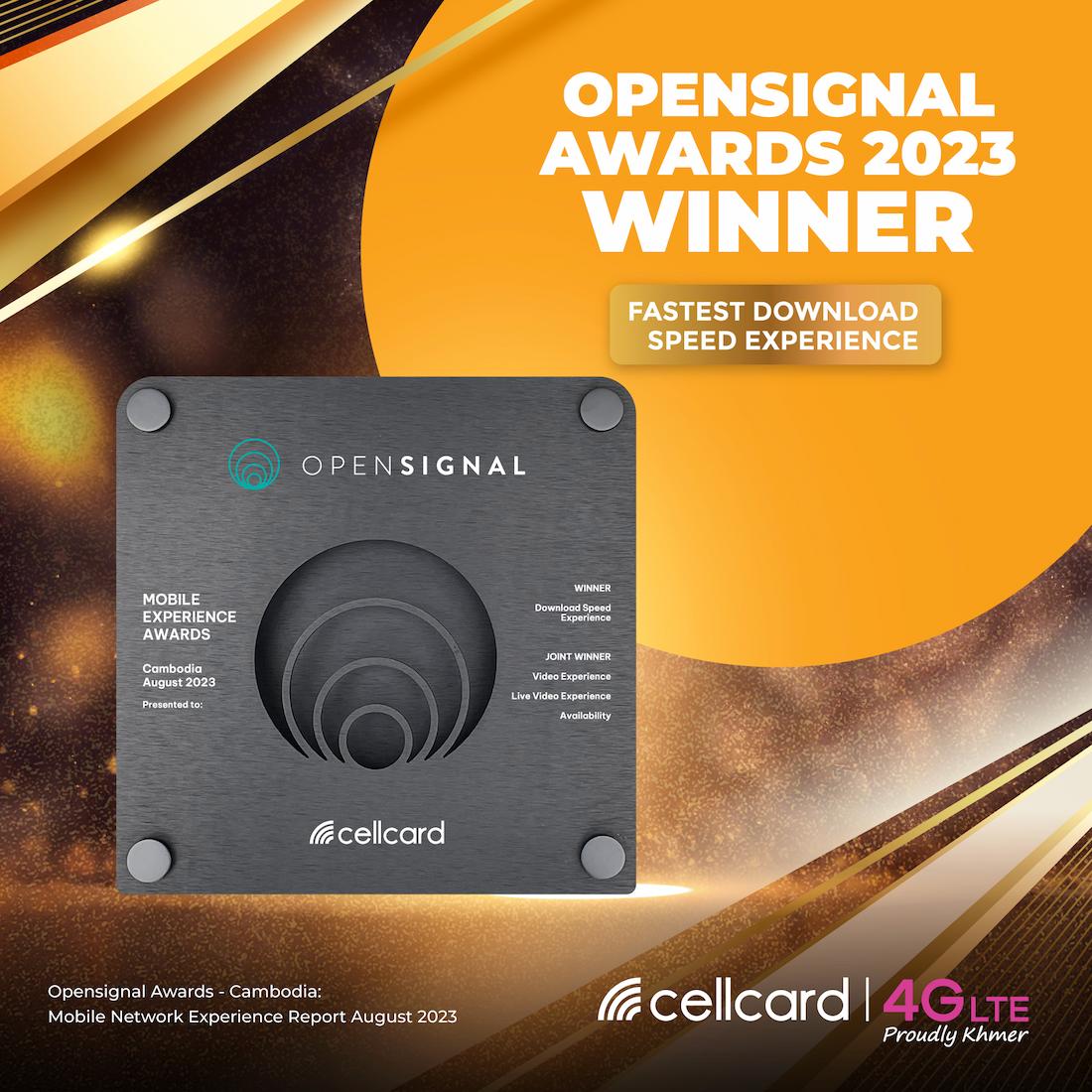 Cellcard, the telecommunications company under the Royal Group, has once again been recognised as the provider of the fastest "Download Speed Experience" in Cambodia for 2023 by Opensignal.
In the August 2023 report released by Opensignal, Cellcard users continue to enjoy the fastest overall download speeds in Cambodia. Cellcard achieved a score of 22Mbps, surpassing its competitors Smart Axiata (18.7Mbps) and Metfone Viettel (13Mbps).
Opensignal also awarded Cellcard three additional joint accolades for Video Experience, Live Video Experience, and Availability.
Simon Perkins, CEO of Cellcard, highlighted the company's commitment to network enhancement in their press release and Perkins expressed his gratitude to the Cellcard network team and their partner, ZTE, for their invaluable contributions.
ZTE is a company that provides innovative technologies and integrated solutions for global operators, governments, enterprises, and consumers in more than 160 countries. The company, which is listed on the Hong Kong and Shenzhen Stock Exchanges, has been working with Cellcard since 2017 and built 1170 new sites for Cellcard.
ZTE is also responsible for installing the core network, transmission sites, power, and other services for Cellcard.

Perkins said of their commitment; "A reliable network that keeps you connected wherever, whenever, at the speed of your digital lifestyle – that's what everyone wants. That's what we want for our customers as well."
Cellcard unveiled plans in 2021 to expand its network coverage across Cambodia, with a focus on areas such as Phnom Penh, Kandal, Kampong Speu, Battambang, Banteay Meanchey, Kampong Thom, Siem Reap, Kampong Cham, Tboung Khmum, and Preah Sihanouk.
"We are working closely with our key network partners, ZTE, Telemobile, and Telcotech, to add new sites in key provinces and improve connectivity in residential areas," added Perkin
In 2023, Cellcard introduced the ZTE Carrier Expansion, providing speeds of up to 350Mbps with a maximum of 4CA. The company also implemented additional sectors to alleviate congestion on busy cell sites, aiming to enhance the internet experience for its customers.
As of July 2023, Cellcard reported upgrading its 4G coverage in 106 new locations across 10 provinces. This included significant expansions in Phnom Penh, Kandal, Siem Reap, Takeo, Sihanoukville, Kampong Speu, as well as new sites in Banteay Meanchey, Pursat, and Koh Kong.
Additionally, Cellcard has established 309 improved mobile service locations throughout Cambodia, and ZTE has completed the introduction of VOLTE (Voice Over LTE), and preparations are underway to provide VOWIFI nationwide in the coming year.
Read More About Cellcard: