The Cambodia Securities Exchange (CSX) is considering heading on an overseas roadshow to promote the exchange and highlight successfully listed Cambodian companies.
Reports suggest the roadshow could take place as soon as Q4 2023 targeted "for locally listed firms to promote their stocks to potential investors in targeted destinations."\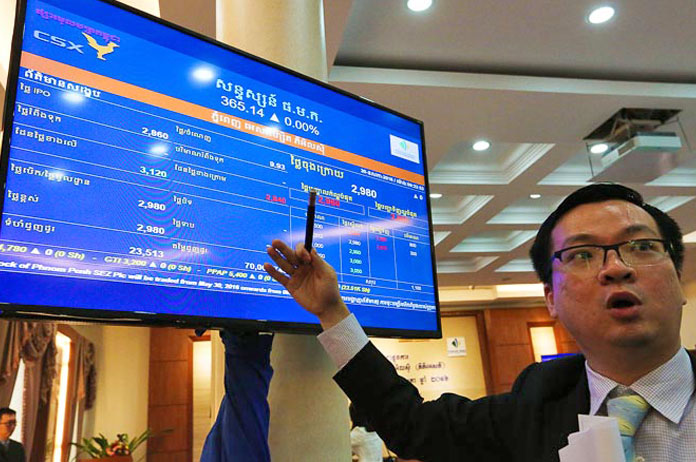 The goal is to increase the investments from corporate and individual potential investors and increase the amount of trading for short-term purposes or receive dividends in the long term. H.E. Hong Sok Hour, CEO of CSX previously told B2B Cambodia "I've been optimistic about this market even though we are small but we are growing and it's increasingly active and seeing more trading volume." There are 11 equity-listed firms, and further nine corporate bond firms listed on CSX by mid-2023.
The CSX CEO has high hopes for the CSX to reach an average daily rate of $100 million by 2030, while there is a target of listing 14 new firms, to double daily trading volumes to USD $1 million and even triple the number of registered trading accounts to 15,000.
Hong Sok Hour said that the average trading account is expected to increase to 50,000 accounts by the end of 2023.
CSX Roadshows & Requirements For Investors
Kim Sophanita, Director of the Market Operations Department, told Khmer Times that "Documentation for overseas investors would not be the challenge because the roadshows would focus on corporate investors rather than individuals as all these things like documents for registration as investors are simple or normal for investors who are enterprises. We also have a custodian to serve them and they normally invest in a big amount."
Hong Sok Hour, CEO of Cambodia Securities Exchange (CSX), told Khmer Times that Acleda Bank as the custodian agent that has already been registered with Cambodia's Trust Regulator in June last year, would be able to attract more investors into the securities market, especially large-scale investors in Asia.
Sok Hour added that large-scale investors who invest tens of millions of dollars require agents to manage these assets on behalf of investors. "Some investors, especially big investors, invest in the securities market, but they do not hold or manage the securities like shares by themselves. They usually use the services provided by a custodian to do those things. Previously, some big investors wanted to come into our market, but we lacked this player," he said.
CamGSM Plc (known as Cellcard) also held roadshows earlier in 2023 as part of their IPO and visited Taiwan and Hong Kong.
CSX News – Find Out More: