The Education University of Hong Kong (EdUHK) has partnered with five leading higher education institutions in Cambodia, under the World Bank's Higher Education Improvement project.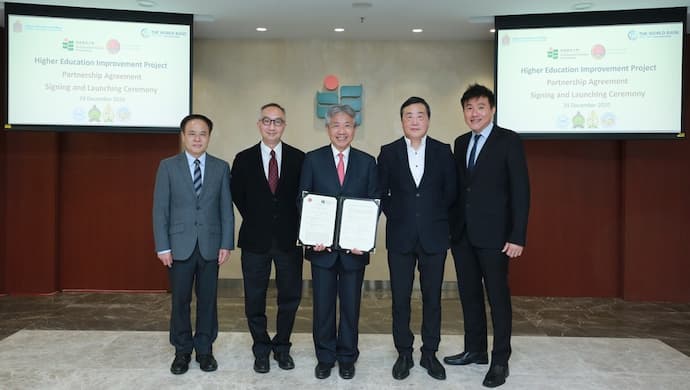 The main aim of the partnership is to build the capacity of higher education teachers in the Kingdom of Cambodia. This also follows the Education University of Hong Kong signing a Memorandum of Understanding (MoU) for academic cooperation with the Directorate General of Higher Education (DGHE) under the Ministry of Education, Youth and Sport of the Kingdom of Cambodia in 2020.
Under the agreement, a Postgraduate Diploma of Higher Education Teaching and Learning programme will be offered at:
Royal University of Phnom Penh
Institute of Technology of Cambodia
Royal University of Agriculture
Svay Reing University
University of Battambang
EdUHK will also establish a Centre of Excellence in Higher Education Teaching and Learning and Innovation in Cambodia.
The partnerships will include a knowledge transfer in the areas of:
Design and development of curricula
Assessment and pedagogy
Use of digital technologies,
Co-development of a Graduate Certificate in Teaching and Learning in Higher Education.
The teachers from the five partner institutions in Cambodia will be "engaged in the EdUHK Doctor of Education programme to enhance their capacity for quality research, teaching and learning" said a statement from EduHK.
EdUHK President Professor Stephen Cheung Yan Leung said, "We are pleased to be able to participate in the professional development of Cambodian higher education teachers, and play a part in the educational transformation and enhancement in Hong Kong and Southeast Asia.
This project reaffirms our leading role in education in the region, as an important partner in enhancing the quality of teacher education and in collaborative research and knowledge transfer through education and talent exchange."
Education in Cambodia 2021
In early 2021, Cellcard announced Education Hub, an online portal which offers edutainment and free online education tools for its users in Cambodia.
The Cambodian government also signed an MOU with MKI Media AS Norway for the firm to produce educational entertainment ("Edutainment") for the Cambodian market from 2021-2023.
A 2020 report from the International Schools Database suggests Cambodia's capital of Phnom Penh also offers the cheapest international school fees in Asia.