Exports during the first five months of the year increased by more than 15 percent, reaching a value of $5.3 billion, according to the latest report from the Ministry of Economy and Finance.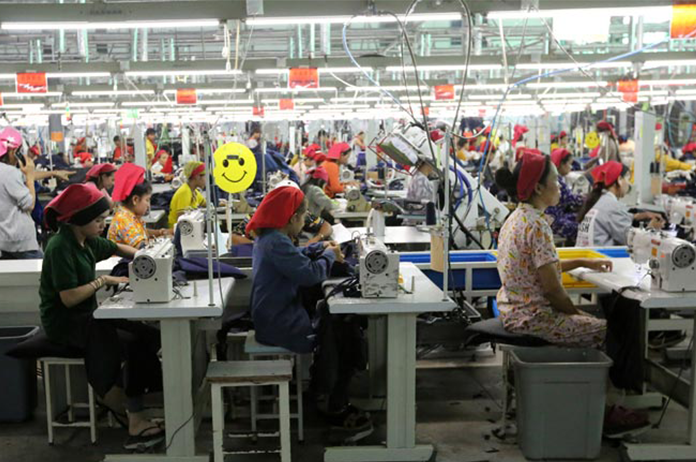 During the same period, the value of imports reached $8.2 billion, a 21.5 percent hike compared to the same months last year.
The growth in exports was largely supported by strong demand in the United States, with a surge in the shipments of travel goods, according to the report.
Exports to the European Union, however, slipped compared to the same five months last year, the report said. The EU now represents 34 percent of the Kingdom's total exports.
The report also notes that, "Accelerating business models, economic diversification, and the expansion of target markets are enabling Cambodia to generate growth and alleviate pressure from external risks.
"This will ensure that the country is able to sustain this growth in the near future."
According to the US Department of Commerce, last year Cambodia was the United States' 57th largest supplier of goods. US imports of Cambodian goods totalled $3.8 billion in 2018, an increase of 24.8 percent year-on-year.
The US mostly imported knitted and woven apparel, leather products, footwear, plastics and agricultural goods.
In 2016, Cambodia was granted duty-free benefits for exports of travel goods like luggage, backpacks, handbags, and wallets to the United States under the GSP scheme.
The Commerce Ministry has submitted a petition to the US to expand the scheme to garments and footwear.
Lim Heng, vice president of the Cambodia Chamber of Commerce, told Khmer Times that more work is needed to make Cambodia truly competitive in the international marketplace. Product diversification is key to boost the country exports, he noted.
"Most of our exports continue to be in the garment and agricultural sectors. We expect export numbers will continue to grow as the economy continues to expand," Mr Heng said during a conference on the US-China trade dispute earlier this month.
"We have to strengthen ourselves to compete with neighboring countries and attract more investment into the country."
Last year, Cambodian exports were valued at $11.2 billion, an increase of 4 percent over 2017. The main products exported were garments and footwear, bicycles, rubber, rice, cassava, pepper, palm oil, and cashew nuts.