As of July 2022, the Kingdom of Cambodia has waived the quarantine requirement for all non-vaccinated or non-fully vaccinated travellers visiting the country it was announced by the Ministry of Tourism.
The "Overseas Marketing & Promotion Department, Ministry of Tourism of Cambodia" Facebook page announced "In accordance with the decision of the Royal Government of the Kingdom of Cambodia, the Ministry of Tourism is pleased to notify tourism operators, domestic tourists, international tourists, media and the public that the quarantine requirements will be waived for all travellers who have not been vaccinated or have partly been vaccinated against COVID-19".
All visitors to Cambodia who have not been vaccinated against COVID-19 for any reason, are encouraged to go to the vaccination sites in the capital and provinces without any charge.
The only conditions now are:
Non-vaccinated or non-fully vaccinated visitors are required to take a COVID-19 Rapid Test by a health officer upon arrival in Cambodia.
Foreigners shall pay a test fee of US $ 5 per person.
If the test is negative, travellers are allowed to continue their journey to a home or destination throughout Cambodia without quarantine.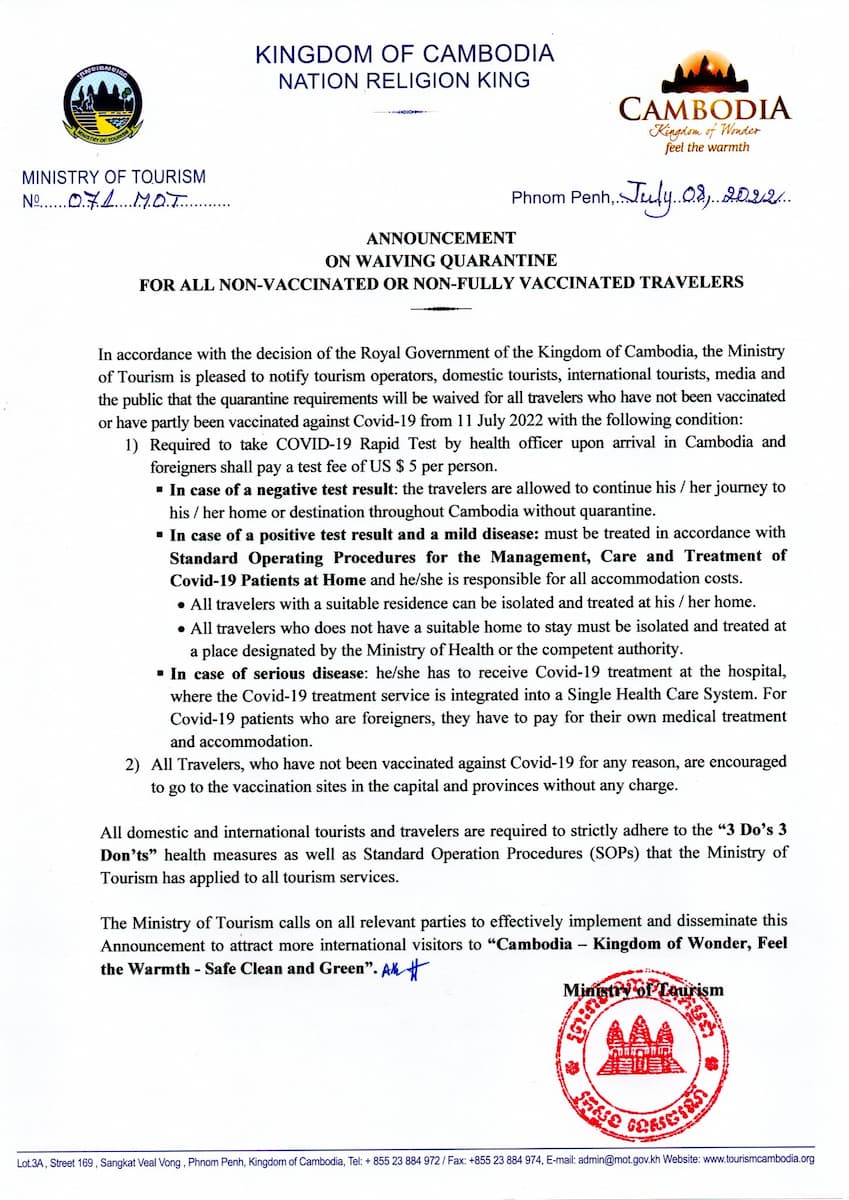 What happens if the test is positive?
Mild COVID-19 Symptoms
In case of a positive test result, they will be treated in accordance with Standard Operating Procedures for the Management, Care and Treatment of COVID-19 Patients at Home and the person is responsible for all accommodation costs.

All visitors with a suitable residence can be isolated and treated at their own home.

If the visitor does not have a suitable home to stay at, they must be isolated and treated at a place designated by the Ministry of Health or the competent authority.
Serious COVID-19 Symptoms
The visitor has to receive COVID-19 treatment at the hospital, where the COVID-19 treatment service is integrated into a Single Health Care System.
For COVID-19 patients who are foreigners, they have to pay for their own medical treatment and accommodation.
Nikkei Covid-19 Recovery Index & Tourism Rebound
In the same week as the announcement, Cambodia was at the top rankings in the Nikkei COVID-19 Recovery Index.
The Nikkei Covid-19 Recovery Index assesses countries and regions on their containment of the virus, vaccine rollouts and social mobility reported The Phnom Penh Post. Their ranking also takes into account a country's infection and death rates, vaccination rates and how many restrictions it has in place.
The latest data suggests the number of international tourists to Cambodia increased by nearly 400% in the first half of 2022, reaching 506,762.  The Cambodian Ministry of Tourism (MoT) said it expects Cambodia to receive 700,000 foreign visitors in 2022.
Vietnamese tourists visiting Cambodia in the first half of 2022 made accounted for 143,300 which is an increase of 20 times year-on-year, reported the MoT.