foodpanda released its first Social Impact Report, titled pandapurpose, which highlights initiatives the company has taken to contribute to socio-economic and environmental sustainability challenges across Asia, including Cambodia.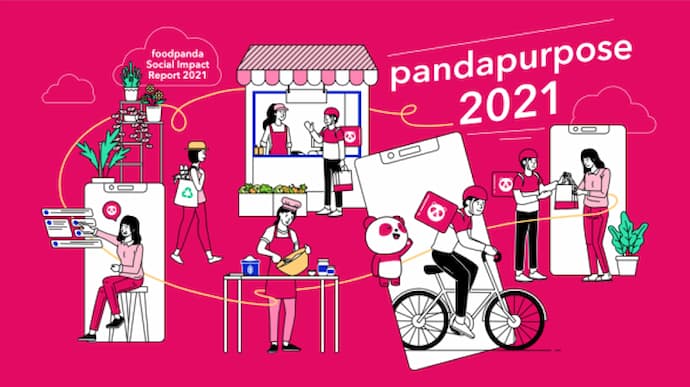 The company has "dedicated over US$35 million to support communities, help Micro-, Small and Medium-sized Enterprises (MSMEs) digitalise, train and upskill delivery riders across the region during the continued pandemic in 2021."
foodpanda is a subsidiary of Delivery Hero, and operates in more than 300 cities across 11 markets in Asia; Singapore, Hong Kong, Thailand, Malaysia, Pakistan, Taiwan, Philippines, Bangladesh, Laos, Myanmar, and Cambodia.
pandapurpose 2021 report
The press release from the company suggested a key highlight was the "introduction of new digital tools that helped MSMEs expand revenue streams, while training and upskilling for riders, and programmes."
"Since foodpanda was founded in 2012, we have been driven by our value to 'get 1% better every day', rolling out technical features that make millions of lives better. Technology has been an especially powerful tool to help sustain livelihoods, preserve business legacies, tackle environmental challenges, and build an inclusive platform for our community of merchants, riders, and customers to thrive," said Jakob Sebastian Angele, Chief Executive Officer of foodpanda.
The inaugural Social Impact Report features three key pillars which define foodpanda's social impact vision in Asia:
People
Progress
Planet
In 2021, foodpanda dedicated US$29 million to support MSMEs across the region with examples such as wet market vendors in Thailand and Taiwan, local mom-and-pop shops in Malaysia and the Philippines and hawkers in Singapore.
An additional US$6 million was invested in providing riders' welfare and benefits. These included safety training, insurance and financial support for the purchase of bicycles or motorbikes.

foodpanda also said it spent more than half a million US dollars to support local governments and communities in the fight against COVID-19.
The company also claims it tripled the number of female riders in its fleet and financially empowered women MSME entrepreneurs on the platform.
Sustainability
foodpanda also worked with local partners to improve food sustainability and reduce plastic waste for a low-carbon future., and saved over 900 million pieces of single-use plastic cutlery through its cutlery opt-out feature.
In addition, more than 25,000 sustainable products (such as plant-based food) were made available on the platform.
Editors Note – there were several regional examples and some country examples in the report but none that specifically focused on Cambodia.
There are a number of ride-hailing and food delivery services in Cambodia such as TADA, GRAB, Meal Temple, E-Gets, Muuve and many more.
You can read more about the growing fintech and eCommerce space here.