The Cambodian General Department of Taxation (GDT) claims to have collected 214.68 billion riel (USD $53.01 million) in taxes from E-commerce between May 2022 and February 2023.
A combination of new VAT E-Commerce regulations (which took effect on 1 April 2022) and the rise of E-commerce in the Kingdom are generating additional revenue for the government but the internet infrastructure is in need of upgrades to ensure the growth of digital development keeps up with growing demand since the pandemic.
The report from the GDT on February 2023 indicated that in January 2023 alone, 36.62 billion riel (USD $9.04 million) was collected – based on a 4,050 USD/KHR conversion rate.
Cambodia Chamber of Commerce vice-president Lim Heng told The Phnom Penh Post that E-commerce "has allowed goods to reach a wider audience and boosted overall domestic sales". He also added that the rapid growth of e-commerce has opened up larger markets for homemade products, which are also boosting sales.
The Ministry of Commerce formally launched CambodiaTrade as part of the Cambodia e-Commerce Development Project (Go4eCAM) in March 2021 – the e-marketplace is intended to connect local small-and medium-sized enterprises (SMEs) to regional and global value chains.
The GDT confirmed that total tax collections in January 2023 were worth $300.59 million (representing 8.42 per cent of the $3.57 billion target set in the 2023 Law on Financial Management).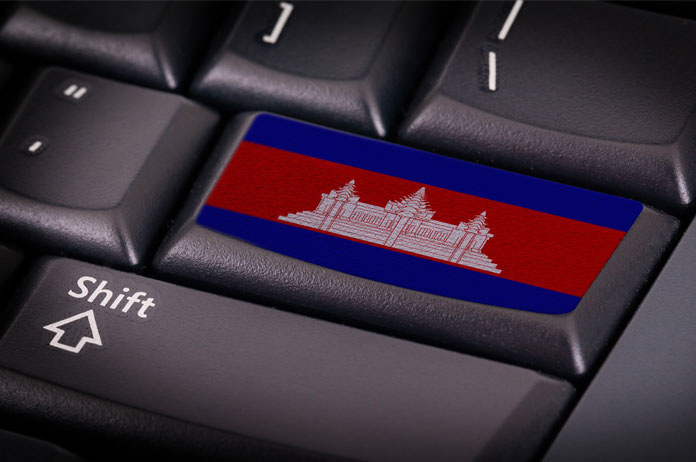 What are the e-Commerce VAT Rates in Cambodia?
According to leading legal firm DFDL, a number of regulations have been passed in Cambodia with respect to VAT and E-Commerce transactions involving non-resident e-commerce providers.
"These regulations impact not only non-resident e-commerce providers but also those self-assessment taxpayers in Cambodia who transact with them. The VAT e-commerce regime came into effect on 1 April 2022, which means that for a number of self-assessment taxpayers in Cambodia, their compliance obligations will start from the 25th of May 2022 (which is the e-filing due date for declarations and payments for transactions that occurred in April)."
Growth of eCommerce in Cambodia
Many reports have shown that online transactions have been on the rise since the pandemic, and it was a combination of shopper habits, digital transactions and government initiatives which spurred these changes.
National Bank of Cambodia (NBC) says the number of e-wallet accounts in the Kingdom reached 17.9 million by the end of 2022.
The PROFITENCE "E-commerce 2022 Report" showed that cashless payment adoption in Cambodia increased from 40% in 2021 to 68% in 2022. One of the key accelerators for cashless payments was the pivot of banks and businesses to embrace QR codes for payments as well as other contactless forms of payment.
QR code usage in Cambodia has gained popularity; with 4.4 million transactions worth approximately USD $233 million in 2021.
Synergised with KHQR, usage of QR codes will continue to grow higher.