The number of airlines and international flights to and from Cambodia are seeing a rebound, as expected, for Q4 2021- Q1 2022 with the easing of travel restrictions to the Kingdom.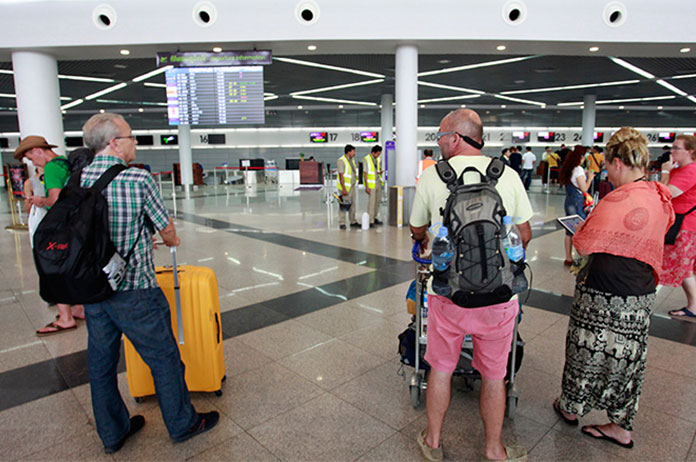 In mid-October 2021, the government's change of direction for travel rules came into effect and the period spent in quarantine for all inbound tourist and business visitors has been reduced (depending on several criteria).
On October 24th, 2021, Cambodia lifted a ban on all flights from Malaysia, Indonesia and the Philippines, while the Cambodian prime minister also confirmed that Cambodia will allow Thai travellers in Thailand to fly into Cambodia without quarantine.
The final remaining restrictions are also set to be lifted on December 1st, which pertain to "high-risk" businesses such as nightlife entertainment venues, KTV/karaoke parlours, nightclubs and bars, although there are reports that many are still operating despite the restrictions.
Wedding receptions will also be permitted to resume with a cap of 200 guests at maximum.
Cambodia Airlines and Lanmei Airlines both Cambodian-based operators) are resuming flights to Bangkok, Thailand from November 13, 2021.
Malaysia Airlines is restarting its direct service from Kuala Lumpur to Phnom Penh on Friday, November 19 2021.
Vietnam's Ministry of Transport has asked for the Prime Minister's approval on the three-phased resumption of regular international flights starting in Q1 2022 which include those from Cambodia to Vietnam reported the Khmer Times.
However, the latest Cambodia Airports' flight schedule for November and December 2021 already indicates there are flights from Phnom Penh to Hanoi scheduled.
Other international destinations from Cambodia include:
Hong Kong
Taipei
Korea
Thailand
Malaysia
China
Singapore
Philippines
You can read up on the list of Cambodian airports and airlines.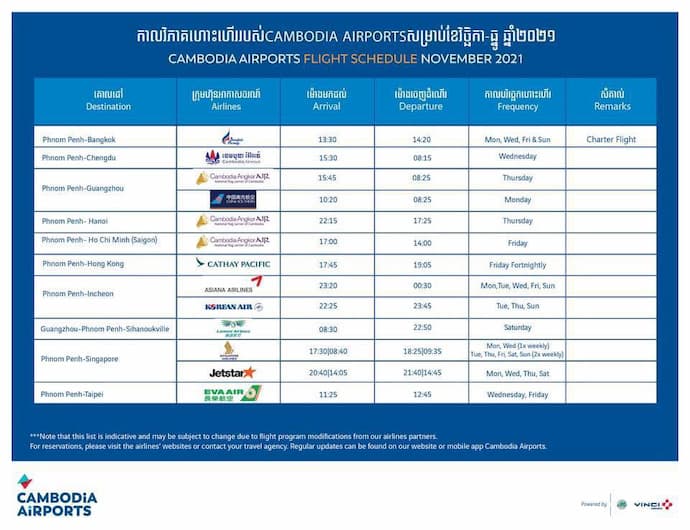 Cambodia Vaccination Rates
Cambodia has the highest percentage of fully-vaccinated individuals in its population with approximately 82% of the 16 million-plus people receiving at least two doses of a COVID-19 vaccine by the start of November 2021.
Globally, Cambodia ranks number five and is only behind the UAE, Portugal, Cuba and Chile report the Thaiger.
Announcements have also been made about a sandbox type quarantine-free scheme to entice international visitors to Sihanoukville, Koh Rong and Siem Reap – starting as soon as 30th November 2021 but the details are still not entirely clear.
The Overseas Marketing & Promotion Department, Ministry of Tourism of Cambodia has been promoting the scheme saying "Cambodia is now reopened for vaccinated tourism starting from 30th November 2021 for Preah Sihanouk city and Koh Rong city of Preah Sihanouk province and Dara Sakor tourist resort in Koh Kong province followed by Siem Reap province in January 2022."