Accor sign has announced its first Mercure hotel in Cambodia, the 200-room Mercure Phnom Penh Beung Keng Kong 1, is set to open in 2027.
Accor Group confirmed that the Mercure Phnom Penh Beung Keng Kong 1 will be located in the city's Beung Keng Kong district (locally called BKK1), which is one of the most popular and expensive areas in the capital for land prices. The fast-changing neighbourhood offers restaurants, bars, shops and international schools.
Garth Simmons, chief executive officer of Accor, Southeast Asia, Japan and South Korea said "We are delighted to sign the first Mercure hotel in Cambodia and look forward to unveiling this fabulous address to our loyal fans. Mercure is one of the world's most iconic midscale brands and while each hotel is unique, they all share the same passion for high-quality services. I know that Mercure Phnom Penh Beung Keng Kong 1 will really immerse guests in the colour of Phnom Penh and its incredible array of offerings.
The hotel will also enrich our collection of hotels in Cambodia which today encompasses the Raffles, Sofitel and ibis Styles brands. We look forward to working with The Flora Investments to craft an authentic personality for Mercure Phnom Penh Beung Keng Kong 1 that our guests will love".
The Phnom Penh hotel will feature a restaurant, a bar, an outdoor swimming pool, a fitness centre, spa, as well as a range of meeting and events facilities.
Chief executive officer of The FLORA, Okhna Lim Kokloong, added: "With tremendous success in our housing and condominium projects across Phnom Penh City, we are excited to expand our business into the hospitality sector.
We are delighted to partner with Accor to introduce the world-class Mercure Hotels brand to Cambodia with the signing of Mercure Phnom Penh Beung Keng Kong."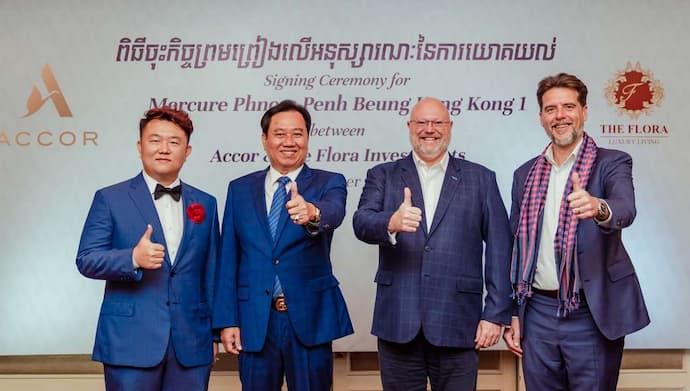 Accor Group in 2022
Sébastien Bazin, Chairman and Chief Executive Officer of Accor, announced in late October 2022 "Business momentum remained very strong in the quarter, with the Group's RevPAR and revenue well above their 2019 levels. Excluding Asia-Pacific, where activity is now recovering, all regions saw growth compared with 2019.
These strong performances, coupled with strict operational and financial discipline, give us confidence in our ability to reach the upper end of our full-year EBITDA guidance range, which should be between €610 million and €640 million."
In Q3 2022 – Accor opened 93 hotels representing 15,300 rooms, a net unit growth of 2.4% in the last 12 months. This represents a significant increase in the number of rooms opened compared with the first semester of 2022.
At the end of Q3 2022, the Group had a hotel portfolio of 789,152 rooms (5,357 hotels) and a pipeline of 212,000 rooms (1,218 hotels).
The Group has forecast net network growth of around 3.5% for 2022.
In Q1 2022, Accor announced it would open its first ibis budget hotel in Cambodia with the Ibis budget Phnom Penh Riverside.
Tribe Phnom Penh Post Office Square opened in April 2022 in the capital of Phnom Penh and offers as many as 260 rooms –  this hotel is a joint venture with Accor.