According to Moody's Investors Service 2021 Inside ASEAN report, Cambodia has been graded with a B2 rating.
The report, released on March 29, 2021, said: "Moody's Investors Service has released the latest issue of Inside ASEAN, a quarterly publication covering key credit trends across Southeast Asia. This edition continues Moody's analysis of the impact of the coronavirus outbreak on economies, banks, industries and rated companies in the region."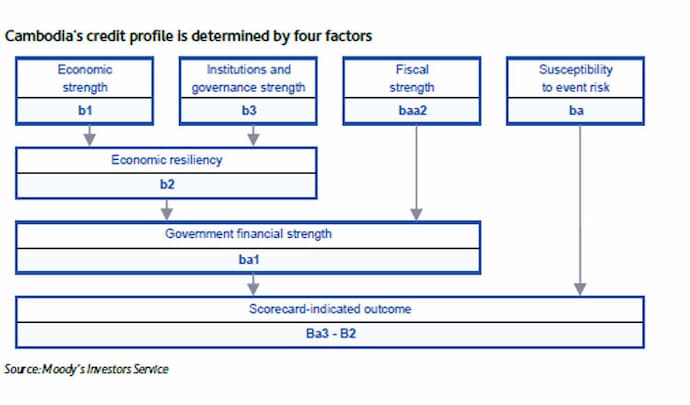 Moodys Cambodia rating 2021
Moody's forecasts Cambodia's gross domestic product (GDP) to reach 4.7 per cent in 2021, while inflation will decrease to 2.8 per cent.
Moody's Investors Service said: "Cambodia's credit profile balances its strong growth trajectory, robust fiscal metrics and low external vulnerabilities against financial stability risks stemming from sustained, high credit growth compounded by weak institutions and high dollarisation."
Tourism will again be one of the worst affected industries in Cambodia. The reports suggest the baseline assumption for 2021 visitor arrivals is expected to be about 80 per cent below 2019 levels, only marginally better than 2020.
Strengths – Cambodia
Strong government revenue generation
High debt affordability
healthy growth potential, supported by garment exports, construction and tourism.
Challenges – Cambodia
High credit growth
A large financial system that poses risks to financial stability
Weak institutional framework
High dollarisation levels that limit policy flexibility
Geopolitical risks that threaten financial and economic support from bilateral and multilateral development partners.
What does a B2 Moody's grade mean?
The B2 Moody's rating is" "Judged as being speculative and a high credit risk".
Summaries are from the Khmer Times.
World Bank – Cambodia Predictions
In the same week, the World Bank predicts Cambodia will rebound to 4 per cent growth in 2021. The main drivers will be agricultural exports and the resumption of construction.
World Bank predicts Cambodia's economy is expected to grow by 5.2 per cent in 2022 and 2023.