The Ministry of Commerce of Cambodia and the Department of Intellectual Property have marked World Intellectual Property Day by confirming three new GI products; Kampot-Kep Salt, Kampot-Kep Fish Sauce and Takeo Lobster, and launched collective brand products.
Pan Sorasak, Minister of Commerce and Chairman of the National Committee for Intellectual Property Management said "The registration of these products is an important achievement that Cambodia has worked together to create, compile, preserve, maintain and develop local products with high added value and promote Cambodian culture."
It had been announced earlier in 2023 that Kampot-Kep Salt, Kampot-Kep Fish Sauce and Takeo Lobster would be GI registered. "Koh Kong Stone Crab" and "Battambang Rice" were also being looked into.
The Ministry of Commerce has been working with French Development Agency (AFD) and World Intellectual Property Organisation (WIPO) since mid-2022 to successfully register more Cambodian GI products.
At the World Intellectual Property Day 2023 event, which had the theme of 'Women and Intellectual Property: Accelerating Innovation and Creativity', Jean-Marie Brun (ARTE-FACT) took part in a panel session and presented the project for the promotion and recognition of Geographical Indications in Cambodia, Lao PDR and Myanmar, financed by AFD since 2020.
The project addresses issues relating to Geographical Indication such as traceability, internal control, certification, market promotion and enforcement of the protection of Geographical Indications.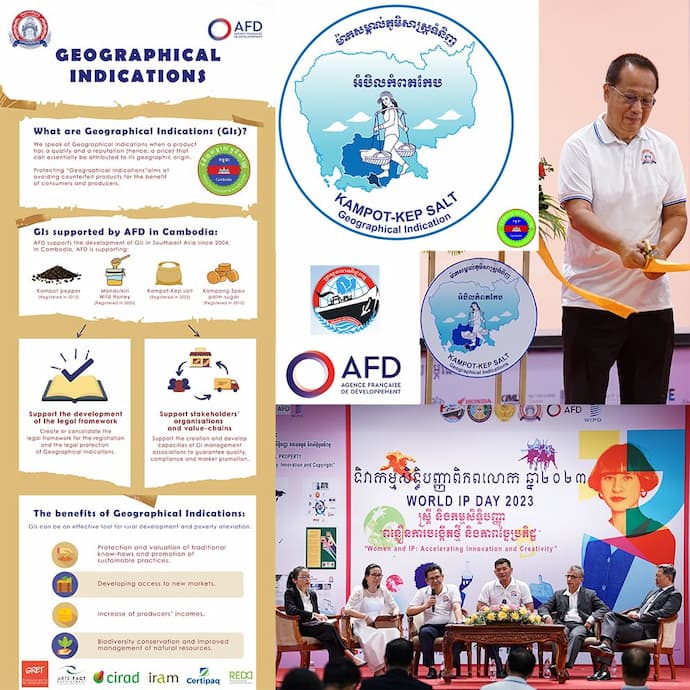 Jean-Marie BrunJean-Marie Brun (Regional Project Coordinator chez ARTE-FACT Development and Agri-Food Consulting Co., Ltd" said: "A new milestone for Kampot-Kep salt and for Geographical Indications in Cambodia. I am grateful to the Ministry of Commerce of Cambodia and its Department of Intellectual Property for the opportunity to be part of the event."
ARTE-FACT Development and Agri-Food Consulting Co., Ltd said they are "proud of supporting salt producers and are looking forward to pursuing the support to Kampot-Kep salt as well as Kampot pepper, Kampong Speu palm sugar, Mondulkri Wild Honey in Cambodia, Khao Kai Noi and Komaen tea in Laos, and Shwebo Pawsan rice in Myanmar."
Four collective brands were announced: Battambang wax coconut, Siem Reap Khmer Noodles, Koh Trong Pomelo II, and Kampong Thom Ambok (rice flakes or flattened rice).
What are Geographical Indication Products?
According to the World Property Intellectual Organisation, "A geographical indication (GI) is a sign used on products that have a specific geographical origin and possess qualities or a reputation that are due to that origin. In order to function as a GI, a sign must identify a product as originating in a given place.
A Geographical Indication (GI) product will help identify the goods, their geographical origin etc.
Currently, Cambodia has a few products identified as GI products:
Kampot Pepper
Kampong Speu Palm Sugar
Koh Trong Pomelo
Mondulkiri Wild Honey
Only Kampot Pepper and Kampong Speu palm sugar products are listed internationally as GI products in the European market.
These GI and collective brands are intended to add value to Cambodian producers and strengthen the competitiveness of Cambodian products in local, regional, and international markets.