The European Chamber of Business Cambodia (EuroCham) has successfully elected a new board following the chamber's AGM in September 2022.
EuroCham said "Thank you to everyone who participated in our Annual General Meeting on September 20th. It was great to connect with EuroCham's vast network in-person after last year's AGM was held online.
We are all looking forward to a new year with fresh challenges and a host of new opportunities…electing a new board was just the beginning, now it's time to get to work and help advocate for changes we all want to see!"
EuroCham's new Board of Directors:
Mr. Tassilo Brinzer (Chairman)
Mr. Antoine Fontaine (Secretary General)
Mr. David Sok Dara Marshall (Treasurer)
Mr. Thomas Hundt (Vice Chair)
Mr. Cyril Girot (Vice Chair)
Mr. Martin McCarthy (Vice Chair)
Ms. Géraldine Adolh
Mr. Narath Chheav
Mr. Marco Juliá Eggert
Ms. Julie Keo
Mr. Etienne Kettenmeyer, and
Dr. Sok Siphana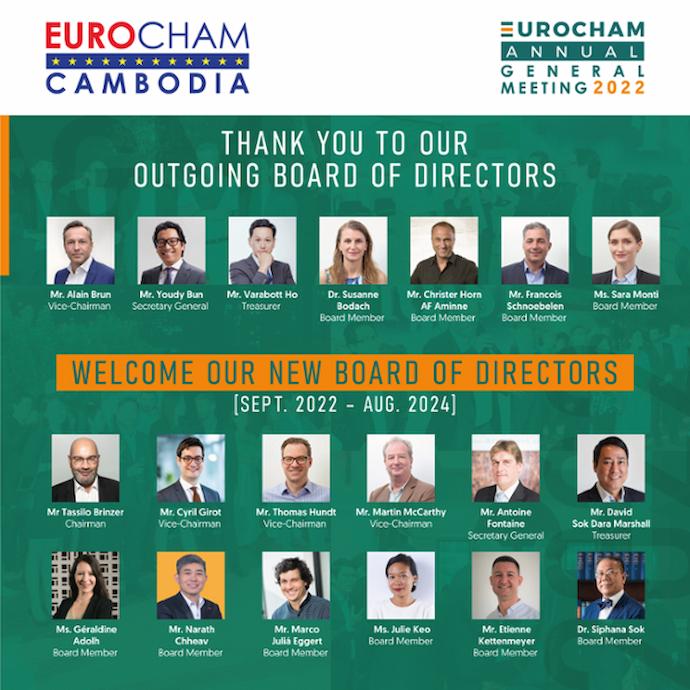 View the new Board of Directors here.