Cambodia will see the introduction of new 200 & 2000 Riel banknotes following the Royal Government of Cambodia sub-decree issued to introduce them on November 14, 2022.
New 200 Riel Banknote – November 2022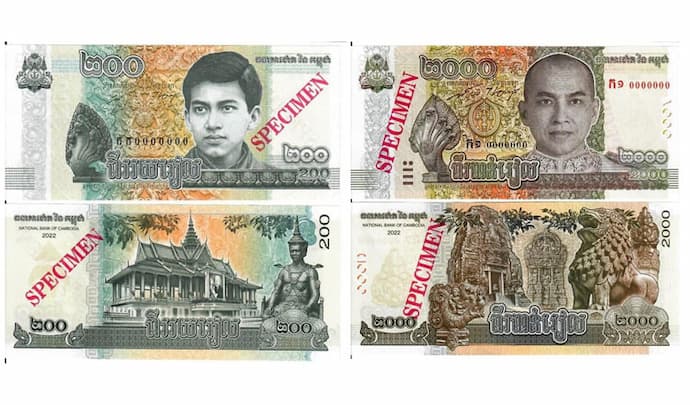 The main colours of the 200 Riel banknote are grey and orange. According to the Khmer Times:
On the front of the note, the middle right of the 200 Riel banknote is highlighted by the portrait of His Majesty King Norodom Sihamoni when he was young, the left one has the number "200" on top, then the governor's signature and the General Treasurer with a five-headed dragon statue and the words "Two Hundred Riel"
The upper right corner has the words "National Bank of Cambodia *" and the lower corner has the number * 200 * along with the number * 200 * below it.
The upper left side has the image of Sangkha of the Kingdom of Cambodia and has the number * 200 ~ blurred, printed vertically, as well as the cross-sectional image of the banknote from top to bottom. In the lower corner are several short lines made up of tiny "200" numbers.
On the rear side of the 200 Riel note, the centre of the image is highlighted as the Chan Chhaya pavilion and has the words "Two Hundred Riel" below it.
The upper right corner has the number * 200 * printed in a vertical line, the centre is a statue of King Sisowath and the lower corner has the number * 200 ".
The upper left corner has letters. National Bank of Cambodia * Letter * NATIONAL BANK OF CAMBODIA * and number 2022
In the centre is an image of a three-headed elephant and silver ornaments assembled with the number 200."