The start of March 2022 saw the inauguration of National Road No. 3, which links Phnom Penh and the coastal province of Kampot.
The Cambodian government also confirmed the construction and improvement of National Road 4 (NR4), while improvement projects of National Roads No 31, 33, and 41 will be supported by the Chinese government.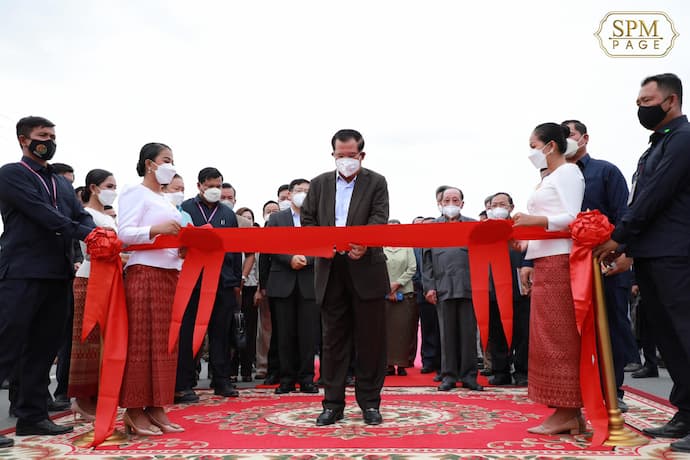 Cambodia National Road 3 Inauguration 2022
On March 2, 2022, the China-funded National Road No. 3 was inaugurated by the Cambodian Prime Minister and Chinese Ambassador to Cambodia Wang Wentian reported regional media such as Straits Times.
Hun Sen said the road was crucial to boosting economic and tourism development: "I hope that our people will benefit from this road, which connects between our capital city and coastal province."
The road was built by the China Road and Bridge Corporation at the cost of about US$215 million under a preferential buyer's credit loan from the government of China. The works were undertaken by a Chinese company, China Road and Bridge Corp, while Guangzhou Wanan Construction Supervision Co Ltd completed the technical inspections.
The National Road 3 took 34 months to be completed and stretches 134.8km from Chom Chao roundabout in Phnom Penh to Kampot. The road passes through Kandal, Kampong Speu and Takeo provinces and previously the Minister of Public Works and Transport (MPWT) said two underground vehicle scales and eleven-speed cameras would be installed along National Road 3.
In March 2021 the road was reported to be completed ahead of schedule by Minister of MPWT Sun Chanthol but it looks like that didn't materialise.
(Images from Samdech Hun Sen, Cambodian Prime Minister Facebook Page)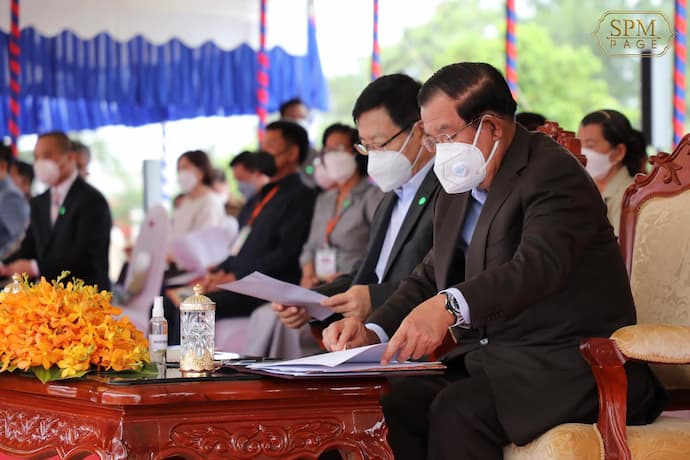 National Road 4 Cambodia Improvement Works 2022
The Ministry of Public Works and Transport has also announced it has begun construction and improvement of National Road 4 (NR4). The NR4 stretches over 230 kilometres, linking the Phnom Penh and Preah Sihanouk province.
The project is expected to cost US$110 million with financing from the World Bank.
The work on NR4 starts from Bek Chan commune, Ang Snuol district, Kandal province to Bit Trang commune, Prey Nup district, Preah Sihanouk province. The project is scheduled for completion in December 2026 added the MPWT.
The works include:
the expansion of the current road from 7 to 10 metres wide,
the improvement of 46 concrete bridges and drains
the construction of eight new bridges to ensure traffic and resilience to flood.
National Roads No. 31, 33, and 41 – Improvement Projects 2022
The Khmer Times also reported that the Chinese government is considering supporting additional road networks and infrastructure in the Kingdom.
Wang Wentian, Chinese Ambassador to Cambodia said "NR31, NR33, and NR41, to which the Cambodian government has paid high attention, are hoping to break ground within this year."
NR41 is a key land transport road connecting NR3 and NR4.
NR31 connects NR3 to Kampot's Kampong Trach district
NR33 is an important route connecting Kep downtown to Kampong Trach district.
So far, 29 roads have been built under China's support totalling more than 3,000 kilometres, while three projects under construction have a length of 363 kilometres.
Other major road networks include the much-hyped Chinese-funded Phnom Penh-Sihanoukville Expressway which has been under construction since 2019 and is due for completion in 2023.
In 2020, $150 million US dollars were being used to construct 38 roads in Siem Reap province and by the end of 2021, these were 90% complete.