In 2019, the Cambodian government decided to reduce the number of public holidays in Cambodia for 2020 from 28 days to 22 days. However, COVID-19 has thrown the 2020 Cambodian holiday calendar into some disarray.
Cambodian Prime Minister, Hun Sen, issued a sub-decree in 2019 to confirm that 6 holidays were cut from Cambodian 2020 calendar, these were:
Meak Bochea Day
National Day of Remembrance
International Children's Day
Paris Peace Agreement Day
International Human Rights Day
Two days for King Norodom Sihamoni's birthday
However, Khmer New Year celebrations were meant to be increased from three, to four days for 2020.
This meant that 22 official public holidays would be recognised in Cambodia this year. The decision was positively greeted by the business community as the Kingdom had one of the highest numbers of public holidays in the region. It was hoped the number of public holidays would make Cambodia more attractive for national and international investors.
For anyone conducting business in Cambodia, it is generally accepted that many business operations are also affected by the Chinese New Year, while the Khmer New Year sees longer disruptions than the actual days recognised. The same could be said of Pchum Ben (Ancestors Day) around September, and Water Festival, also called Bon Om Touk (October-November).
COVID-19 disrups Cambodian national holidays
Khmer New Year 2020
On April 7th 2020, Khmer New Year was cancelled and businesses were asked to operate as per normal (under the COVID-19 restrictions).
The postponement of the Khmer New Year, and despite the communications from the Cambodian government, has still seen a large volume of people travel. Provincial travel restrictions were being encouraged, but many businesses have also closed or were forced to suspend corporation due to the coronavirus restrictions.
The Royal Government has said it will compensate workers with 5 days of public holidays at a more appropriate time (later in 2020). Even if the current circumstances are extraordinary, it's unclear how businesses will honour this, especially if some sort of normalcy resumes in the second half of 2020 and business owners will try to be as productive and profitable as possible.
Royal Ploughing Ceremony 2020
The annual Royal Ploughing Ceremony, due to be held on May 10th 2020, was also cancelled by the National Committee for Organising National and International Festivals (NCONIF) on April 13th, 2020.
NCONIF secretary-general Chhin Ketana said, "The government has decided to cancel the celebration of this year's Royal Ploughing Ceremony due to the ongoing pandemic and considering cancellations for the other national festivals."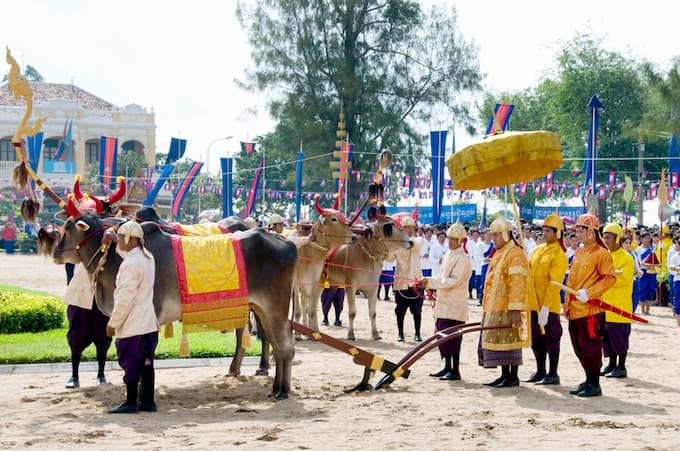 Visak Bochea Day 2020
Visak Bochea Day (Buddhist Day) is scheduled for May 6, 2020, and Cults and Religion Ministry spokesman Seng Somony said the ministry has yet to decide whether to cancel celebration of the Visak Bochea Day or not.
Other national holidays in May 2020 in the Kingdom of Cambodia include:
May 1st 2020: International Workers Day/Labour Day
May 6th 2020: Visak Bochea
May 10th 2020: Royal Ploughing Ceremony (cancelled)
May 14th 2020: King's Birthday
It is unclear what other Cambodian holidays will be cancelled or postponed in 2020 due to COVID-19 but we advise businesses to follow the communications from the relevant Cambodian Ministries.