Realestate.com.kh has announced the sixth edition of its property event series, the Year-End Property Sale 2020, will be held at The Premier Center in Sen Sok (Phnom Penh) from November 27th to 28th 2020.
Realestate.com.kh has been at the forefront of connecting buyers, developers, and agents and contributing to Cambodia's real estate market growth since 2009.
End Of Year Property Sale 2020
Realestate.com.kh claim that exhibitors have sold nearly $100 million worth of property across the last four expos with over 35,000 people attending the previous expos.
In a statement, realestate.com.kh said the "event will house Cambodia's leading Borey, Condo, and Mixed-use developers as well as the country's best agencies, banks, lawyers, and other real estate-related businesses", adding that property seekers, first-time home buyers, and investors will be able to purchase some of the best best deals.
Over 50 exhibitors will join this year's End Of Year Property Sale 2020 and the organisers expect over 10,000 people to attend the offline-online event.
Cambodia's banks and lending professionals will be on hand to assist buyers to secure their ideal property.
In addition, there will be property seminars, which will be streamed live to local & global audiences. These will cover a range of topics including recent changes in the Cambodian property law, government policies, the current state of the market, and the best opportunities in the Cambodian property.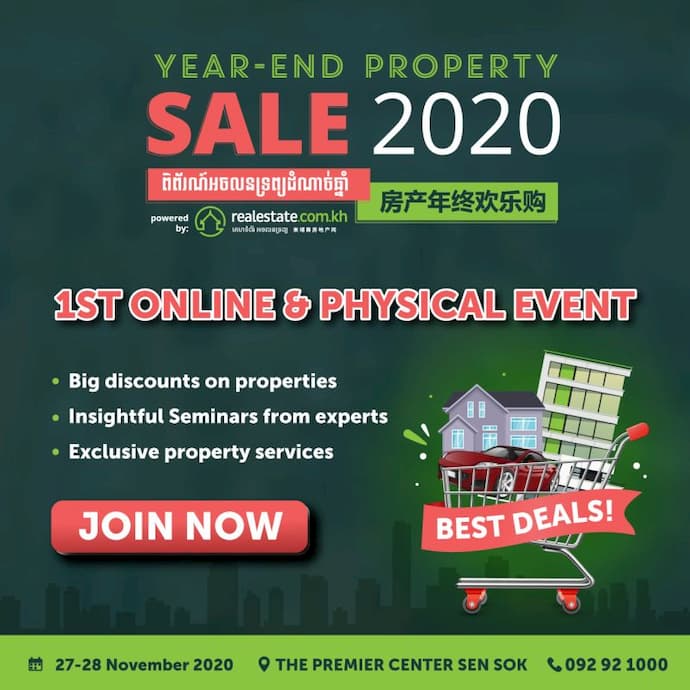 Realestate.com.kh – Cambodian property portal
The Realestate.com.kh Black Friday Online Property Sale held on June 12th 2020, generated $15+ million worth of Cambodian property sales.
The first online property sale to be held in the Kingdom of Cambodia attracted over 20,000 interested buyers across both the Realestate.com.kh website and on the Livestream which ran throughout the 4-hour event.
In July the leading property portal in Cambodia also signed a strategic partnership with HuiOne Pay which include marketing, distribution and payment options.
Realestate.com.kh also launched a Cambodia Real Estate 'Market Trends' online tool in September 2020, which is designed to "provide Cambodia's real estate stakeholders additional market data to better understand and gauge current trends."