Rubber exports to the international market saw an increase of 31 percent during the first ten months of 2017, while the average price for the commodity went up 48 percent, compared to the same period last year.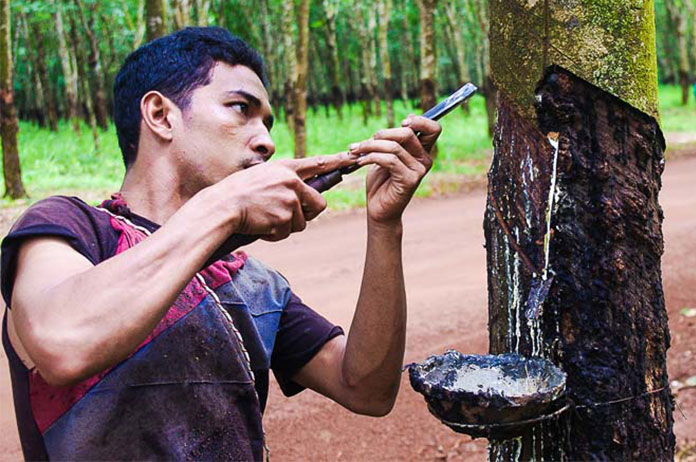 From January to October 2017, Cambodia harvested nearly 137,000 tonnes of rubber, of which almost 131,000 were exported, earning about $216 million.
Meanwhile, the average price of rubber reached $1,655 per tonne, an increase of $533, or 48 percent, compared with the same period last year, according to the latest report from the Ministry of Agriculture, Forestry and Fisheries.
The same report says that 431,378 hectares in the kingdom are used as rubber plantations, of which 163,595, or 37.86 percent, are already harvestable.
Cambodia exports the commodity to China, Vietnam, Singapore and Malaysia. In 2016, Cambodia shipped about 140,000 tonnes of rubber, earning nearly $180 million.
Pol Sopha, director-general of the ministry's General Directorate of Rubber, said plantations had been harvesting a large amount of rubber, expressing optimism for the expansion of the industry.
"We have few rubber processing factories in the country and the government wants to build more to keep the price of the commodity stable," Mr Sopha said.
The government is now prioritising building rubber factories as a way to boost employment in the country, according to Mr Sopha.
Cambodia has been seeking Vietnamese investment to build factories that can process rubber and cassava, and during a meeting with a Vietnamese rubber association earlier this month, Minister of Agriculture Veng Sakhon asked Vietnamese rubber investors to consider the kingdom's market, according to MAFF.
Lim Heng, the vice-president of An Mady Group, said Vietnamese investors could play an important role in advancing the local rubber sector.
"We need more investors from Vietnam, China, Thailand and South Korea. Local investors are afraid their products won't find a market because they are lacking recognisable brand names and quality."
This article was originally published in the Khmer Times.
[democracy id="114″]