The Securities and Exchange Regulator of Cambodia (SERC) and Cambodia Securities Exchange (CSX) have signed an agreement to launch the Application Programming Interface (API) linkage between the SERC's online investor ID registration portal and CSX's online trading account opening system.
The agreement was signed between H.E. Sou Socheat, Royal Government Delegate in charge as Director General of the SERC, and H.E. Hong Sok Hour, Royal Government Delegate in charge as Chief Executive Officer (CEO) of CSX, on October 25, 2023.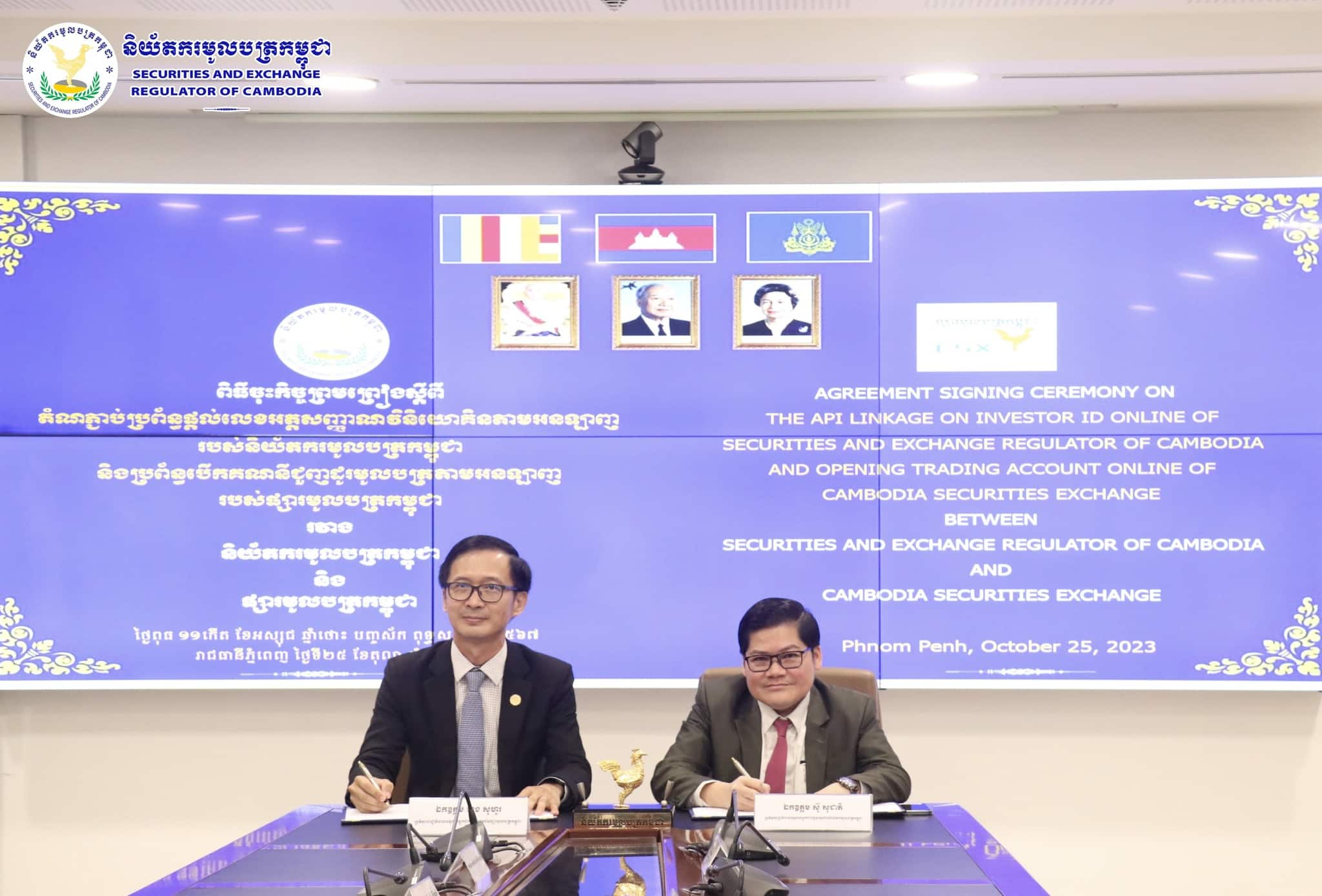 According to a report from AKP, the API linkage completes the creation of an online trading account opening system, where prospective investors can both request an investor identification number and open a single account.
Investors will be able to make their securities trading accounts instantly and efficiently through this new system. Once an account has been registered and opened, investors can deposit money and begin trading immediately.
Socheat expressed his belief that this agreement will provide greater convenience to the public and will also help attract and facilitate the involvement of foreign investors in the Cambodian market. He further confirmed that the new system is scheduled to be launched for testing in early November 2023.
Sok Hour noted that the securities market in Cambodia is growing rapidly, with the number of investor accounts in Cambodia sharply increasing to about 13,000, which is a recorded increase of about 40 per cent in 2023. He added that this number is expected to increase to roughly 100 per cent, between 30,000-50,000 accounts, in 2024, especially now that the online trading account portal has been launched.
"While we can open trading accounts immediately and easily, most stock prices are so cheap and attractive that I can call it a golden opportunity for investors," said Sok Hour.
A total of 20 companies are currently listed on CSX, including 11 equity firms and nine corporate bond firms, collecting a total capital of USD $330 million.
Read More On Cambodia's Securities Exchange: